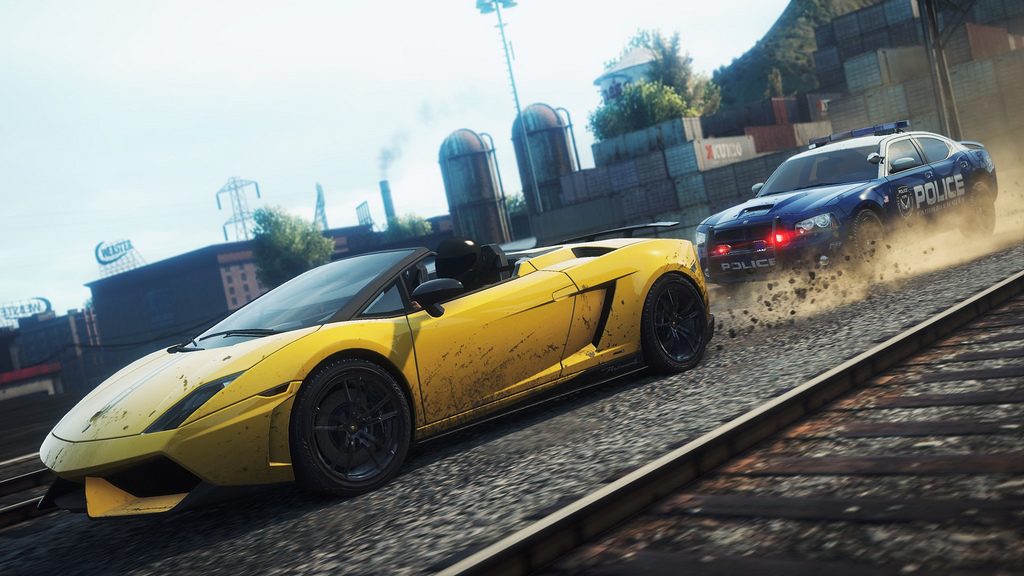 Next week sees the keenly anticipated release of Need for Speed Most Wanted, the latest release from Criterion Games – the legendary UK racing specialist behind the Burnout series and Need For Speed: Hot Pursuit, the phenomenal 2010 entry in EA's long-running street racing franchise.
That the PlayStation 3 version is very, very good should come as no surprise, but somewhat more unexpected is the amount of care the studio has lavished on replicating the experience on PlayStation Vita. Producer Matt Webster and his team have squeezed almost the entire game onto the handheld, and even found room for a little bit of extra content exclusive to the system.
We sat down with Matt earlier this week to find out exactly how Criterion has pulled it off.
What was your goal when you first started developing the Vita version of Most Wanted?

Matt Webster: It was to make the same game – that was the goal. As much as we possibly could, we wanted to deliver all the great things about the console version of the game: an open world, freedom, choice, variety, highly connected. All those principles looked like they were achievable on the machine, so that was what we set out to do.

What were the main challenges you met during development?

Matt Webster: You just run across performance challenges. Some of those are fundamental, which you learn to overcome as development progresses, and others you have to make some compromises.

What kind of compromises are we talking about exactly?

Matt Webster: It is exactly the same game [as the PlayStation 3 version] apart from traffic density and number of players online. But I think that the asynchronous play is actually going to be more important.
How exactly does that work?

Matt Webster: So, if you play the single-player game, and then play muliplayer, any Speed Points you earn in SP also drive your MP progression, and that's true when you play the game on Vita too. Anything you earn on Vita carries across to the console version. It's a unified scoring system.

Everything you do in the game earns Speed Points. Speed Points determine your position on the Most Wanted list. Am I outscoring my friends; have I reached the necessary score threshold to take on one of the Most Wanted drivers in the solo game; what speed level am I at in MP; what have I unlocked, and so on. I can push up my Speed Point level on PS3 multiplayer when I'm mobile with the Vita, and vice versa.

The easy option would have been to contract an external developer to work on the Vita version but you decided to keep it in-house. Why?

Matt Webster: It was something we wanted to do. It looked like the machine was going to be capable of delivering what we wanted to do. And the way that we work is very iterative – build, play, change, build, play, change – that's how we work. When you go external it generally only works when you've got a finished game, otherwise there are too many moving parts.

So, it looked like something we'd be able to do and we were going to be able to push ourselves in some new directions. It was difficult, but we're not ones to shy away from a challenge.
Do you think a massive open world racing game like Most Wanted is a good fit for a portable gaming device?

Matt Webster: I do. The game is about freedom and choice. We have a saying – 'not playing the game is the game'. What that means is that not playing the authored experience that most games deliver for you actually is very important and a really significant part of the game.

The way that these devices are used – they're picked up, they have some play, and they're put down. It might be high frequency play, but not necessarily high amplitude, where I'm spending long sessions with it. Our game can work in either of those scenarios. I think the asynchronous part of it is going to be really powerful on that device – do something, have Autolog pick it up, and send it back.

I think it will turn out to be something that Vita owners didn't realise was possible on that machine – it is quite a significant achievement to do an open world game to the level of quality that we've managed. And then to have something as highly connected as it is – that's something fresh and new. I think it will find a really good home on Vita.

What kind of exclusive PS Vita content have you included?

Matt Webster: There are some exclusive Vita races and events in there for players to discover. It's another way for players to earn exclusive SP – it's an extra reward for having the game on multiple devices and it allows us to do something specifically tuned to that device.

Have you used the PS Vita's unique features in any way?

Matt Webster: We'll use the touch screen for changing music tracks and in some parts of the interface but the rest of it… you have to use those things where they serve a purpose, otherwise they're just a gimmick. You run the risk of it not being taken seriously. We'll absolutely use it when it makes sense to use it.

Presumably you'll be supporting the PS3 version post launch with DLC. Will that also apply to the PS Vita version?

Matt Webster: Well, we'll clarify that when the time comes.