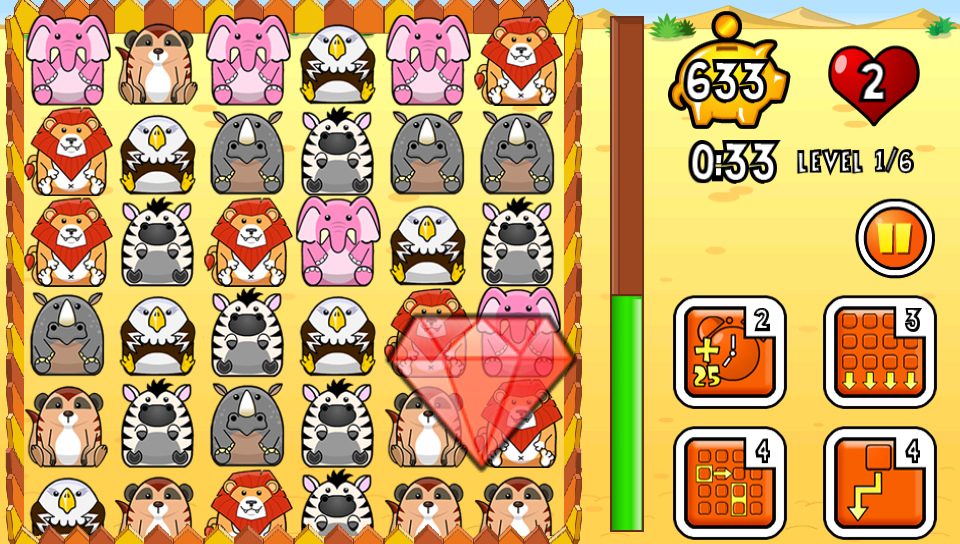 Good afternoon PlayStation Blog. Big Head Games is proud to announce that from today owners of PlayStation Vita and PlayStation Certified devices (full list here) can download ZooZooGo for £2.59/€3.29/AUD5.45!
Launching with three great game modes – Treasure Hunt, Animahjong and Puzzle Quest -there's something here for everyone. Play classic match-three in Treasure Hunt mode to find treasure and unlock animals for the zoo. Then there's Animahjong – Mahjong 'against the clock', and Puzzle Quest, which offers something a little different.
Treasure Hunt takes classic match-three and adds 'helpers' – useful devices that allow you to improve your gameplay – at times they can be a life saver! 'Remix Board' jumbles up the existing animals giving you a second chance of a match-three, 'Stop the Snapback' prevents the animals resetting position if you don't match-three, 'Show Move' points you to the next best move and 'Add Time' adds 25 seconds to the clock. You'll be using that last one a lot!
The Chameleon is a special animal that can be matched to any other creature. When matched he will give you treasure – collecting enough of one type of treasure unlocks another type, eventually unlocking the Gold Elephant Head which is key to unlocking the other game modes.
Once you've found the Gold Elephant Head you can unlock Animahjong, a high speed Mahjong mode played against the clock. Again we've given you 'helpers' to improve your gameplay and once again find a Gold Elephant Head to unlock Puzzle Quest.
Finally, in Puzzle Quest you must rearrange a board of animals back to how they started in a riff on the classic sliding block puzzle. Each round gets progressively more fiendish with three different difficulty modes to unlock.
ZooZooGo! is the first in a series of ZooZooGo! games, we hope to release. The second, called ZooZooGo! Worlds, is due out in late 2013. But for now we hope you enjoy ZZG! as much as we do.