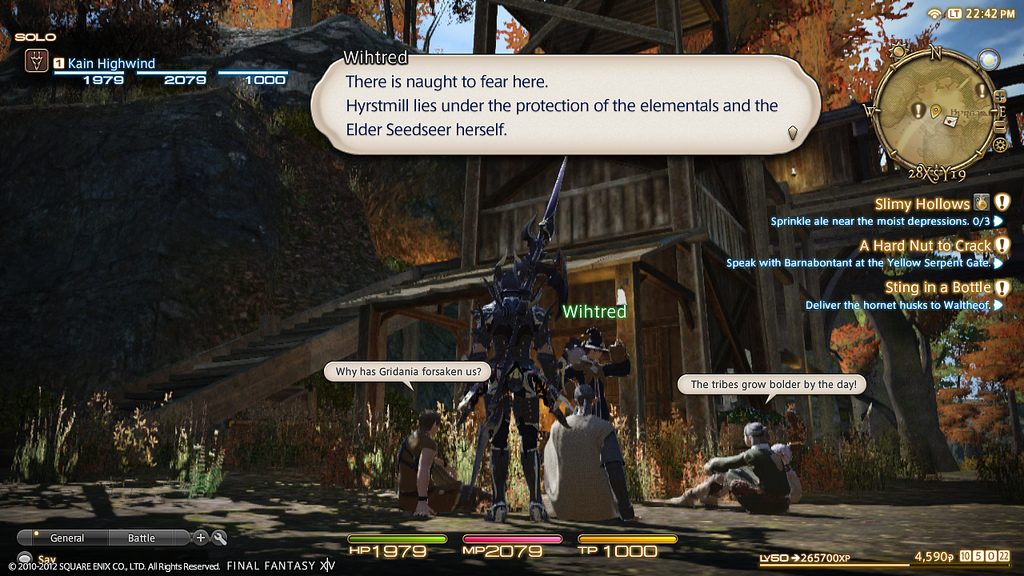 The loyal PlayStation Blog readers amongst you might have noticed that Square Enix has been unusually quiet here in recent times, but no longer! Today we come bearing gifts! For all our RPG-loving fans we're excited to bring you the world's first screenshots of FINAL FANTASY XIV: A Realm Reborn on the PS3 (Chocobos included)!
In our first PlayStation 3 reveal we wanted to give you a guided tour around the UI and menus. With a wealth of different options and commands at your fingertips at any one time it was important for us to create an elegant UI that is easy to read and navigate. Taking inspiration from previous games the look and feel of the new FINAL FANTASY will be instantly familiar to long-time fans of the series.
In FINAL FANTASY XIV: A Realm Reborn we've put an extra emphasis on customisation. Knowing that everyone has their own personal tastes, not to mention the need to have a load-out that's compliments the character and role you're playing in-game, all of the UI elements that you see in the screenshots can be enabled, disabled, and repositioned to suit your preferences. Menus are also simple to navigate with the command you're looking for being only a few button presses away.
The UI, like the rest of the game, is built to offer the high-quality experience that you would expect from its PC counterpart. With FINAL FANTASY XIV: A Realm Reborn supporting cross-platform gaming it was important that the features and gameplay align across both platforms. The graphical quality is no exception to this, and FINAL FANTASY XIV: A Realm Reborn takes full advantage of the PlayStation 3 resources to bring you the amazing visuals you've come to expect from FINAL FANTASY.
FINAL FANTASY XIV: A Realm Reborn's development is well underway (currently entering an alpha test phase) and the PS3 version is still on track for simultaneous release with its PC counterpart in 2013. We hope these screenshots have got you salivating and eager for more, make sure you keep an eye on the blog because we'll be back in the near future with some PS3 gameplay footage. If you'd like to find out more about FINAL FANTASY XIV: A Realm Reborn and to view our latest trailer, head to www.finalfantasyxiv.com.
As always please leave your feedback and questions in the comments and we'll do our best to answer them.