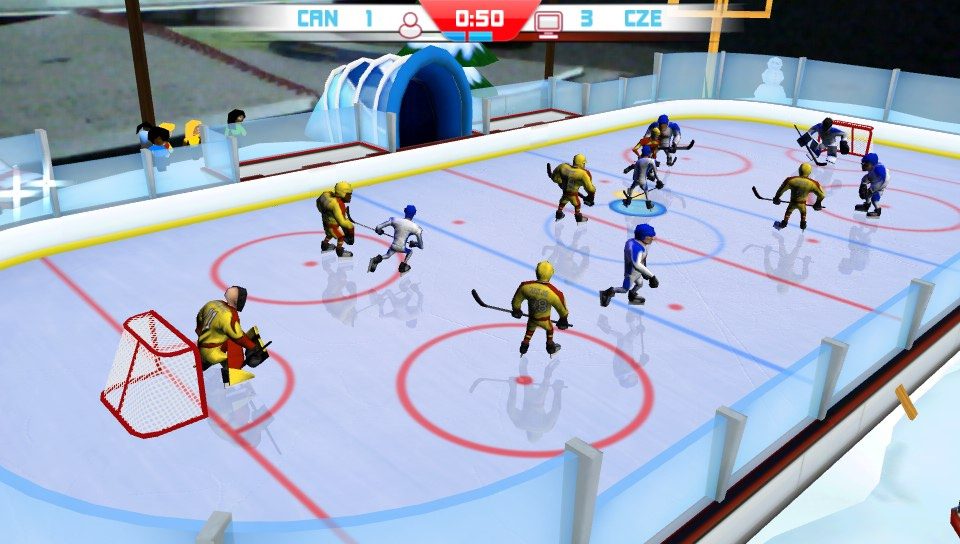 Hey there everyone. I'm excited to be able to tell you about Table Ice Hockey, the latest 'AR Play' game for PS Vita. It uses three of the AR Play Cards to transform and freeze your table top to make an ice hockey rink and arena. You start off with the basic frozen lake surface and then unlock bigger and more advanced stadiums the more you progress through the game.
We have designed the game to be really easy to pick up and play, with a great arcade-style look and feel. You take direct control of any one of five players out on the ice, putting together fast flowing moves and end-to-end game action.
The really cool thing about the AR aspect is the fact that you can play the game from any position, so you can move your PS Vita around to get as close to or as far away from the action as you like. Replay mode is another great way to enjoy this aspect, as you are in charge of the camera, viewing from whatever angle looks best.
Don't worry if you are new to the sport or want to brush up your skills, there is a tutorial option available to get you started. This is split up into 'Beginner' and 'Advanced' modes. The Beginner option gives you help with the initial set up of the AR Play Cards, movement and passing, and the general basics, while the Advanced mode helping to explain specific rules like 'Face Offs', 'Checking' and 'Fights'.
Table Ice Hockey has two game modes to enjoy: the 'Solo' mode allows you to play against 18 AI based teams, with the 'Player vs. Player' mode offering Ad-Hoc play against your family or friends. The great thing about this mode is you only need one set of AR Play Cards and you can both see the same arena.
Of course, an ice hockey game wouldn't be complete without fouls, fights and players being sent to the sin bin, and we have all that covered in this game.
There is also a tournament setting, in which you compete against 16 teams that are split into two conferences. You'll have to be at your very best to advance through to the knockout phase and win the cup, so there is plenty of opportunity to test your skills.
A big part of Table Ice Hockey is being able to customise your team. Using the Team Editor you can design your kit, colour and team logo, as well as being able to personalise your individual players, selecting the shirt name, number and skin tone.
So that was a bit of info about Table Ice Hockey on the PS Vita. It's available to download after today's Store update, priced at just €1.99/£1.59. Let us know what you think!