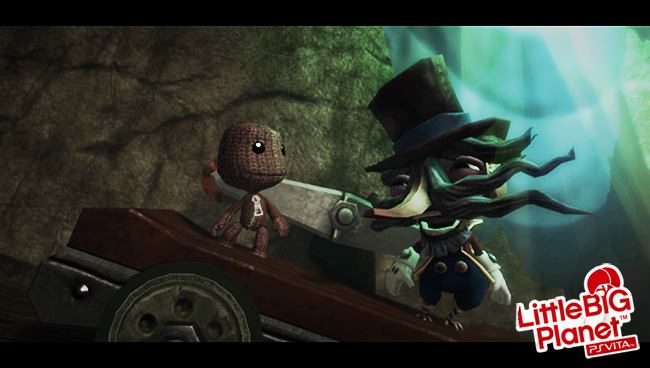 The wait is finally over and LittleBigPlanet PS Vita will be hitting the shelves this week. In preparation for this exciting release that we just cannot wait for you to pick up and play, we have a whole bunch of goodies to announce and treats to show you before you begin Sackboy's latest adventure!
LittleBigPlanet PS Vita has been developed by Tarsier Studios and Double Eleven with a brand new story that takes place not on Craftworld, but on the travelling planet of Carnivalia. Once the bringer of joy and laughter, Carnivalia has now been taken over by the mysterious Puppeteer and his evil henchmen, the Hollows! Now it creates joy only to steal it all back again. It's up to Sackboy to save the Omniverse!
You can find out whether he succeeds or not when the game launches across Europe, from 19th September. Don't have PlayStation Vita yet? Well then, maybe we can interest you with this LittleBigPlanet PS Vita bundle. For just €249.99 you get both PlayStation Vita and LittleBigPlanet PS Vita.

LittleBigPlanet PS Vita Rare T-Shirt
It wouldn't be a new LittleBigPlanet game if we didn't have some special surprises in store for you to help us celebrate the release. And for LittleBigPlanet PS Vita, we have got a couple of costume releases for you that really fit the bill.
Long-time fans of LittleBigPlanet will know that we like to celebrate the release of a new LittleBigPlanet game with the release of an extra-special Rare T-Shirt that will be available for just one week only. So allow me to present to you, the Rare LittleBigPlanet PS Vita T-Shirt!
This rather snazzy Rare T-Shirt will suit any Sackboy or Sackgirl's personality by automatically matching the colour of the T-shirt with their chosen Popit Colour. With a simply adorable animation on the front, who could possibly resist adding this costume to their wardrobe of costume delights for LittleBigPlanet 2, LittleBigPlanet PS Vita and LittleBigPlanet Karting?
Don't forget, though, that the LittleBigPlanet PS Vita Rare T-Shirt will only be available for a very limited amount of time! It can be snapped up this week for £3.99/€4.99, so don't delay in picking it up because once it's gone, it's gone forever and will never return!
The Launch Spacesuit Returns!
Reserved for the launch of a brand new LittleBigPlanet game, we have the ever-popular Launch Spacesuit returning to the Store next week. The Launch Spacesuit is FREE and will be returning for one week only too, so make sure you don't miss out on getting a hold of everyone's favourite astronomical attire for Sackboy.

Meet the Creator Curators of LittleBigPlanet PS Vita
Sackboy will meet a wonderful and rather eccentric cast of new Creator Curators as he travels around the magical world of Carnivalia. Last week, we revealed each of these characters and told you a little bit about them on our Facebook page. If you haven't seen these biographies already, be sure to head on over to our LittleBigPlanet Facebook page and check them out.
LittleBigPlanet PS Vita Arcade trailer
In celebration of all this news, we have a brand new trailer for you, which takes a closer look at the Arcade – a theme outside of the main story that is entirely dedicated to a new suite of arcade style mini-games.
As you can see from the trailer, LittleBigPlanet PS Vita goes far beyond the realms of platforming and will give everyone the opportunity to play a whole host of awesome mini games on the PlayStation Vita.
Review Round-Up
The reviews for LittleBigPlanet PS Vita are now out, and it seems that everyone loved Sackboy's new adventure. Here's just a small sample of the nice things that the gaming press have been saying about the game!
IGN – 9/10
"When the LittleBigPlanet community gets its hands on the PS Vita version, amazing stuff is going to happen, and the PlayStation Vita is going to have a free App Store."
EDGE – 9/10
"If anything, this is the most inventive LittleBigPlanet campaign yet, in fact, with each level throwing in a new twist or an unexpected gimmick as you catch trains across an endless junkyard or move through haunted houses leaping from one dumb waiter to the next."
CVG – 9.2/10
"Tilt control? That's in too. Camera? Yup. Having all these functions is one thing, but what really sets them off is the way levels have been perfectly designed to integrate the features. Nothing here feels like a novelty feature; it's all here for a reason, and that makes the single-player the best LBP campaign on any format."
Pre-order LittleBigPlanet PS Vita now!
Time is running out to get in those pre-orders for LittleBigPlanet PS Vita! If you want to pick up the rather awesome BioShock Minipack or the exclusive golden colour set of Knights of the Old pre-order Costumes, then you will want to pre-order now before it's too late!
Just like all of our other Costume DLC, these costumes will work on LittleBigPlanet 2, LittleBigPlanet PS Vita and LittleBigPlanet Karting. So no matter which of Sackboy's adventures you are currently playing, you will be able to dress your Sackboy up in these great costumes.
PlayStation Store digital version bonus goodies!
Finally, the news that a lot of you have been waiting to hear. If you purchase the digital version of LittleBigPlanet PS Vita within the first week of the game's release, you will not only receive a digital copy of the game but you will also be entitled to both of the above costume packs! This means that your week one purchase of LittleBigPlanet PS Vita on the PlayStation Store will also nab you, the BioShock Minipack and the Knights of the Old Pre-Order Costume Pack!
And finally, want to see how the PS Vita's features bring LittleBigPlanet PS Vita to life? Then check out the below trailer.
LittleBigPlanet PS Vita will be yours to own from 19th September across Europe. If you haven't already, you can still head over to LittleBigPlanet.com and find out where you can pre-order the game now!