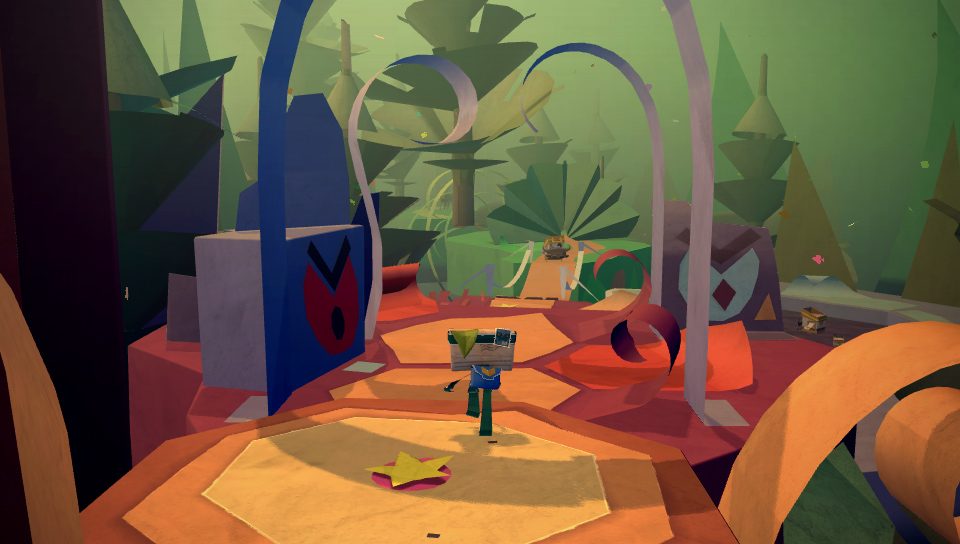 We are ever so proud, and rather excited, to present to you our next game – Tearaway, a 3D adventure for the PS Vita.
Tearaway is kind of like a buddy movie. It stars iota, a messenger from a paper dimension whose envelope head contains an urgent message to deliver… to you! It's a very special message, and one that's unique for each and every player. In order to read yours, you'll need to take up the role of co-star and, together with iota, journey through the vibrant papery landscape – two buddies going on an epic adventure to deliver this important message.
You and iota will travel far, taking on enemies and helping those in need. You'll conquer adversity and discover magical papery surprises. But with this game, you the player are holding more than just a PS Vita in your hands; you're holding the paper world itself!
Using the god-like powers inherent to someone who can hold an entire world in their giant hands, you can make your presence felt using a whole range of godly powers that take advantage of all of the Vita's bells and whistles – some subtle and some epic. You can shake things up or turn them upside down. A gentle breath from you is a gusty storm. You can even poke your fingers into the back of the PS Vita to tear through into the world, and help Iota complete this very special delivery.
Check out all this and more in the trailer below.
Anything you see in Tearaway's papercraft world can be created in the real world from bits of paper! If you want to give this a try, head on over to our Facebook page to get the plans to make your very own customisable Tearaway Papercraft Elk. Remember to send us your creations, oh and say hello on twitter too! For anything else, you can check us out at http://tearaway.mediamolecule.com.