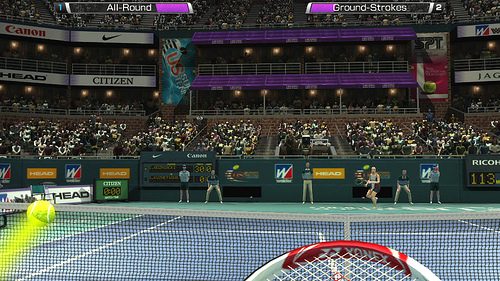 Hi, I am Mie Kumagai, Executive Producer for Virtua Tennis. Welcome to the final blog in my series where I have looked at how we have implemented the unique new features of the PlayStation Vita to full effect in Virtua Tennis 4: World Tour Edition.
The PlayStation Vita has allowed us to provide a full console experience in a handheld game, with hi-res graphics and a really extensive amount of game content. Virtua Tennis consists of a full World Tour map, with an exclusive new season for PlayStation Vita and a wide variety of mini-games to take on.
In addition to this core experience, we have also worked to fully take advantage of the unique new features' of the PlayStation Vita.
Touch Panels
We took full advantage of the touch screen controls when we were developing Virtua Tennis. The front panel allows the player to hit a variety of precise shots with just a touch of the fingertip and the rear panel enables quick and easy navigation around in-game menus and the World Tour map.
You can hit a variety of different shots by sliding your finger across the front panel of the console in different ways. Sliding your finger forward plays a topspin shot, a backwards movement plays a sliced shot and a sharp backwards followed forward slide plays a lobbed shot.
We have also created a multiplayer option called 'Touch Versus', which allows two players to play against each other on one console using touch controls and the dual analog sticks to control the players.
Motion Sensing Controls
The game mode 'Virtual Reality' allows players to play matches against the pros from a first person perspective, which really allows the player to feel as though they are on the court. You have full control of how you view the court and the surrounding crowd, with 360⁰ gameplay views.
We also created a fun mini-game called 'Rock the Boat', which is a fun extra which puts you against a timer to achieve the highest score possible, if you don't reach the target score in the allotted time you lose the game.
The aim of the game is to hit the targets on the boat; you can do this by 'rocking' the boat to reach more targets, by simply tilting the console left and right, and when a target turns red it means you can earn more points for hitting the target. It is quite an addictive mini-game as you constantly want to better yourself.
Vita Camera
You can put your face in the game using the PlayStation Vita front camera and rise up the World rankings as you progress through your own World tour career. The face detection function of the front camera allows you to import your face into the game, before customising every aspect of your player.
For the rear camera we used augmented reality to allow you to take photos and input players into them. For example; you could have a photo of you and your family at dinner with Roger Federer hitting shots on the table or Andy Murray on your desk at work. It's a fun extra which I'm sure people will enjoy playing with.
In additional to these features, we have also worked on the online aspects of the game. We have developed a social experience on the online network by allowing players to interact, share game stats and play against other players. The dynamic system updates players' World Tour maps with comments from other players and pairs you up against players of a similar standard using a matchmaking function when playing matches online.
You can also play online multiplayer games with up to 4 players over a Wi-Fi connection. You can compete in singles and doubles matches as well as a variety of mini-games against other PlayStation Vita owners.
Another fun extra in the game is the ability to play in a 1920's style environment, with black and white graphics and players wearing all white kits and hats. As well as a futuristic style of environment with what we believe tennis could look like in another hundred years' time!
We hope you enjoy the game!
Virtua Tennis 4: World Tour Edition is OUT NOW