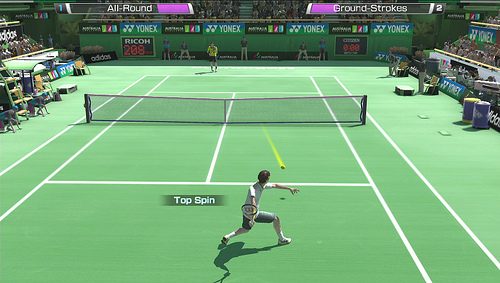 Hi, I am Mie Kumagai, Executive Producer for Virtua Tennis. Welcome to the first of four blogs where I will talk about how we have implemented the unique new features of the PlayStation Vita to full effect in Virtua Tennis 4: World Tour Edition. Today I will talk about the front and rear touch.
When we were developing the game we wanted to incorporate the new features of the Vita into Virtua Tennis as much as we possibly could, whilst obviously making the best game possible.
One of the key features for the PlayStation Vita is front and rear touch. Virtua Tennis takes full advantage of this technology and allows players to play the most precise and responsive shots with a touch of their fingertips.
With a single touch of the screen you can tell the player where exactly to move to on the court, before taking one of a variety of shots by swiping your finger across the screen towards the area of the court you wish to hit the ball to.
A simple forward slide with your finger will play a top spin shot, a backward slide will play a backspin shot and a sharp backwards movement followed by a forward slide will play a lob shot. Virtua Tennis also includes a match momentum system which rewards players for good shots by slowly filling the match momentum bar.  Once your match momentum bar has completely filled up you can also play a 'special' shot by hitting the shot with two fingers.
There is also the option for the player to use the classic analog stick and action button controls, as well as a mix of the two styles using touch controls to move the player whilst using touch screen controls to hit shots, or vice versa.
It is now also easier than ever to navigate around the in-game menus and the World Tour Map with the front and rear touch, getting you to your next match quicker than ever.
We also understand the need for a multiplayer option you can play along with your friends and family, so we have created 'Touch Versus'. This new feature allows two players to play against each other on one console. Again players have the option as to whether they play with full touch screen controls or whether they use the analog sticks to control the players' movement.
Virtua Tennis 4: World Tour Edition is out 22nd February, 2012