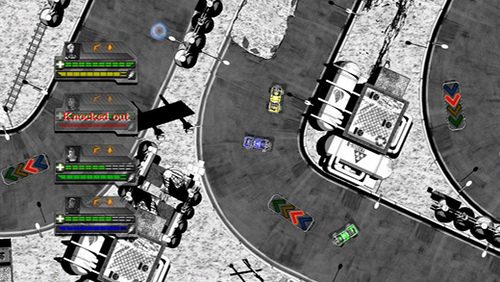 Hello! This is Alex from Nordcurrent. I'd like to talk about Monochrome Racing – a minis game that we are releasing on the 3rd of August.
Monochrome Racing is a unique racing game that takes place in a black and white world. And since the world is black and white, colour becomes the scarce resource that players compete for. To get a better idea of what is going on in Monochrome Racing, please have a look at the game video:
You start the race with your car completely charged; it is bright and full of colour. As you drive, the colour gradually vanishes away and in order to recharge the car, you need to drive over the coloured checkpoints. If you car turns monochrome it is knocked out. The goal of each level is to finish first and earn as much money as you can.
There are several types of power-ups randomly spread across the level. Once taken, they can increase your car's characteristics (speed for example), or can damage your opponents with bombs that leave a huge wave behind them. There is a garage where you can spend your money. You can buy more powerful cars and upgrade the existing ones. For example, the engine can be upgraded and this will increase the speed; bumpers and can be upgraded, which will increase the amount of damage you can take.
With more than 80 levels to complete and more than 10 cars to buy, Monochrome Racing will keep you busy for hours and hours. Check it out on PlayStation Store tomorrow. And that's all for today. Thanks for reading this and hope you will enjoy this game. For more information on our games you can visit our website www.nordcurrent.com or our Facebook page on www.facebook.com/Nordcurrent