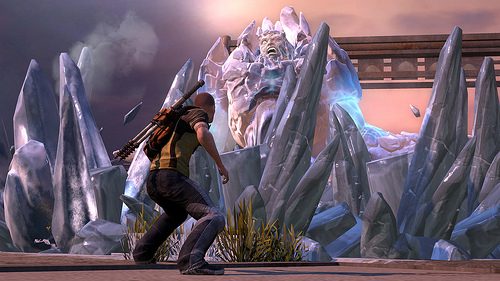 OZ inFamous 2 launch ushered in by community event
The day has finally arrived, inFamous 2 is now available on store shelves across Australia and New Zealand. Players can finally resume the role of reluctant superhero Cole MacGrath, as he returns for the second electrifying chapter in the best selling PlayStation 3 franchise.

We were lucky enough to have game designer Joe Ishikura from Sucker Punch (the developers of the game) visit us in Australia for an exclusive Community Event a couple of weeks ago. Joe personally presented to us, many of the 'key' new features of the game. We were joined by a group of our core PlayStation Community members who proceeded to ask Joe a tonne of questions about the game's development.
Joe focused on two key points during his presentation. The first point was 'escalation of scale'. This refers to the game environments, game enemies, and of course, the scale of Cole's own 'powers'. With bigger foes to deal with (queue 'the beast'), Cole finds himself having to acquire some truly gargantuan powers, like the 'Ionic Vortex' (a giant tornado of destruction that swallows everything in its path). These amped up powers are simply amazing to watch, particularly when used in areas containing highly destructible structures (like timber houses etc). The second point that Joe emphasized to us was 'user generated content'. Players can now create and share their own unique levels across the PlayStation Network, which adds limitless longevity to the game. While playing over the last week, I already managed to stumble upon a whole bunch of user generated levels that have been designed by the Sucker Punch guys themselves. These bonus 'UGC' levels are a joy to discover. They show up as 'green missions' on random parts of the game environment, and playing through them is a great little detour from the main campaign.
To celebrate the launch of inFamous 2 in Australia, we have created a great little Facebook app on our PlayStation fan page. The app lets you build and caption your own inFamous 2 comic (and share it with your friends). You can try the app here. Also, don't forget to download the free inFamous 2 demo, which is now available via PSN.
It's great to have Cole back in this much anticipated sequel, and as if that wasn't enough, we can now also look forward to Cole joining the cast of the recently announced Streetfighter X Tekken game being developed for the PSVita. The future looks bright indeed for inFamous!