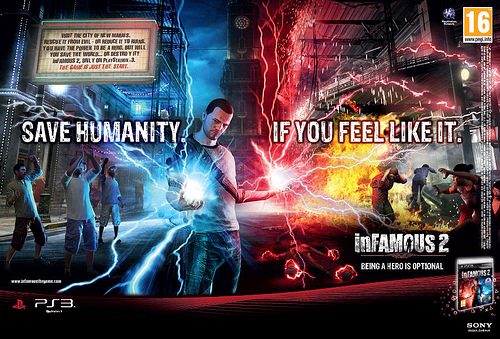 It's finally here – inFamous 2 – the highly anticipated and critically acclaimed sequel to 2009's smash hit inFamous will be making it's way into retail across PAL from today. Check out the trailer below:
Take on the role of Cole MacGrath, who has fled Empire City only to find himself in New Marais, a lawless and violent city. His mission is to defeat The Beast, a dark force hell-bent on destroying humanity. Like every hero armed with a serious arsenal of superpowers, he faces a myriad of challenges along the way – but it's up to you to decide whether to take the moral high ground or blur the lines as the end justifies any means.

inFamous 2 will be available in a variety of flavours from today including two special edition DUALSHOCK 3 Wireless Controller bundles containing, alongside a copy of inFamous 2, a choice of a limited edition red or blue DUALSHOCK 3 Wireless Controller: red for evil; blue for good.
Dedicated superheroes can get their hands on the "Special" and "Hero" editions of the game and enjoy a whole host of electrifying content and accessories. Finally, those new to the concept of shaping your own destiny, you can now pick-up a special 320GB PS3 bundle and prepare to hone your superhero skills.
Availability of the above versions varies by locale and retailer.
So, having seen the above retail options, let's take a look at the inFamous 2 TV ad – check it out below.
For those of you that missed Ross' post last week, there is also a demo for inFamous 2 available for everyone to download on the PS Store. If you've not had a chance to have a hands on with inFamous before, I'd suggest you give this a go.
Finally, (cue the drum roll) I'm please to announce that the inFamous: Anarchy FACEBOOK app has now arrived!
Click here to check it out!
inFamous: Anarchy drops you into the post-apocalyptic world of Empire City.
While Cole, Dr. Wolfe and NSA Agent Kuo head toward New Marais to stop The Beast, you are left in a city that is in ruin.
As new life starts to find its way into Empire City, this is your chance to clean up the streets. Using powers similar to Cole's, you fight your way through quests and missions, clean up districts, pummel rivals, and build up your own faction.
Here are a few of the features:
Complete tons of quests and missions;
Clean up the districts one by one – the Airfield, the Dockyard, the French Quarter, the Swamps, the Casino and more;
Increase your powers with skill points and wearable items;
Build up your own personal faction, battle rivals and show them who's boss;
Create and personalize your own district;
Take care of your battery farm and it will take care of you;
Make moral choices along the way. Good or evil? It's all up to you.
And here's something really cool – by playing inFamous: Anarchy and levelling up, you can unlock cool skins such as the Reaper Skin, Samurai Sword, Caveman Club, and Sly Cane within inFamous 2 PS3.
inFamous: Anarchy is live now on the FACEBOOK platform.
That's it from me – and remember – in inFamous 2, Being a Hero Is Optional!