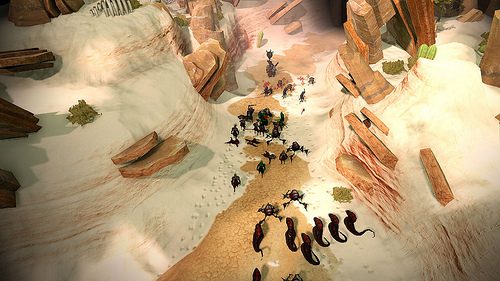 After three years of production Under Siege is ready to hit the PlayStation 3. It will be available in Europe on the 27th of April at a price of €14.99/£11.99.
Under Siege is an action and strategy game in real time, where a small group of heroes fight against a huge invading army. The game is set in a medieval fantasy world and follows the story of Eirik, Kari and Asgeir. Designed to be played with the DualShock 3 controller or the PlayStation Move motion controller.
The built-in editor is one of Under Siege's most interesting features; it allows players to create their own maps and game modes. The same exact tool that was used by the team to create all of the levels is available to everyone from the start, and there is no need to play through the campaign to unlock anything.
Some cool features:
Plays in full HD 1080p
Dolby Digital 5.1
Two players online and split-screen
Audio and video chat for online gaming
Video recording and screenshot capturing
Custom music support
And a big apology to all the fans who have been waiting for so long for this game. As a thank you for being so patient, we decided to release for free our Under Siege Comic Book. Watch, download or print at http://www.undersiegegame.com/media.php?area=comicbook.
Official website – www.undersiegegame.com
Follow us – www.facebook.com/undersiegegame
Twitter – http://twitter.com/seedstudios