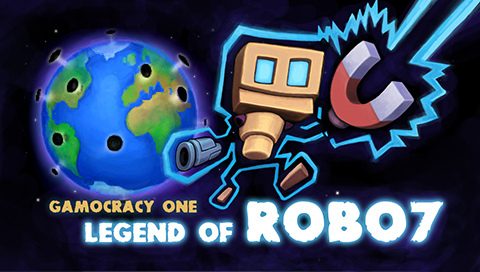 Hi everyone. Here at the Bearded Ladies office we are hard at work testing and tweaking different aspects of…
That is right, we finally settled upon a name. Thanks to everyone that joined the facebook discussion and, of course, congratulations to the winner daemondd1234. So we have started work on a splash screen (sorry we took the liberty of changing your original art just slightly ;))
When it comes to the testing and tweaking, our main concern has been the head, which of course needs to work flawlessly. One issue that became apparent was that the head slows down the pace of the game to much if we force the player to bounce on it frequently. This has led to quite a few changes in the maps to keep the pace of the game up.
Though testing and tweaking has taken a lot of our time, we have still managed to squeeze in quite a few new additions. H7 has gotten his second replaceable arm, a cannon that makes blasting enemies a breeze, so we had to add some new ones to get in its way; below is a list of the enemy units that are currently in the game:
If you took part in the last challenge (grafitti), you might spot yourself in the images above.
As of writing this I am unsure whether we will have a video in time for this blog post coming up. However we will have several videos coming out over the next few weeks. They will be shorter clips showing different parts of the game. We want you to see as much of it as possible so that you can write an awesome sales text for the PSN in this weeks "The Pitch" challenge!
Don't forget to keep the submissions coming in – you can enter and check out everyone's entries over at your local official PlayStation forum: English, French, Italian, German, Spanish, Portuguese, Russian, Polish, Scandinavian languages. You can also get involved by casting your votes over at the Bearded Ladies facebook page.