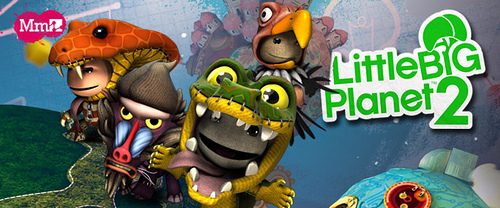 Happy Friday, Sack-fans! There are more and more awesome LittleBigPlanet 2 levels being uploaded every day, which is great to see (and in fact we're getting very close to a fantastic milestone…) – so great work to all the creators out there.
This week, though, I wanted to give you all a sneak peak at some of the new content that is planned for LittleBigPlanet 2 over the next few months. As all the loyal players of the original LittleBigPlanet will remember, we always like to ensure that there are plenty of new bits and pieces popping up to inspire fresh creations, to let you show some of your other favourite games and movies a bit of LittleBigPlanet love, or just to keep your Sackboy looking a la mode.
First off, be sure you've picked up your free St. Patrick's Day costume from the Store this week – it's Sackboy's yearly chance to become Craic-boy, and you surely wouldn't want to deprive him of that, would you? There will be plenty more time-limited free costumes throughout the year, so keep your eyes peeled.
Last week, the Even More Animals costume pack was released – to ensure that those of you that weren't able to pick up the LittleBigPlanet 2 Collector's Edition have the option of dressing up as a Cobra, Mandrill, Crocodile or Vulture, should you so desire. The individual costumes are €0.99 / £0.79 each, whilst the pack of four is available for €2.99 / £2.39.
Looking ahead to next month, you'll get the chance to take your Sackboy on a journey into The Grid with the Tron: Evolution minipack. Featuring characters from the game that serves as a prequel to last year's Tron: Legacy movie, this pack will contain two brand new costumes Anon and Abraxas – plus plenty of sleek and stylish Tron-themed stickers to decorate your levels.
You'll also be seeing plenty of costumes and kits based around other PlayStation characters this year – look out for the brand new Killzone 3 minipack, coming soon and featuring Rico and a very cool looking Hazmat Trooper.
But what better way to kick things off than with some indisputable PlayStation icons? Next week we'll be releasing three pairs of costumes based alongside the release of PlayStation Move Heroes on PS3 – Jak & Daxter, Ratchet & Clank, and Sly & Bentley (I've got my fingers crossed for some particularly awesome examples of Sly-themed platforming from the community…). Each pack of two will be on sale for €2.99 / £2.39.
The sharp-eyed amongst you will also have noticed Media Molecule talking about a future Move expansion pack in interviews, and they are indeed beavering away on this. It is a VERY exciting pack that will be coming later in the year, and we'll be sharing more details soon.
Finally, and moving away from DLC – as part of the Make.Believe campaign for this year, our colleagues elsewhere within Sony have put together a cool new behind the scenes documentary that tells the story of how two of the lovely folk from Media Molecule came to be working there. Neither John nor Christophe were originally working in the games industry, but after people noticed the creative wizardry they were showing in LittleBigPlanet, something amazing happened…