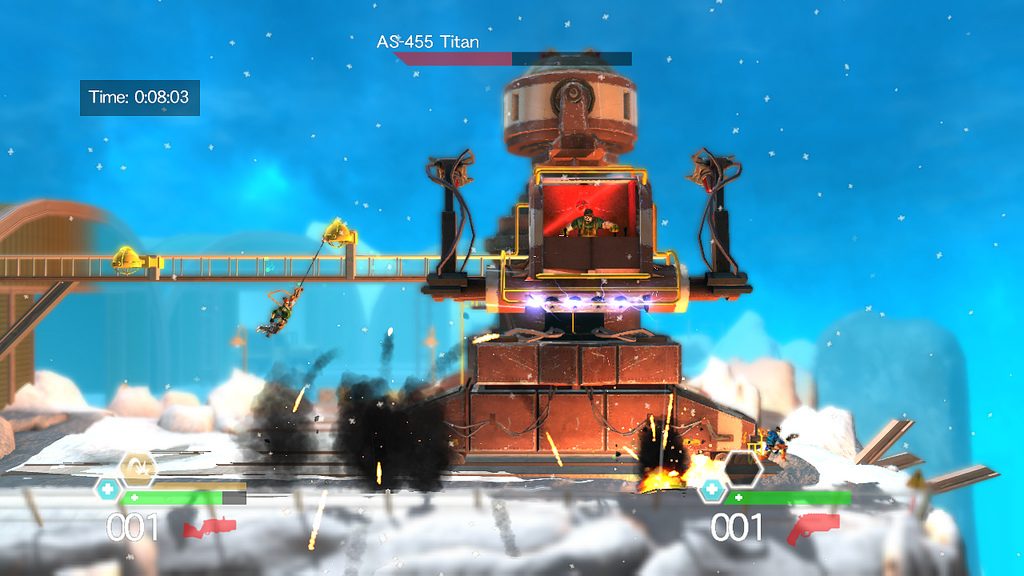 Today sees the launch of the Bionic Commando Rearmed 2 demo on PSN. Hooray! And what better way to celebrate than to give away five redeem codes. More on that in a bit. First, a refresher on why you need Bionic Commando back in your life.
Bionic Commando is old skool; much more so even than Happy Shopper. And so too is Bionic Commando Rearmed 2. Kind of. As with the first PSN remake of the 2D classic it's been recreated in pseudo 3D (for maximum high def pretty) but remains faithful to the original in all its side scrolling glory. And you still use the bionic arm to traverse progressively trickier levels while shooting bad guys in the face with loads of different weapons but, well, I won't lie. Bionic Commando Rearmed has changed.
You can now jump.
I know, I know. Really, I know. It's wrong, and I get that. I really do. But not having the jump was so HARD. People really struggled with that, so we gave Spencer a jump. It's just a little one, and it's possible to complete the entire game without it. And you can turn it off. The thing is, it's fun. Fun! I know! In a videogame!
We've also made it possible to play the game in co-op with a friend (on the same console). And we've introduced a perks system of sorts – as you explore some of the more hard to reach places in BCR2 you'll come across abilities that change the way you play, from grenades to health regenerators to upgrades to your arm that turn it into an awesome punching machine. And while these upgrades don't make things significantly easier, they do make the game obscenely entertaining even when you're returning to a level on your third run through as you look for that final secret collectable.
This is the best Bionic Commando has ever been. It's the most accessible, has the deepest gameplay, is the prettiest and offers the most reason to come back to it again and again.
To celebrate the launch of the demo we're giving away five redeem codes on our twitter feed, @capcomeuro. Head on over to be in with a chance of winning. And if you don't win, why not check out the demo, available today on the PSN Store.