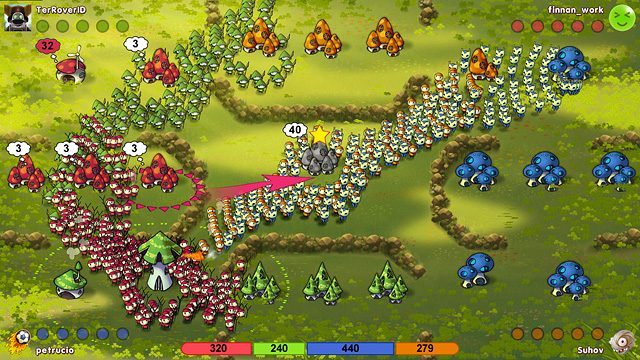 Hi everyone! I'm Bill Fryer, the Marketing and PR Coordinator from Creat Studios. I'm sure many of you are very familiar with our much-loved PSN title, Mushroom Wars, and I am very pleased to announce today that fans of Mushroom Wars will soon get the features they've been begging for in our newest DLC pack, Mushroom Wars Online! The online add-on will be available for download on 15 December in Europe.
[viddler id=b19ed65c w=545 h=327 playertype=simple]
For those of you who are unfamiliar, Mushroom Wars is a fast-paced and accessible RTS, with a quaint, anime-inspired visual style in which you send your cute armies into battle, upgrade your mushroom bases, improve your weaponry and fight skirmishes in close-quarter maps.
While the title Mushroom Wars: Online ruins the surprise of the best new feature in this add-on, it certainly won't ruin your enjoyment as you slay opponents in our 4-person online multiplayer mode. You think that's awesome? We've also thrown in local multiplayer support for up to four players, but that's not all. Enjoy custom matches against online friends for training and entertainment, or watch other players battle from the sidelines to hone your strategic skills when you need a break. Compare your global rank with others to see how you stack up, and keep track of your personal score history. Record and replay your best matches, and share your victories with friends by uploading gameplay videos online.
For those of you who want to conquer new lands in the mushroom kingdom, we're releasing a pack of new maps as well. For €0.99/£0.79 you can test out your strategies on new terrain, all true to the original visual style.
We hope you all enjoy tearing your online opponents to shreds, and we hope you do it soon! The online DLC will be available for €2.99/£2.39
Everyone at Creat Studios would like to thank all the gamers who took the time comment on their Mushroom Wars experiences and suggest additional features. Your feedback is taken very, very seriously, and it helps us to determine what comes next for Mushroom Wars. So, please let us know what you think of the new add-on pack and the new maps. Visit us on Facebook or chat with us on Twitter to share your opinions, stem your boredom, and hear all the newest announcements from Creat Studios.
Thanks again to all of our fans who have supported us in 2010 – we couldn't do this without you!