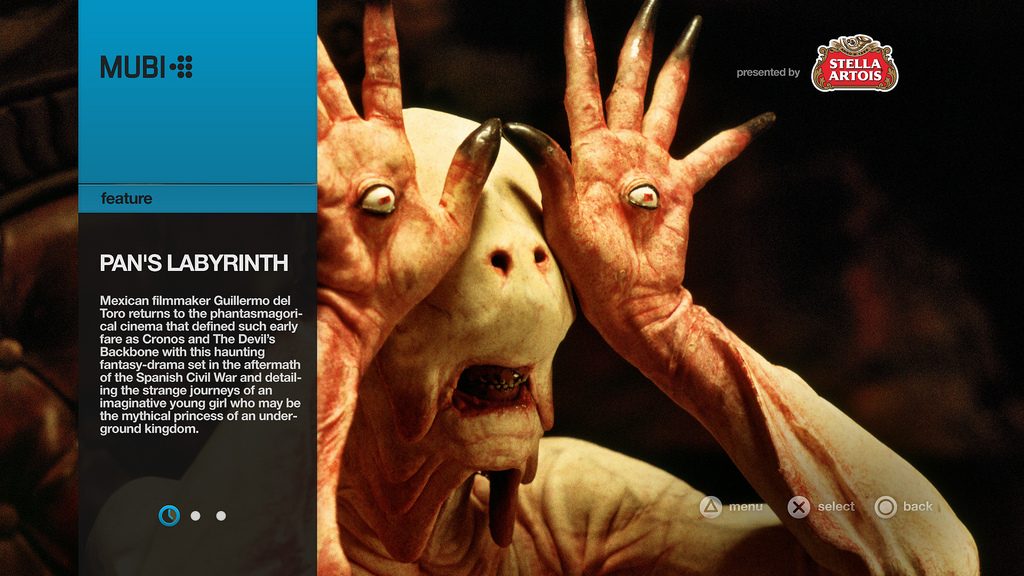 For all you film lovers, when the PlayStation Store updates today our new online movie theater MUBI will be offered in its remaining launch territories: Germany, Austria, Switzerland, Italy, Spain, and Portugal.
If you've happened to read our previous posts, you'll know by now that MUBI is a special kind of VOD service, offering a curated library of independent, international and classic films to stream directly to your TV.
[viddler id=1ea48d1f w=545 h=327 playertype=simple]
We offer 7-day rentals and an all-you-can-watch monthly (30-day) subscription for our library of 400+ great films you may have already heard buzz about or may be about to discover. (We even have a free film or two available as well!)
MUBI isn't just about VOD though. Because we focus on independent cinema, great films that are more likely to have played at film festivals than at your local multiplex, we've built MUBI to be a social cinema, one of discovery and community. We not only let you watch movies but also allow you and your friends keep track of each other's film activities, what they're watching and discussing, hating and loving. It's a movie theatre and an international forum for recommendations and sharing, all with seamless Facebook integration so you can take your discussion further.
So what can you do on MUBI on PS3?
WATCH: Stream a library of films curated from the best independent, international and classic cinema. From beloved classics to unheralded film festival gems, MUBI offers a new and unique VOD option for lovers of film.

DISCOVER: There are cinematic masterpieces everywhere you look, but you do have to look! We give you the tools to escape the doldrums of the multiplexes and find what films people are talking about around the world. Premieres and award-winners from film festivals, forgotten classics ripe for re-discovery, or simply an amazing sounding film you hadn't heard about—whether you're receiving recommendations from a friend on MUBI, following their film activity, or simply browsing our database of film pages (we aspire to have information on all great films, old and new), MUBI allows you to discover something truly unique.
SHARE: Film has always been a social art, and if you love film as much as we do, you'll want to share your thoughts, taste, and recommendations with your friends. Keep your film friends up to date on what you've seen, what you've rated, and what you want to watch—or simply keep track for yourself. You can even send a personal recommendation to a PSN friend. All this wonderful film activity can be reflected on Facebook as well. (Or, if you want your film watching and discovery to be a quiet, private affair, you can change your privacy settings in the "Setting" part of the menu.)
So what are you waiting for? Your own little cinema is now open.