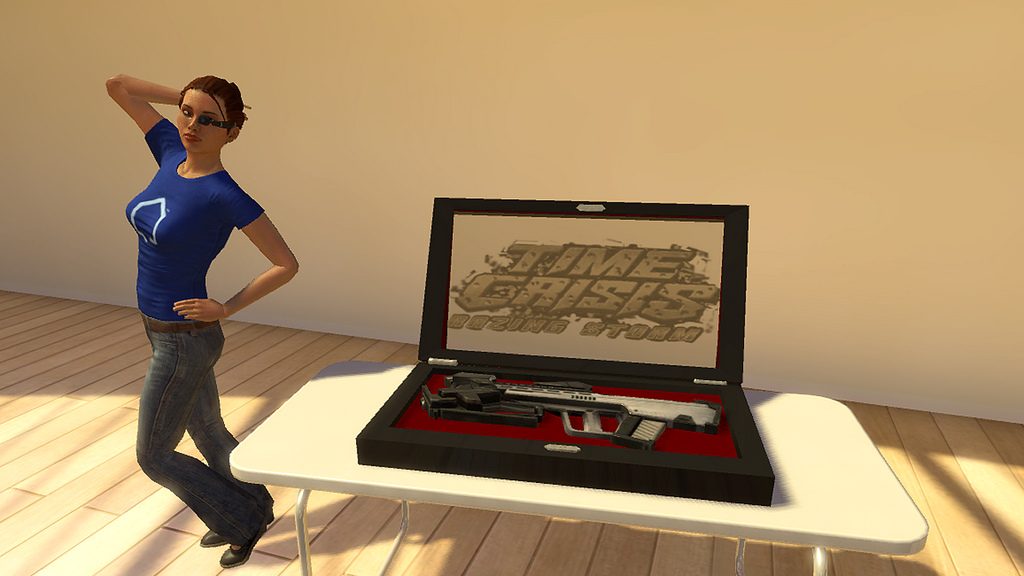 Following the release of the playable demo on PlayStation Store last week, Time Crisis: Razing Storm today launches across mainland Europe (UK & Ireland will follow on Friday 5th).
[viddler id=b81d673e w=545 h=327 playertype=simple]
To mark the occasion, we're giving away two exclusive PlayStation Home items. Simply redeem the Voucher Code below to get your hands on the original headgear with HUD which you'll be able to wear around Home. You can't see it here right now but the redeemed product will allow you to choose between a male and female version of the HUD headgear.
25FK-EEN4-M8KA
For the second one, you'll have to work a bit harder: head over to our PlayStation Facebook Fan Page to get your hands on this sleek display case containing one of the automatic guns you'll be able to use in the game. Find the voucher code on the PS3 tab to claim this snazzy piece of decoration for your personal apartment.
And while we're at it, here are a few sound bites right from the developers on hot topics concerning Time Crisis: Razing Storm:
On supported peripherals
"Yes, we are supporting the classic G-con 3, so players can enjoy the game with G-con 3 and/or play with a friend simultaneously, with one person using the Move controller and the other the G-con 3."
On fully destructible environments
"In classical gun games, the player's accuracy in hitting the enemy and not accidentally striking other background areas, distinguished a good player from a bad player.
"In TIME CRISIS: RAZING STORM, the number of bullets the player is able to spray on the screen while destroying the environment, and how quickly the player wipes out the enemies leads to higher scores. In classical gun games the player kept their fingers off the trigger while searching for enemies, but in CRISIS: RAZING STORM, the player continuously holds down the trigger, so the level of environment destroyed actually results in a higher score. Consequently, the tempo is extremely fast, and we have a game in which players can fully enjoy wiping out enemies and destroying everything in sight."
On Online Features
"Players earn experience points when competing online and when levelling up, and can also gain skills (up to 47) providing an advantage in online battles. Players can equip three of the skills at once to battle online.
"By obtaining powerful weapon upgrades that become available on maps in 'Arcade Mode' players can make significant turnarounds in the course of battle."
That's it for now. Hope you'll enjoy the game and see you online for a round of trigger-happy multiplayer action!