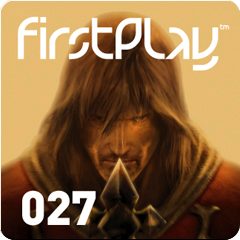 Hello everyone,
The blood dripping down the walls and the sickly aroma of toffee apples can only mean that it's Halloween. Or at least that it's close enough to Halloween for us to make episode 30 of FirstPlay, up on the Store from this Wednesday, into a spooky special.
That means we're previewing the hottest upcoming PS3 horrors including F.3.A.R. and Shadows Of The Damned, checking out the meanest video nasties on the PSN Store, and playing through three of your scariest LittleBigPlanet levels. And we've also got a special feature asking the FirstPlay and Official PlayStation Magazine teams to talk about their scariest ever gaming moments.
Not Halloween-themed but just as scary is our review of grappler sequel WWE Smackdown! Vs Raw 2011, and we've also got our verdict on Fallout New Vegas, an in-depth interview with FreeStyleGames about the making of their hip-hop hit DJ Hero.
And there's more – our regular galleries, including the bloodiest screenshots we could find, and a reviews round-up – and it all comes for just 99p, or less if you buy an £8.99 subscription for 12 weeks.
Enjoy! And have a wicked Halloween. See you next week.
We're always eager to hear your thoughts, feedback, and ideas for terrifying sweets out of elderly neighbours, and you can get in touch on Twitter at @firstplay_uk, FirstPlay@futurenet.com, or the official EU forums. And don't forget you can sign up for the FirstPlay newsletter at http://www.firstplay.co.uk/register to have regular news and content updates delivered directly.
See the Future of PS3. First.