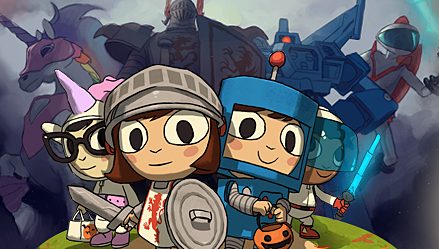 Sure, there have been plenty of scary games released in time for Halloween (I remember writing this feature about them back when I worked on eu.playstation.com) but I can't remember too many games about Halloween.
Tim Schafer's Double Fine Productions is plugging that void with Costume Quest, the developer's first Playstation Network title. I recently caught up with project lead Tasha Harris and Tim, as you can see by clicking play in the magic box below.
[viddler id=2b892d5f w=545 h=327 playertype=simple]
In Costume Quest, you control one of two siblings on Halloween night. Just before you set off trick-or-treating your brother or sister (depending on who you choose to play as) is kidnapped and you set off into the neighborhood to rescue them and escape a severe grounding.
On the surface, it's an action adventure with heaps of side missions for those who explore, but it also plays with other genres in surprising ways. As you can imagine, costumes are a key part of the game and collecting new ones gives you new powers, not just when wandering around the neighborhood, but also during battle scenes, which play out like vintage turn-based RPGs set in the child's imagination, where their cardboard box robot costume is suddenly a giant Gundam with an arsenal of rockets up its sleeve.
[viddler id=245a6674 w=545 h=327 playertype=simple]
It's also a really gorgeous game, with comic-style visuals that remind me a little of Fat Princess.
Costume Quest will be available from PlayStation Store from next Wednesday (20 October) and I can't recommend it enough!