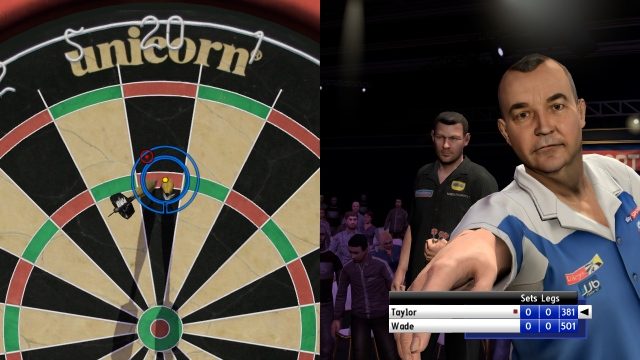 Developing PDC World Championship Darts: Pro Tour has been great fun, with plenty of challenges involved as well as some perks such as being able to get direct access to the PDC for Character and Environment reference photography, access to top Darts manufacturers such as Harrows and Winmau and getting to meet Sid Waddell and John Gwynn – more on these guys later!
Of course, being one of the first PlayStation Move motion controller titles has made developing this game distinctly different from anything we've been involved with previously. Unpacking the prototype units we received early in development and getting to play with it in the prototype environment that Sony provide caused quite a stir around the office, with everyone eventually coming over to have a quick go; of course, once we'd implemented it into Darts: Pro Tour they came back again to see how we'd done! The PlayStation Move is such a natural fit for a Darts game, and it truly feels great to load up the latest build, stand up and fire off a 9-Darter (I've had a lot of practice!) to hear Sid and John exclaim about the spectacle!
As mentioned previously, we got to meet (and of course record!) Sid and John as part of the drive to improve the commentary in Darts: Pro Tour over that of the previous games in the series. For the latest entry in the franchise, Sid and John "bounce" off each other like they do in real life when commentating on Sky Sports which adds great depth to the system. Writing the script for such dialogue was quite a challenge for us (visit www.pdc.tv and have a watch, they're both masters of the craft and incredibly distinctive) but the designer tasked with the job did such a great job that when we'd finished the recording session, Sid took the script away with him!
Along with the new commentary, we also have new players (Simon Whitlock, Mervin King, Gary Anderson, Robert Thornton, Jelle Klaasen and Colin Osborne) as well as new tournaments (The Grand Slam of Darts and the European Championship) which allows us to be as close to the real PDC tournament structure as possible.
Of course, doing all of this required us to become as familiar with Darts as we possibly could, which for many of us including myself, meant starting from knowing nothing substantive about the sport at all. After endless hours watching Sky Sports coverage, and throwing Darts at the board we set up, I can honestly say that I now have a real appreciation for a sport which hadn't really caught my attention previously. During development we have been lucky enough to witness (along with the rest of the world) not just one, but three 9-dart finishes, 2 of which were done in the same match – another new record for Phil "the Power" Taylor who appears to never tire of setting new ones. As if being World Champion 15 times wasn't enough…
I hope I've been able to give you a good impression of what making the game has been like, so here's a few screenshots from our Las Vegas Desert Classic and Grand Slam of Darts tournaments to give you an idea of what it looks like.