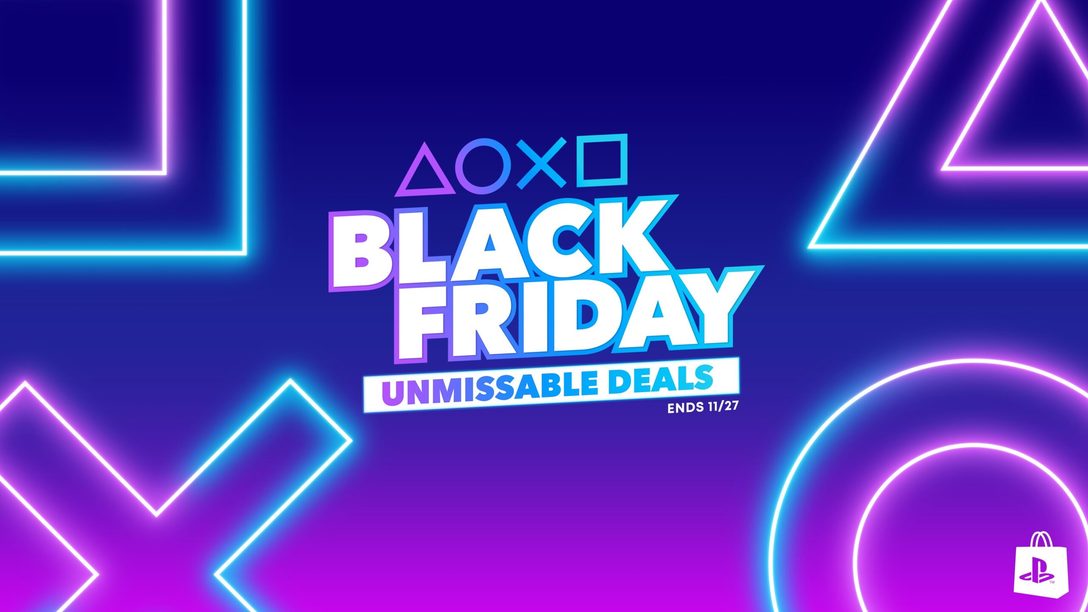 Deals for PlayStation fans this holiday season include hardware, games, PlayStation Plus and more.
Here comes another exciting shopping season, with PlayStation's Black Friday promotions happening this month. There are a variety of deals on games, hardware, and more across PlayStation Store, direct.playstation.com, PlayStation Gear Store, and at participating retailers.
Offers will vary by region and retailer. Be sure to visit the official PlayStation Black Friday site starting on November 17 for updates on local deals.
Get it directly at direct.playstation.com
There will be fantastic deals during PlayStation's Black Friday promotion directly from PlayStation at direct.playstation.com. Deals include PlayStation 5 consoles that come with a select game such as Call of Duty: Modern Warfare III; DualSense wireless controllers; PS5 Console Covers; and select PS5, PS4, and PC titles, while supplies last. Head over to direct.playstation.com for more details on the offers, promotional period, and to view products available this season.
Deals at Participating Retailers
PS5 products are also available at participating retailers globally. Check your local retailer for details on any seasonal PlayStation promotions, such as the PlayStation 5 console bundle with Call of Duty: Modern Warfare III deal* where available.
(*Only at participating retailers, while supplies last.)
PlayStation Plus
During PlayStation's Black Friday promotion from November 17 – 27, players who join PlayStation Plus can save up to 30% on 12-month membership plans. Current PlayStation Plus members can save 25% when upgrading a current plan to PlayStation Plus Extra, or save 30% when upgrading to PlayStation Plus Premium/Deluxe.
With PlayStation Plus Extra and Premium/Deluxe, you can discover hundreds of PS4 and PS5 titles through the Game Catalog* and Classics Catalog*, including acclaimed games like Horizon Forbidden West, Ghostwire: Tokyo, Sea of Stars, and many more. With the recently launched Sony Pictures Core app, PlayStation Plus Premium/Deluxe members also have access to the Sony Pictures Catalog** with over 100 movies to stream on demand.
PlayStation Gear
From November 17 – 27, visit PlayStation Gear to save up to 20% off on a range of merchandise, apparel, and more – no promo code necessary. From November 24 – 27, orders over $75 will get free shipping and automatically include a PlayStation Heritage Katakana Hat.
Visit gear.playstation.com for more details.
PlayStation Store
Big discounts are also headed to PlayStation Store for Black Friday. Starting November 17 – 27, grab deals on PS5 and PS4 games, including hit titles like EA Sports FC 24, NBA 2K24, Assassin's Creed Mirage, and much more. Make sure to head over to PlayStation Store when the sale begins to view the full selection and find out your local deals.
---
*Availability of Classics and Game Catalog varies over time, region/country, and plan. See https://www.playstation.com/Plus for details and updates on PS Plus offerings. PlayStation Plus is an ongoing subscription subject to a recurring subscription fee taken automatically (at the then-current PS Store price) at the frequency you choose at purchase until cancellation. Terms apply: play.st/psplus-usageterms
**Catalog content varies over time, region/country, and plan, and requires separate download and use of Sony Pictures Core App.