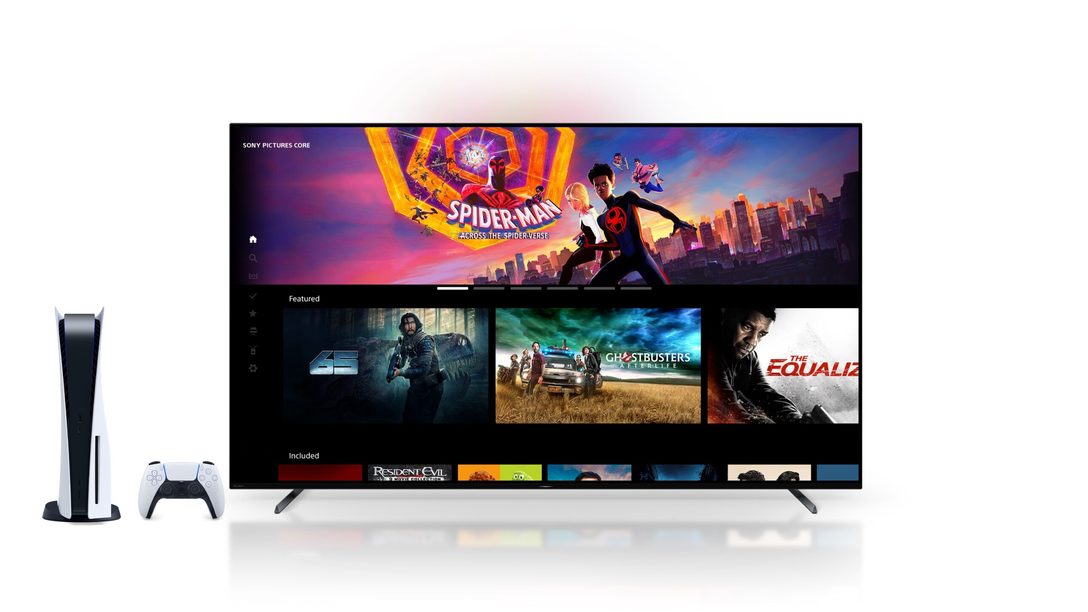 Gran Turismo: Based on a True Story is currently in theaters and also available to buy now in select markets; available soon in additional regions with exclusive early access window on Sony Pictures Core.
Our friends at Sony Pictures Entertainment produce a lot of fantastic films, and today, I'm pleased to tell you about our new collaboration to provide the PlayStation community with access to some of these memorable movies on PS5 and PS4 consoles.
You may be familiar with the Bravia Core app, which is a great way to access a wide range of recent and classic films from Sony Pictures on Bravia TVs and select Xperia devices. Bravia Core will be rebranded to Sony Pictures Core on these devices next year, and starting today, we're launching the Sony Pictures Core app on PS5 and PS4 consoles.
Once you sign up* for Sony Pictures Core on your PS4 or PS5, you will be able to buy or rent up to 2,000 movies** straight from your console. At launch, this will include blockbuster hits** such as Spider-Man: Across the Spider-Verse, Spider-Man: No Way Home, Uncharted, The Equalizer, No Hard Feelings, Bullet Train, and Ghostbusters: Afterlife, among others.
With Sony Pictures Core on PS5 and PS4, you'll be able to purchase select Sony Pictures films during an exclusive, early access window – straight from your console. In select markets such as the U.K., France, Germany, and Japan, the first film with early access will be Gran Turismo: Based on a True Story, which is based on the unbelievable true story of a team of unlikely underdogs – a struggling working-class gamer, a failed former racecar driver, and an idealistic motorsport executive. Together, they risk it all to take on the most elite sport in the world.
Gran Turismo: Based on a True Story is currently available through Sony Pictures Core in the U.S., Canada, Australia, and New Zealand and will premiere soon in additional markets. With the purchase of this movie through Sony Pictures Core, you'll receive credit*** towards an in-game purchase in GT7, including cars featured in the movie. The film is also IMAX Enhanced, delivering an elevated viewing experience with signature picture quality on PS5 and PS4 right in your living room*** *
If you're a PlayStation Plus Premium/Deluxe member, you'll get access to a curated catalog of up to 100 movies***** through the Sony Pictures Core app to stream on demand from the Sony Pictures library as part of your membership. The catalog, which will be ad-free and updated periodically, features movies such as Looper, Kingsglaive: Final Fantasy XV, Elysium, and Resident Evil Damnation.** There will also be additional benefits for all PlayStation Plus members, so stay tuned for more details.
Sony Pictures Core is available starting today for PlayStation players in 23 markets globally. You can find the Sony Pictures Core app in the Media section on PS5 and on the PS Store for PS4. For more information, please visit our webpage.
We hope you'll enjoy Sony Pictures Core and all the films that will be accessible through the app. It's part of our shared goal with Sony Pictures Entertainment to bring together this curated collection of wonderful films to elevate the PlayStation experience. This is just the beginning, and we plan to evolve the offerings and benefits of Sony Pictures Core over time – including a selection of hit anime content from Crunchyroll. We're looking forward to more exciting things to come, so stay tuned!
*Players must be at least 18 years old to register for a Sony Pictures Core account.
**Available movie titles are subject to change without notice. Availability varies by market and title.
*** Voucher code requires Gran Turismo 7 game for PlayStation 5 or PlayStation 4 (not included), account for PlayStation Network, and internet connection.
****Minimum 9 Mb/s required for PS5 consoles and 2 Mb/s for PS4 consoles for IMAX Enhanced playback.
*****Catalog content varies over time, region/country, and plan, and requires separate download and use of Sony Pictures Core App. PlayStation Plus is subject to a recurring subscription fee taken automatically until cancellation. Terms apply: play.st/psplus-usageterms