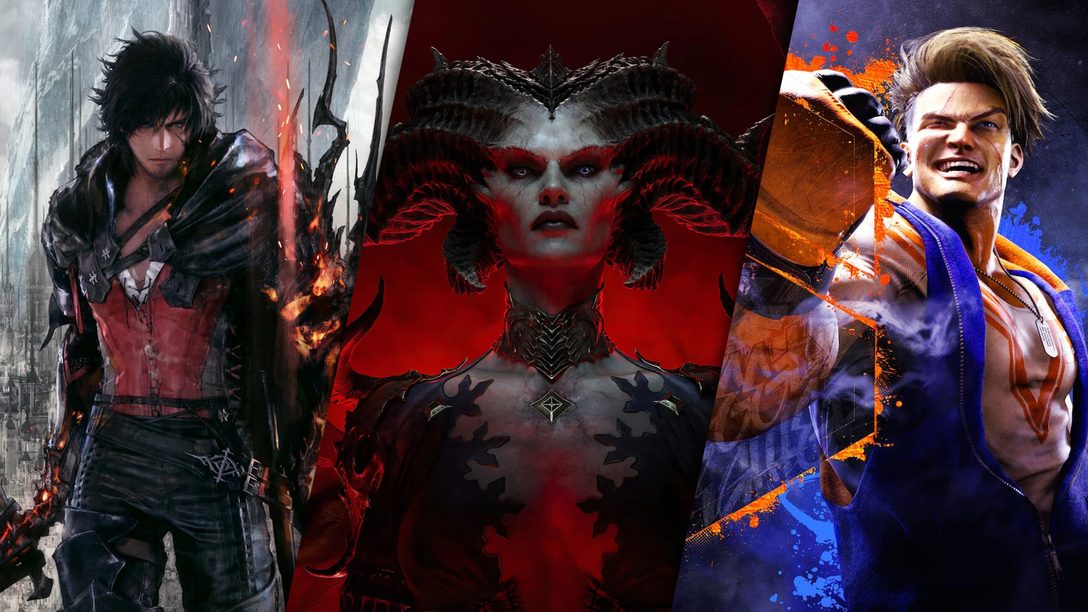 The most played games this month were all red hot.
It's time to see which top downloads for PS5, PS4, PS VR2, PSVR, and free-to-play received the most downloads to make the list this month. PS5 and PS4 both submitted the number one spot to Lilith this month, while both Street Fighter 6 and Final Fantasy XVI both fought their way into the top 5. Also, Beat Saber continues to dominate the PS VR2 charts.
Check out the full listings below. What titles are you playing this month?
PS5 Games
| | US/Canada | EU |
| --- | --- | --- |
| 1 | Diablo IV | Diablo IV |
| 2 | FINAL FANTASY XVI | FINAL FANTASY XVI |
| 3 | Street Fighter 6 | F1 23 |
| 4 | Grand Theft Auto V | Grand Theft Auto V |
| 5 | Call of Duty: Modern Warfare II | FIFA 23 |
| 6 | Marvel's Spider-Man: Miles Morales | Street Fighter 6 |
| 7 | NBA 2K23 | Call of Duty: Modern Warfare II |
| 8 | FIFA 23 | Cyberpunk 2077 |
| 9 | MLB The Show 23 | NBA 2K23 |
| 10 | Star Wars Jedi: Survivor | Marvel's Spider-Man: Miles Morales |
| 11 | Marvel's Spider-Man | Assassin's Creed Valhalla |
| 12 | AEW: Fight Forever | Hogwarts Legacy |
| 13 | Tom Clancy's Rainbow Six Siege | GRAN TURISMO 7 |
| 14 | Hogwarts Legacy | Star Wars Jedi: Survivor |
| 15 | Cyberpunk 2077 | Need For Speed Unbound |
| 16 | God of War Ragnarök | Tom Clancy's Rainbow Six Siege |
| 17 | GRAN TURISMO 7 | Among Us |
| 18 | F1 23 | Dead Island 2 |
| 19 | Need For Speed Unbound | God of War Ragnarök |
| 20 | Dead Island 2 | Football Manager 2023 |
*Naming of products may differ between regions
*Upgrades not included
PS4 Games
| | US/Canada | EU |
| --- | --- | --- |
| 1 | Diablo IV | Minecraft |
| 2 | Minecraft | FIFA 23 |
| 3 | Red Dead Redemption 2 | Diablo IV |
| 4 | Grand Theft Auto V | Grand Theft Auto V |
| 5 | FIFA 23 | Red Dead Redemption 2 |
| 6 | EA Sports UFC 4 | F1 23 |
| 7 | Marvel's Spider-Man: Miles Morales | The Forest |
| 8 | NBA 2K23 | EA Sports UFC 4 |
| 9 | Injustice 2 | Hogwarts Legacy |
| 10 | Call of Duty: Modern Warfare II | NBA 2K23 |
| 11 | Street Fighter 6 | Gang Beasts |
| 12 | The Forest | Marvel's Spider-Man: Miles Morales |
| 13 | Gang Beasts | Assassin's Creed Origins |
| 14 | Hogwarts Legacy | Call of Duty: Modern Warfare II |
| 15 | MLB The Show 23 | A Way Out |
| 16 | Call of Duty: Black Ops III | CARX DRIFT RACING ONLINE |
| 17 | Mortal Kombat 11 | Among Us |
| 18 | Mortal Kombat X | The Crew 2 |
| 19 | Star Wars Battlefront II | Goat Simulator |
| 20 | Batman: Arkham Knight | Assassin's Creed Odyssey |
*Naming of products may differ between regions
PS VR2 Games*
| | US/Canada | EU |
| --- | --- | --- |
| 1 | Beat Saber | Beat Saber |
| 2 | Pavlov | Pavlov |
| 3 | Job Simulator | Hubris PS VR 2 |
| 4 | Hubris PS VR 2 | Job Simulator |
| 5 | Walkabout Mini Golf | Red Matter 2 |
| 6 | The Walking Dead: Saints & Sinners – Chapter 2: Retribution | The Walking Dead: Saints & Sinners – Chapter 2: Retribution |
| 7 | Creed: Rise to Glory – Championship Edition | Kayak VR: Mirage |
| 8 | Kayak VR: Mirage | Walkabout Mini Golf |
| 9 | Red Matter 2 | Creed: Rise to Glory – Championship Edition |
| 10 | Swordsman VR | Swordsman VR |
*PS Store purchases only. Game upgrades or games bundled with hardware not included
PSVR Games
| | US/Canada | EU |
| --- | --- | --- |
| 1 | Creed: Rise to Glory – Championship Edition | Creed: Rise to Glory – Championship Edition |
| 2 | SUPERHOT VR | Job Simulator |
| 3 | Job Simulator | SUPERHOT VR |
| 4 | The Walking Dead Onslaught | The Walking Dead Onslaught |
| 5 | Beat Saber | Beat Saber |
| 6 | Batman: Arkham VR | Sniper Elite VR |
| 7 | Astro Bot Rescue Mission | Batman: Arkham VR |
| 8 | Dead Land VR | Lethal VR |
| 9 | Sniper Elite VR | GORN |
| 10 | Borderlands 2 VR | Astro Bot Rescue Mission |
Free to Play (PS5 + PS4)
| | US/Canada | EU |
| --- | --- | --- |
| 1 | Fortnite | Fortnite |
| 2 | Call of Duty: Warzone | Trackmania |
| 3 | Fall Guys | Call of Duty: Warzone |
| 4 | Rocket League | Fall Guys |
| 5 | Apex Legends | Rocket League |
| 6 | Overwatch 2 | eFootball 2023 |
| 7 | Trackmania | The Sims 4 |
| 8 | The Sims 4 | Vigor |
| 9 | Rec Room | Apex Legends |
| 10 | PUBG: BATTLEGROUNDS | Overwatch 2 |