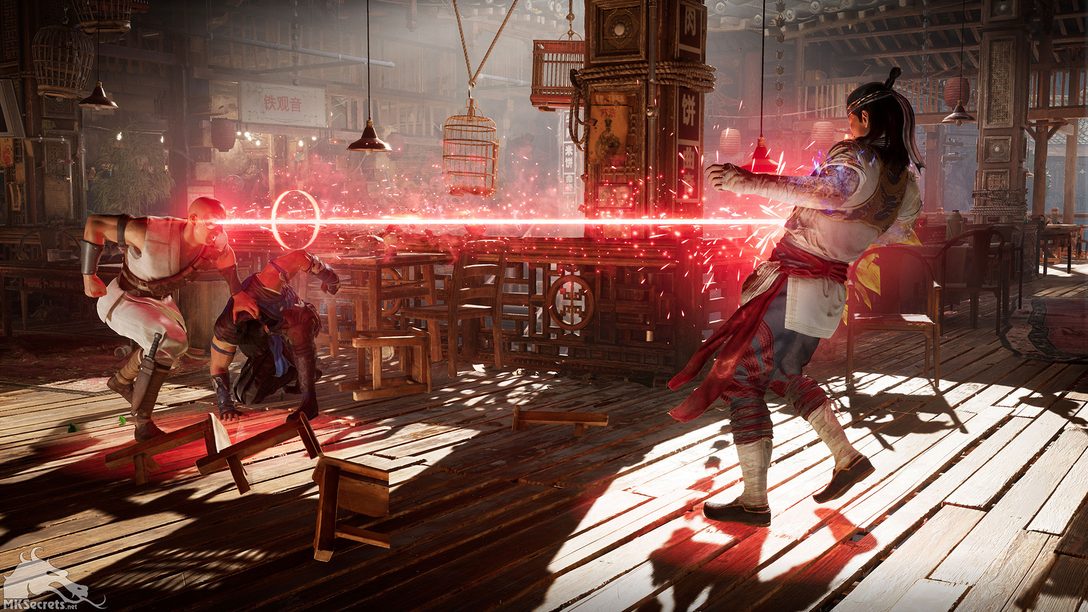 Early hands-on details from NetherRealm's fatality-fueled fighter, and new nuggets of wisdom from series co-creator Ed Boon.
The Mortal Kombat series recently hit the big 3-0. And what a long, bloody trip it's been: Eleven mainline games over six console generations and somewhere between 75 and 80+ characters, depending on how and where you want to count them.
And now Mortal Kombat 1, which is looking to open the floodgates on that rich, gory history while serving as a chapter-one reset. It's a reintroduction of the entire IP, with one big, big gameplay twist.
Kameos in the Spotlight
While the visuals look stupendous, and the core fighting feels as tight as ever, the Kameo fighters are easily the star of this show. Using a combination of directional inputs and the R1 button, you can command your Kameo partner to bash an airborne enemy, juggle them, zap them from afar, throw them, execute a combo breaker… even perform a fatality.
But you need to be strategic. Kameo fighters come with a cooldown, so you can't spam your opponent with a barrage of incoming attacks. They work best as a combo extender or as a way to build momentum on your opponent — if you've played Tekken Tag Tournament, you'll have a decent idea how Kameo fighters will fit into this mix.
Kameo fighters were a combination of two ideas. Early in MK1's development, the design team proposed adding unique modifiers to each fighter, such as giving Sonya a drone that could augment her attacks. "But it was specific to each character. And I kind of pushed back," Boon explained. "I think we should do something everybody can share." Then there was the question of the 2v2 Tag mode, not seen since 2011's Mortal Kombat. "We loved it, and a lot of people loved it," Boon explained, "but it wasn't a much-played feature." Enter Kameo fighters, which seemed to solve two different needs. "This kind of simplified thing, [activated] with a button push… that to me felt like the sweet spot."
More Kameos are coming, and every retro MK character is on the table for consideration. Boon expects that MK1 will include between 15 and 20 Kameo fighters on day one, but more will be on the way. "We have some ridiculous ones that are gonna be coming later," Boon teased, "like, you know… how do they even remember that character?!"
Ed Boon speaks
The premise. So is MK1 a reboot, a remake? "I think it could be in the category of a reboot." Boon explained that the team at NetherRealm wanted to include key existing characters but tell a brand-new story. And the canonical ending of 2019's MK11 made for a perfect springboard, with series mainstay-turned-fire-god Liu Kang in control of the flow of time and effectively resetting the universe. "And then, obviously," Boon said, "something goes wrong." The results will be familiar characters who may be in very, very different circumstances.
Who's the villain? While Boon confirmed that "a number of" classic Mortal Kombat villains would be returning in some way, he wouldn't spell out who the big bad was. "Just like with the heroes, the villains will start completely different…they'll go down different paths and have different relationships with each other." If you're well-versed in MK lore, expect to encounter some twists.
New modes? Boon remained tight-lipped on online play details. But he did confirm that the team is working on a replacement for the Krypt mode seen in the past six MK games. "We have a whoooole new system," Boon teased. "I can tell you it's not the Krypt. But we're gonna have a whole new system for unlocks."
New-gen benefits. Boon appreciates many things about the PS5 generation — "it's obviously crazy powerful." But his biggest appreciation? The superfast SSD. "We can load in these crazy detailed backgrounds that before would have taken so long to upload."
Some fatalities DO get rejected. Over the years, NetherRealm has established a sort of "fatality committee" that weighs in on pitches for the series' iconic finishing moves. Ideas come in from around the company, but Boon has the final say. "Yeah, there's a line, you know… there have been plenty that I've sent back and said, 'no, that's just crossing the line. We're not doing stuff like that.' And then they would get disappointed. But enough get through that they're good."
Boon is a bit behind on his games. With MK1 only three months from launch, Boon's eager to catch up on some recent hits. "I'm definitely going to get Street Fighter 6, I've always been a fan," Boon said. "I haven't even had a chance to play God of War Ragnarök. And I've never played Diablo, but I'm really curious about Diablo IV."
So that's it… for now, at least. Based on my 30-minute play session, MK1 is a major series shakeup in more ways than one. With just three months to go, expect a steady stream of announces and reveals leading up to its September 19 launch on PS5.