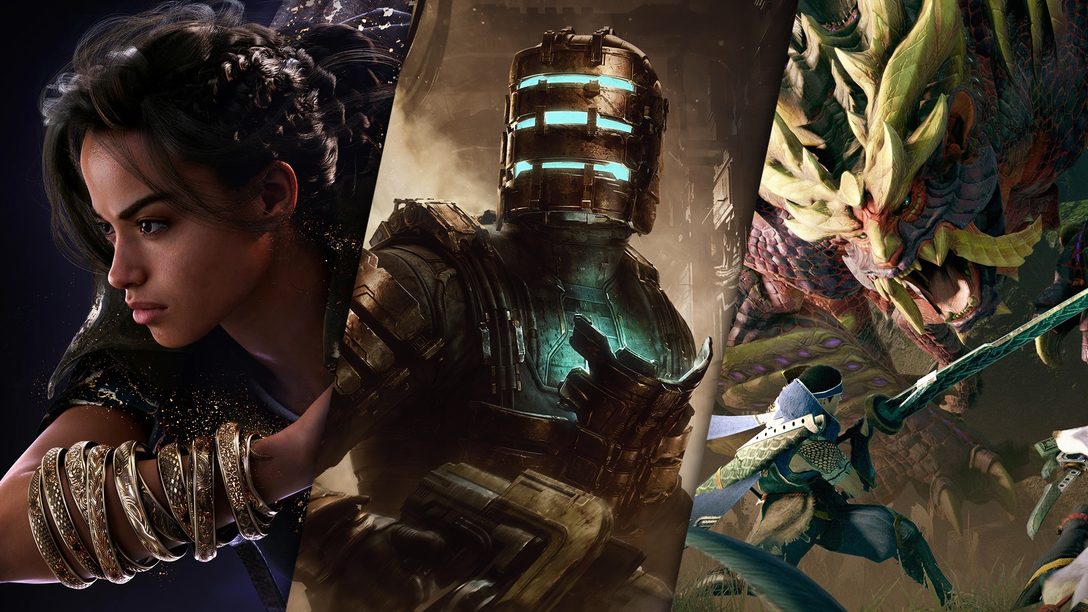 What titles came up top at the top of the year?
The first month of 2023 is in the rearview mirror. It's time to reveal the first PlayStation Store downloads chart of the year for PS5, PS4, PSVR, and F2P. January saw the debut amongst others of sci-fi horror remake Dead Space, action RPG Forspoken and the PlayStation debut of Monster Hunter Rise. All three earned their places in the top ten for PS5.
Check out the full listings below. What new title earned your time last month? Make sure to cast your vote in the Players' Choice polls for January!
PS5 Games
| | US/Canada | EU |
| --- | --- | --- |
| 1 | Grand Theft Auto V | Grand Theft Auto V |
| 2 | Dead Space | FIFA 23 |
| 3 | Call of Duty: Modern Warfare II | Call of Duty: Modern Warfare II |
| 4 | NBA 2K23 | Dead Space |
| 5 | FIFA 23 | Forspoken |
| 6 | Madden NFL 23 | MONSTER HUNTER RISE |
| 7 | Forspoken | Need For Speed Unbound |
| 8 | The Last of Us Part I | NBA 2K23 |
| 9 | MONSTER HUNTER RISE | ELDEN RING |
| 10 | God of War Ragnarök | The Last of Us Part I |
| 11 | Need For Speed Unbound | Among Us |
| 12 | ELDEN RING | Tom Clancy's Rainbow Six Siege |
| 13 | Ghost of Tsushima | God of War Ragnarök |
| 14 | Tom Clancy's Rainbow Six Siege | It Takes Two |
| 15 | Marvel's Spider-Man: Miles Morales | ONE PIECE ODYSSEY |
| 16 | Ratchet & Clank: Rift Apart | The Witcher 3: Wild Hunt |
| 17 | ONE PIECE ODYSSEY | Kena: Bridge of Spirits |
| 18 | Mortal Kombat 11 | Cyberpunk 2077 |
| 19 | Among Us | Ratchet & Clank: Rift Apart |
| 20 | GRAN TURISMO 7 | GRAN TURISMO 7 |
*Naming of products may differ between regions
*Upgrades not included
PS4 Games
| | US/Canada | EU |
| --- | --- | --- |
| 1 | Minecraft | FIFA 23 |
| 2 | Call of Duty: Modern Warfare II | Minecraft |
| 3 | Red Dead Redemption 2 | The Forest |
| 4 | The Forest | Grand Theft Auto V |
| 5 | FIFA 23 | A Way Out |
| 6 | Grand Theft Auto V | Red Dead Redemption 2 |
| 7 | The Last of Us Part II | The Last of Us Part II |
| 8 | NBA 2K23 | Call of Duty: Modern Warfare II |
| 9 | Gang Beasts | Need for Speed Payback |
| 10 | Need for Speed Payback | Gang Beasts |
| 11 | Madden NFL 23 | Need for Speed Heat |
| 12 | EA Sports UFC 4 | NBA 2K23 |
| 13 | The Last of Us Remastered | EA Sports UFC 4 |
| 14 | Need for Speed Heat | God of War |
| 15 | God of War | The Last of Us Remastered |
| 16 | A Way Out | Monopoly Plus |
| 17 | theHunter: Call of the Wild | ARK: Survival Evolved |
| 18 | Persona 4 Golden | Among Us |
| 19 | God of War Ragnarök | Assetto Corsa |
| 20 | ARK: Survival Evolved | Goat Simulator |
*Naming of products may differ between regions
PS VR Games
| | US/Canada | EU |
| --- | --- | --- |
| 1 | Job Simulator | Job Simulator |
| 2 | Beat Saber | Beat Saber |
| 3 | Astro Bot Rescue Mission | Batman: Arkham VR |
| 4 | SUPERHOT VR | Creed: Rise to Glory |
| 5 | The Elder Scrolls V: Skyrim VR | SUPERHOT VR |
| 6 | Swordsman VR | Swordsman VR |
| 7 | The Walking Dead: Saints & Sinners | Sniper Elite VR |
| 8 | PlayStation VR Worlds | The Walking Dead: Saints & Sinners |
| 9 | Batman: Arkham VR | Astro Bot Rescue Mission |
| 10 | NFL ProERA '22 | PlayStation VR Worlds |
Free to Play (PS5 + PS4)
| | US/Canada | EU |
| --- | --- | --- |
| 1 | Call of Duty: Warzone 2.0 | Call of Duty: Warzone 2.0 |
| 2 | Fortnite | Fortnite |
| 3 | Fall Guys | Rocket League |
| 4 | Apex Legends | Fall Guys |
| 5 | Rocket League | The Sims 4 |
| 6 | Overwatch 2 | eFootball 2023 |
| 7 | The Sims 4 | Overwatch 2 |
| 8 | Rec Room | Apex Legends |
| 9 | eFootball 2023 | Genshin Impact |
| 10 | Genshin Impact | MultiVersus |