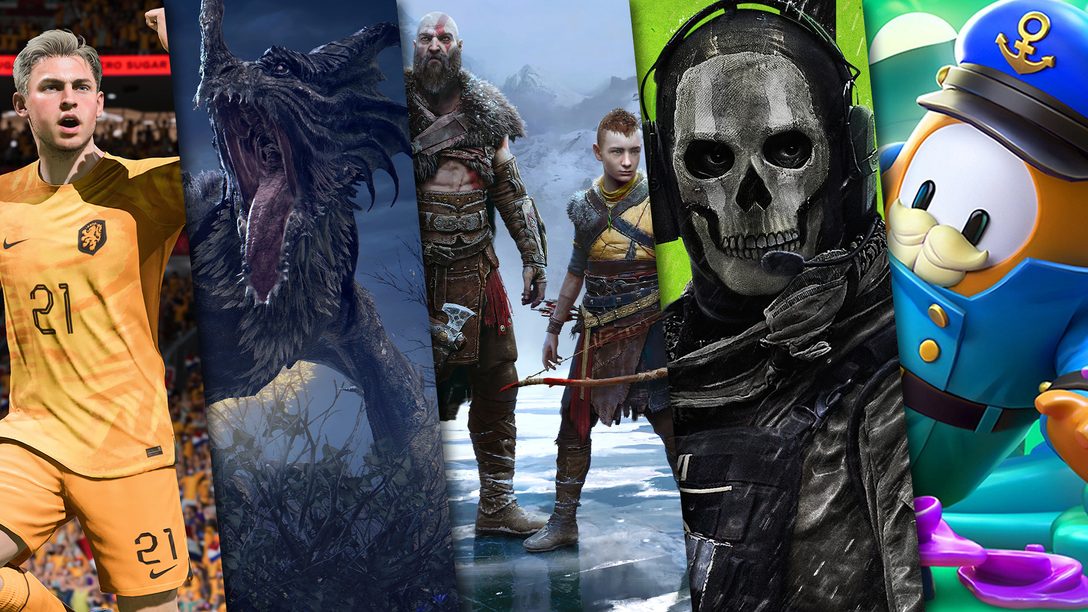 Find out where your favorites placed in the PS Store charts for 2022.
Last week we revealed the top downloads on PlayStation Store for December. Today, it's time to look at the top downloads for the entirety of 2022. Blockbusters rubbed shoulders with great indie titles, but even in a year of heavy hitters, there's some surprises as older classics snuck into the charts.
Check the full lists below.
PS5 Games
| | US/Canada | EU |
| --- | --- | --- |
| 1 | Call of Duty: Modern Warfare II | FIFA 23 |
| 2 | God of War Ragnarök | Call of Duty: Modern Warfare II |
| 3 | NBA 2K23 | God of War Ragnarök |
| 4 | ELDEN RING | ELDEN RING |
| 5 | Madden NFL 23 | Grand Theft Auto V |
| 6 | Grand Theft Auto V | GRAN TURISMO 7 |
| 7 | FIFA 23 | Cyberpunk 2077 |
| 8 | Horizon Forbidden West | Horizon Forbidden West |
| 9 | GRAN TURISMO 7 | LEGO Star Wars: The Skywalker Saga |
| 10 | Dying Light 2 | Dying Light 2 |
| 11 | MLB The Show 22 | Star Wars Jedi: Fallen Order |
| 12 | Cyberpunk 2077 | Among Us |
| 13 | LEGO Star Wars: The Skywalker Saga | NBA 2K23 |
| 14 | Marvel's Spider-Man: Miles Morales | F1 22 |
| 15 | NBA 2K22 | It Takes Two |
| 16 | WWE 2K22 | Stray |
| 17 | Gotham Knights | FIFA 22 |
| 18 | Sifu | Assassin's Creed Valhalla |
| 19 | Star Wars Jedi: Fallen Order | Sifu |
| 20 | Stray | FAR CRY 6 |
*Naming of products may differ between regions
*Upgrades not included
PS4 Games
| | US/Canada | EU |
| --- | --- | --- |
| 1 | Call of Duty: Modern Warfare II | FIFA 23 |
| 2 | Grand Theft Auto V | Grand Theft Auto V |
| 3 | Minecraft | Call of Duty: Modern Warfare II |
| 4 | ELDEN RING | Minecraft |
| 5 | NBA 2K23 | FIFA 22 |
| 6 | Red Dead Redemption 2 | Red Dead Redemption 2 |
| 7 | NBA 2K22 | Among Us |
| 8 | Madden NFL 23 | The Last of Us Part II |
| 9 | God of War Ragnarök | ELDEN RING |
| 10 | FIFA 23 | The Forest |
| 11 | MLB The Show 22 | Need for Speed Heat |
| 12 | The Last of Us Part II | The Witcher 3: Wild Hunt |
| 13 | Horizon Forbidden West | The Crew 2 |
| 14 | Batman: Arkham Knight | NBA 2K22 |
| 15 | Gang Beasts | God of War Ragnarök |
| 16 | Need for Speed Heat | A Way Out |
| 17 | WWE 2K22 | Gang Beasts |
| 18 | Dying Light 2 | F1 22 |
| 19 | Among Us | GRAN TURISMO 7 |
| 20 | The Forest | Horizon Forbidden West |
*Naming of products may differ between regions
PS VR Games
| | US/Canada | EU |
| --- | --- | --- |
| 1 | Beat Saber | Beat Saber |
| 2 | Job Simulator | Job Simulator |
| 3 | SUPERHOT VR | SUPERHOT VR |
| 4 | Creed: Rise to Glory | Creed: Rise to Glory |
| 5 | Swordsman VR | Sniper Elite VR |
| 6 | Astro Bot Rescue Mission | Swordsman VR |
| 7 | Rick and Morty: Virtual Rick-ality | Rick and Morty: Virtual Rick-ality |
| 8 | GORN | Batman: Arkham VR |
| 9 | Batman: Arkham VR | Arizona Sunshine |
| 10 | The Walking Dead: Saints & Sinners | Astro Bot Rescue Mission |
Free-to-Play (PS5 + PS4)
| | US/Canada | EU |
| --- | --- | --- |
| 1 | Fall Guys | Fall Guys |
| 2 | Fortnite | Call of Duty: Warzone/Warzone 2.0 |
| 3 | Call of Duty: Warzone/Warzone 2.0 | Fortnite |
| 4 | MultiVersus | MultiVersus |
| 5 | Overwatch 2 | Overwatch 2 |
| 6 | Apex Legends | Rocket League |
| 7 | Rocket League | eFootball 2023 |
| 8 | PUBG: BATTLEGROUNDS | Apex Legends |
| 9 | Rec Room | Rumbleverse |
| 10 | Rumbleverse | Rec Room |