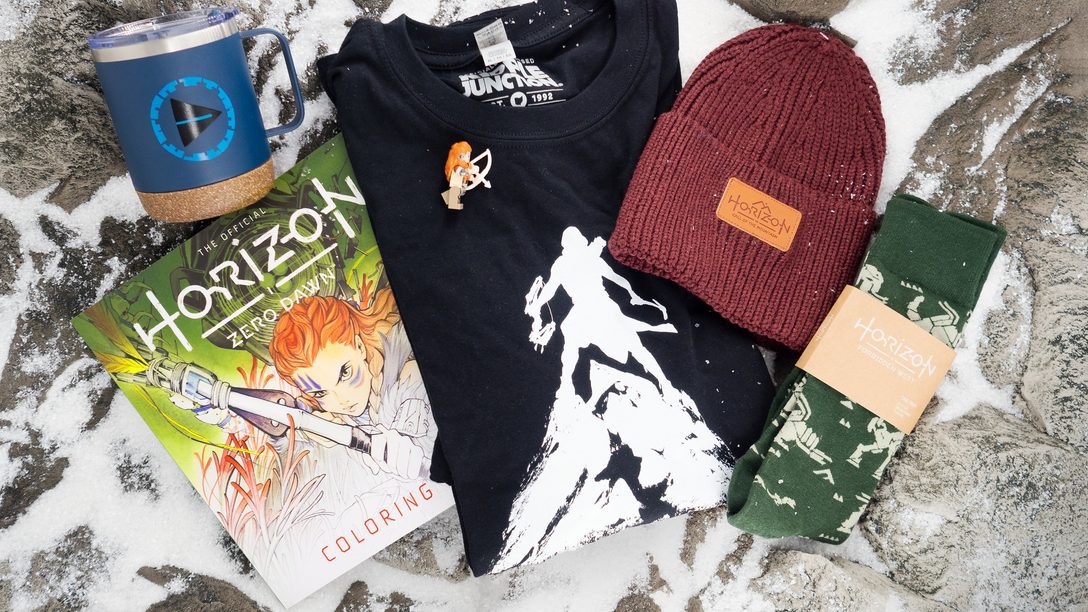 The best festive gift recommendations for the Horizon fans in your life.
Starting to write up your gift lists for friends and family? The Horizon Holiday Gift Guide is here to help.
The end of the year is already upon us, but the options are endless when it comes to gifts for Horizon fans. Whether you're settling in with cozy vibes at home, braving the great outdoors or looking to add style to your home, there's something special to delight just about every type of Horizon aficionado.
The Adventurer
The wilds are a dangerous place for even the most adept machine hunters. Brave any conditions this holiday season with items to make the Horizon fan in your life adventure-ready, as they did Aloy. If the Horizon fan in your life finds holiday cheer among the great outdoors, equip them with everything they need: from the beanie on their head to the sling bag on their shoulders with gear from our partners Insert Coin and the PlayStation Gear Store.
The Collector
Must-owns for the dedicated Horizon fan, we worked with our partners to bring these exclusive items to life for the most avid Horizon collectors.
For those who can't get enough Horizon, Guerrilla's worked with top-tier partners to create unmissable limited-edition collectibles. Any of these are a surefire treat under the tree: the Aloy Statue's detailed statuette will sit proudly on any shelf, the vinyl collection will fill your home with Forbidden West's epic soundtrack, and the LEGO® Horizon Forbidden West Tallneck is as enjoyable to assemble as it is to admire after.
The Loot Lover
Got someone in your circle who loves caching anything Horizon-related – just for a rainy day? A good completionist lets no treasure slip by unlooted. Whether a pin featuring the fearsome Tremortusk or a poster to decorate your walls, these trinkets are small, but they can bring big smiles to those that love all things Horizon. We've got you covered with must-have accessories from our partners Fangamer, Insert Coin, and the PlayStation Gear Store.
The Creative
The machine-infested world of Horizon can be dangerous, but these wilds also offer beautifully crafted breathtaking vistas. Treat an art lover in your life with a gift featuring the stunning world of Horizon to get immersed in the prints and pages of these inspiring collections. These gifts, from the high-quality prints to the coloring book, are for those who appreciate creativity and the arts.
The Sophisticate
Is someone you know in need of a closet refresh (or maybe you want to add something different to your style yourself)? Sure, Horizon is mostly enjoyed at home, but now, the fan in your life can show their love for it anywhere in style with this collection of high-quality apparel. From crop hoodies to everyday basics, add a dash of the awe-inspiring world of Horizon to your wardrobe with pieces from Fangamer, the PlayStation Gear Store, Ripple Junction, and ASOS.
The Homebody
Cozy vibes abound this season – some of us prefer to spend our time with our feet up like a Carja noble, and our bodies wrapped snugger than a Banuk in the Cut's frigid climes. For those Horizon fans, we've got everything you need to make a night in as fun as a day out in the wilds, from board games to blankets. Create the perfect merry sentiment indoors with gifts from the PlayStation Gear Store, Ripple Junction, Steamforged, and Titan Comics, sure to make staying inside a delightful place to be.
---
With no shortage of gifts for your loved ones, celebrate this season as one to remember in Horizon style with all our partners have to offer. Find many of our gift options on the PlayStation Gear Store – Horizon gifts know no boundaries.
Eager to keep the celebrations going? We're offering you a chance to win a LEGO Tallneck to gift to a loved one!
For those of you in eligible countries, we're offering you a great way to win a LEGO Tallneck – either to keep and build, or give to a family member or friend as a surprise!
We've seen some amazing photography from collectors all over the world showcasing their LEGO Tallneck builds and we want to see how you're displaying your LEGO Tallneck builds in your home – either ones you've made from the LEGO Tallneck set, or of your own creation.
Look out for the competition posts on Twitter, Instagram and Tiktok and participate using the #TallneckTidings hashtag for a chance to win a LEGO Tallneck to gift to a friend during the holidays!
Competition ends 08/12/22 at 6am PT / 2pm GMT. For eligible countries and further details, see full terms & conditions here.
–
We wish you all a merry Tallneck Tidings season!