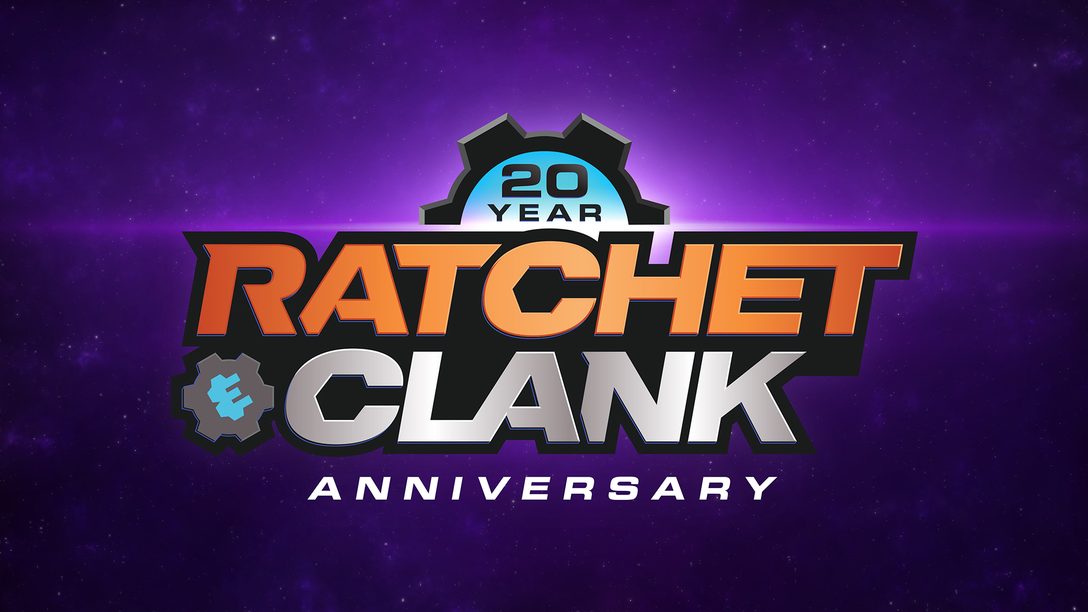 20th Anniversary Armor Pack arrives today for Ratchet & Clank: Rift Apart; more games coming to PlayStation Plus Premium November 15
Ratchet & Clank turns 20 today! Did someone tamper with The Great Clock? It's almost hard to believe, but it's true! Insomniac Games launched the original game in 2002, sparking two decades of grand adventures through space, time, and dimensions. Since its humble beginnings on the PlayStation 2 console, the franchise introduced us to a variety of beloved characters, a host of iconic weapons and gadgets, multitudes of eccentric alien worlds, and much more.
So, beginning today, we're kicking off our Ratchet & Clank celebrations – #Ratchet20 if you will, by dropping a few surprises and briefly looking back at the franchise.
Let's get straight to the good stuff: we're thrilled to announce Ratchet & Clank: Rift Apart will receive a 20th Anniversary Armor Pack TODAY in honor of #Ratchet20, which will be available via a game update at no extra cost. * The pack includes five armors inspired by games throughout the franchise's history – and we have an awesome selection:
Commando Armor inspired by Ratchet & Clank: Going Commando
Holoflux Armor inspired by Ratchet & Clank Future: A Crack in Time
Quest Armor inspired by Ratchet & Clank Future: Quest for Booty
Marauder Armor inspired by Ratchet: Deadlocked
Clank rmor to celebrate the greatest of pals
That's not all. We are also excited to announce more of the Ratchet & Clank franchise coming to PlayStation Plus Premium on November 15.** This includes:
Currently on PlayStation Plus Premium:
Ratchet & Clank Future: Quest for Booty (PS3)
Ratchet & Clank Future: A Crack in Time (PS3)
Ratchet & Clank: All 4 One (PS3)
Ratchet & Clank: Full Frontal Assault (PS3)
Ratchet & Clank: Into the Nexus (PS3)
Coming to PlayStation Plus Premium on November 15:
Ratchet & Clank (PS3)
Ratchet & Clank: Going Commando (PS3)
Ratchet & Clank: Up Your Arsenal (PS3)
Ratchet & Clank: Deadlocked (PS3)
Ratchet & Clank Future: Tools of Destruction (PS3)
Now that we've gotten the new stuff out of the way, let's revisit aspects of the franchise that made it an iconic PlayStation staple for the last 20 years. We've also invited Insomniacs to share some of their memories!
Hey there, Fuzzball….
After three mystical dragon-filled adventures, it was time to venture deep into the cosmos and explore a brand-new galaxy of opportunities. The premise was simple: a fuzzy-eared alien and a tiny robot trek from planet to planet, collecting weapons and gadgets, and save worlds in the process. Cue Ratchet and Clank. One, a Lombax with a penchant for mechanics and a desire to explore beyond his desert planet Veldin. And another, a robot, an intelligent and logical being with an earnest heart and a desire to do good. These titular underdogs would establish a footprint beyond their planets and into our hearts.
---
"When we were in early production on the original Ratchet & Clank in 2001, we were trying to find the right tone for the story. Brian Hastings had come up with the core concept for the game and we had moved quickly into prototyping. The tricky part was finding the right comedic flavor for our scenes.

As someone who's incapable of writing humor, I was waiting anxiously to see if Brian, John Lally and Oliver Wade who had been collaborating on the scripts could thread the needle and find something that was laugh-out-loud funny without being slapstick.

I remember a bunch of us crowded around an old CRT TV watching our first test cinematic. It was the ad for Al's Roboshack where Captain Qwark (voiced by the great Jim Ward) states in his typically snarky tone "There's nothing worse than staring down a Blargian Snagglebest…from the inside". Even though I knew the script by heart, after watching the scene I laughed out loud. The lines, the delivery, the animation, the subtle social commentary – everything fit. To me, that ended up being the scene that set the comedic tone for the entire franchise.""

– Ted Price, President of Insomniac Games
---
Naturally, over 16 games, we've crossed paths with an incredible roster of characters: the lovable and brawny Captain Qwark, the evil Dr. Nefarious, the philosophical Plumber, the courageous and tenacious Talwyn, and of course Rivet, a rebellious Lombax and our breakout star in Ratchet & Clank: Rift Apart.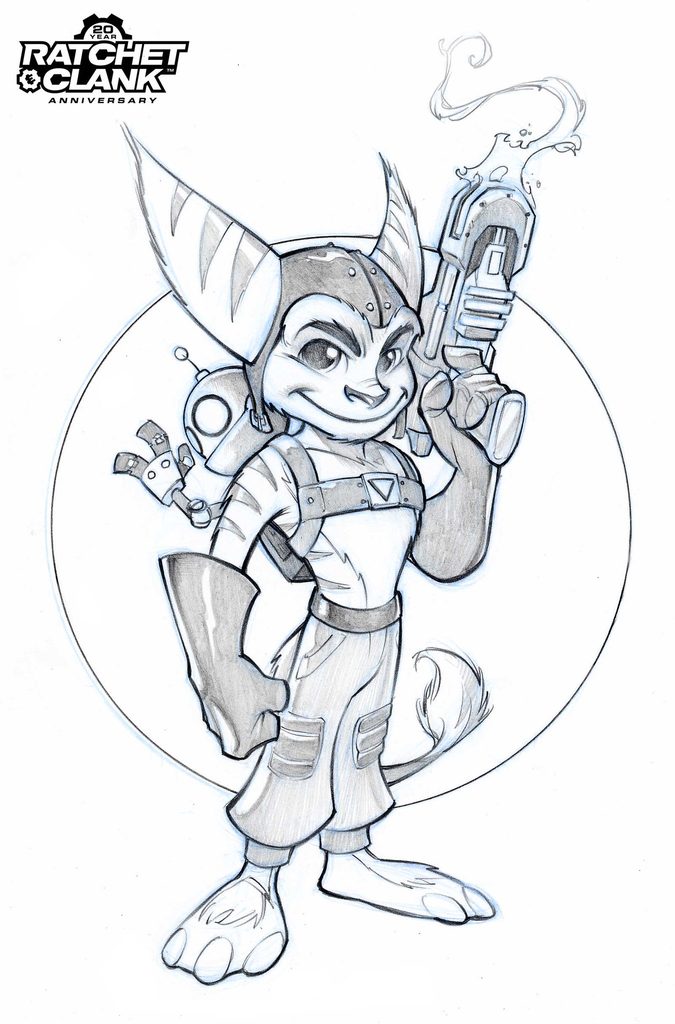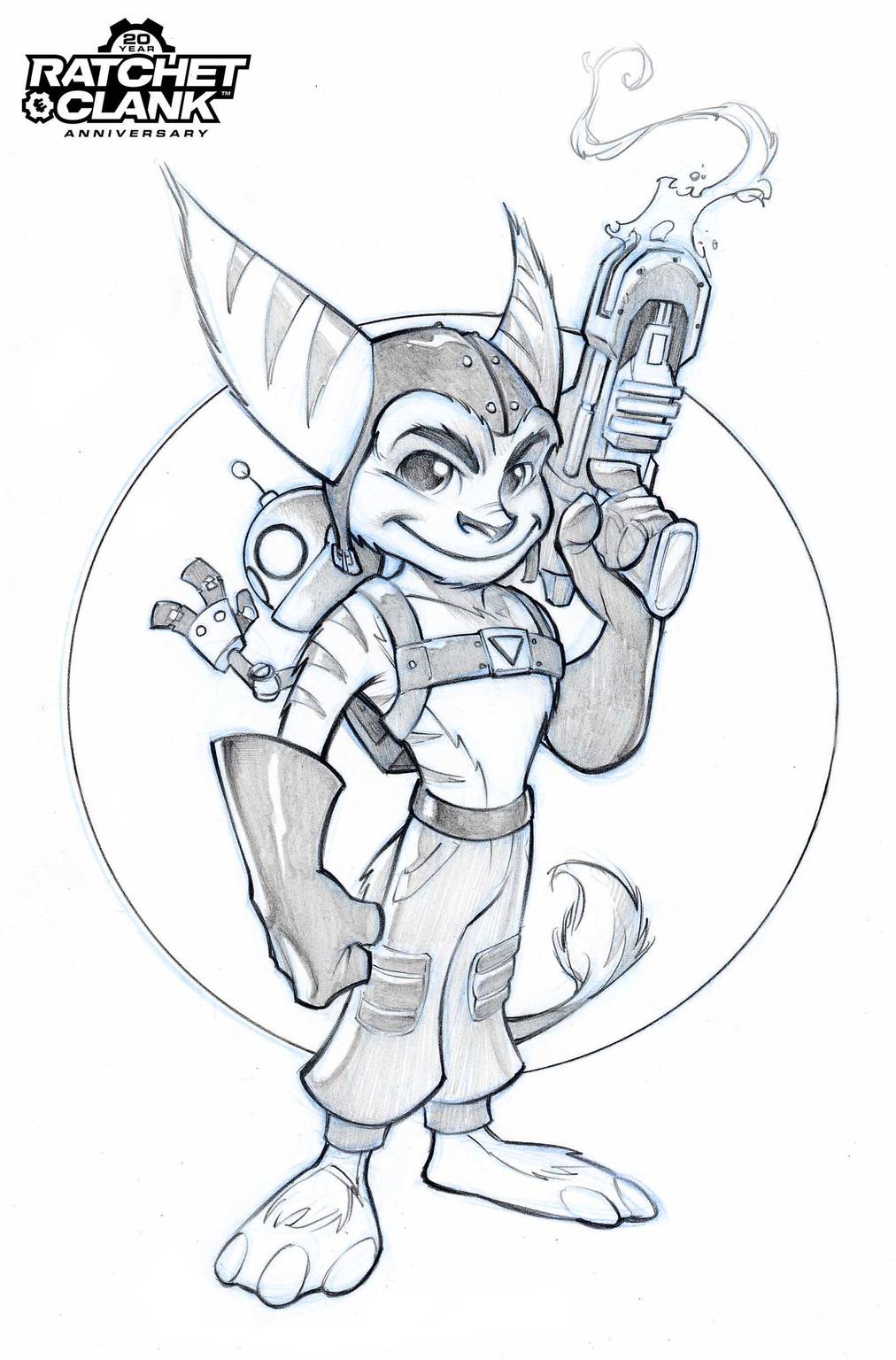 Weapons and Gadgets…
Beyond its characters, Ratchet & Clank is known for its wild arsenal of weapons. I mean, who could forget those live action commercials during the PS2 era? From Up Your Arsenal's Shock Blaster to Tools of Destruction's Groovitron, unleashing a full-frontal assault on your enemies is key to Ratchet & Clank's gameplay experience. Let's not forget the gadgets that also aid you in adventures: the Swingshot! The Helipack! Hooverboots! Hologuise! Hydrodisplacer! Magneboots!
20 years is a lot of time for designing weapons, upgrading them, and testing out new ones. Blasters, canons, melee weapons, deployables, blades, Morph-o-Rays, rocket launchers, wrenches, hammers,…. There's a weapon for everyone and we're always eager to see where our community's favorites stack up! (ahem: comment below!)
---
"I remember the first time I did a hoverboard half-pipe jump on a spherical world and saw the tiny planet receding in the distance below me. That was midway through development of the first Ratchet game, and it was one of many moments that made me think "wow, we've got something really special here." Funny thing is, as amazing as the spherical worlds were, we ended up deciding to save them for the sequel.

Two other favorite moments that did make the cut: sucking up a whole nest of sandsharks with the Suck Cannon and blasting them back out at each other, and the first reveal of Metropolis on Kerwan when you walk through the tunnel and see the sprawling city and rivers of air cars in front of you. But there are at least a hundred other unforgettable moments from the making of that first game I could pick. That first year was a magical period of time where every day somebody was adding something new and incredible into the mix."

– Brian Hastings, Head of Creative Strategy at Insomniac Games
---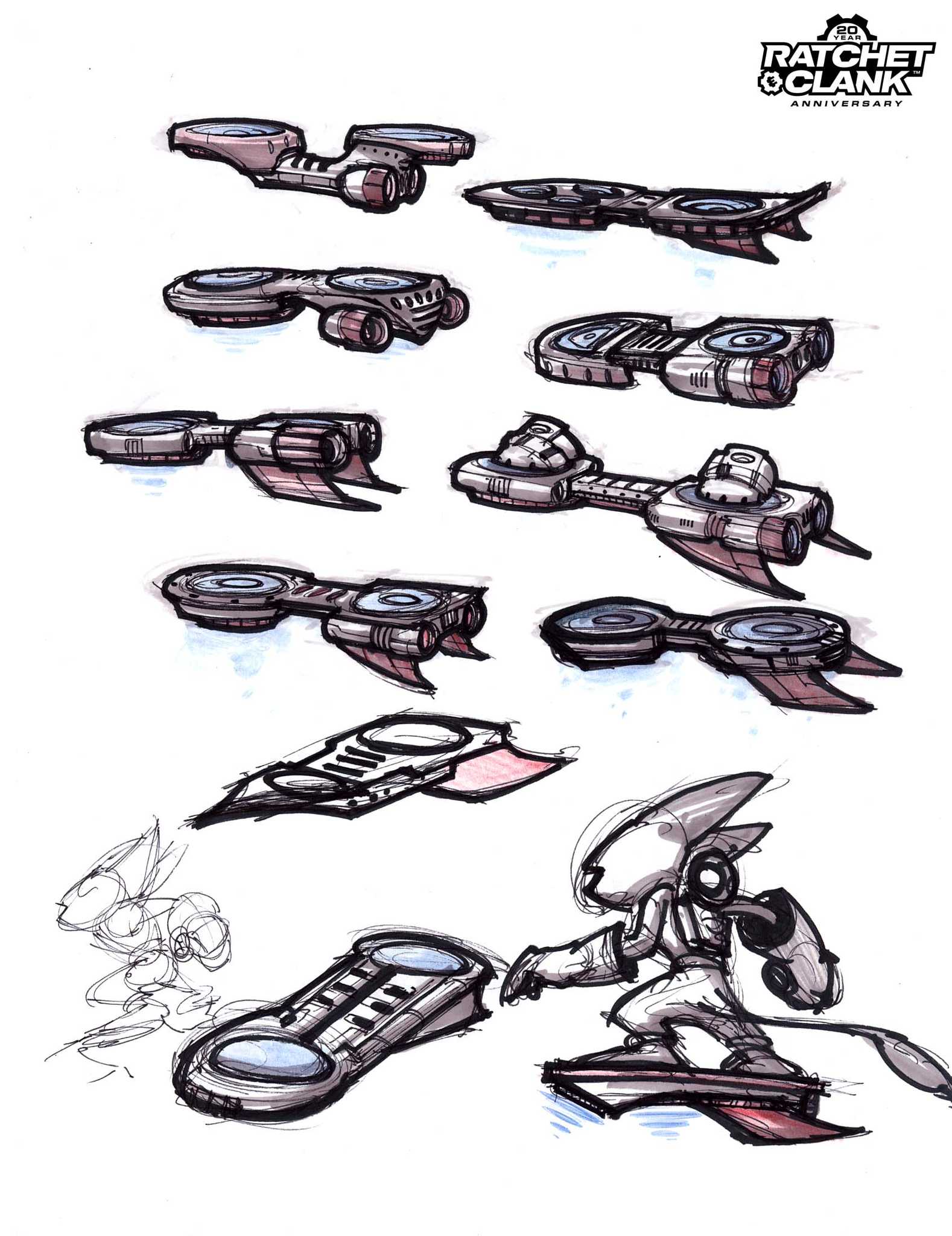 …Not fit for this world!
Iconic planets set the stage for grand adventures. From the sprawling skylines of Metropolis to the murky pirate coves of Hoolefar Island in Quest for Booty, each locale is littered with bolts to collect, gadgets to unlock, weapons to buy, and secrets that yearn to be discovered. Aesthetically, worlds range from the imposing Battleplexes of DreadZone, industrial sectors of Megacorp facilities in Going Commando, and lush tropical resorts on Pokitaru – ensuring every world is distinct and compelling as you move ahead in your galactic travels!
---
"I started at Insomniac when we were making 'Ratchet and Clank: Going Commando' for the PS2. We used to name all the assets by number, so there were no letters in any of the asset names. Artists would write long lists of numbers with a description of what the asset was for their own reference.

When you wanted to share an asset, you'd ask the artist for the number or use a copier machine to make a copy of their asset lists for your own use. Designers also made level maps in Illustrator that artists would print out on large rolls of paper to use as guides for building levels. Concept art was done on paper and handed to the artists. Needless to say, artists' desks were covered with piles and piles of paper even though we were modeling in 3D."

– Jacinda Chew, Sr. Art Director at Insomniac Games
---
In Ratchet & Clank: Into the Nexus, our team even explored spookier environments, from haunting orphanages to destroyed space stations, which gave the game an identity of its own. Visually, Nexus is a personal favorite of mine because of how much it leans into this aesthetic and tone!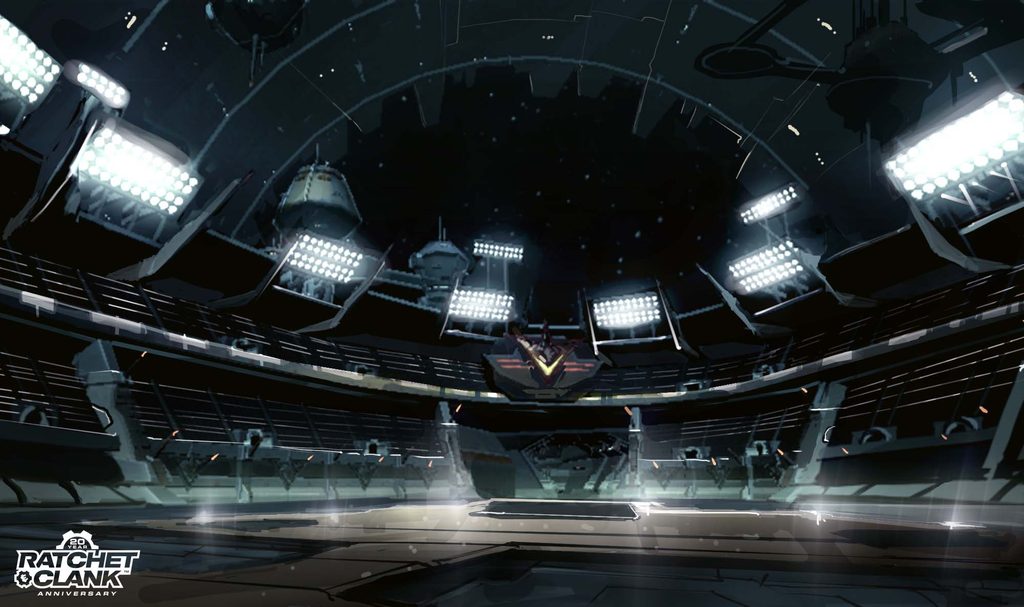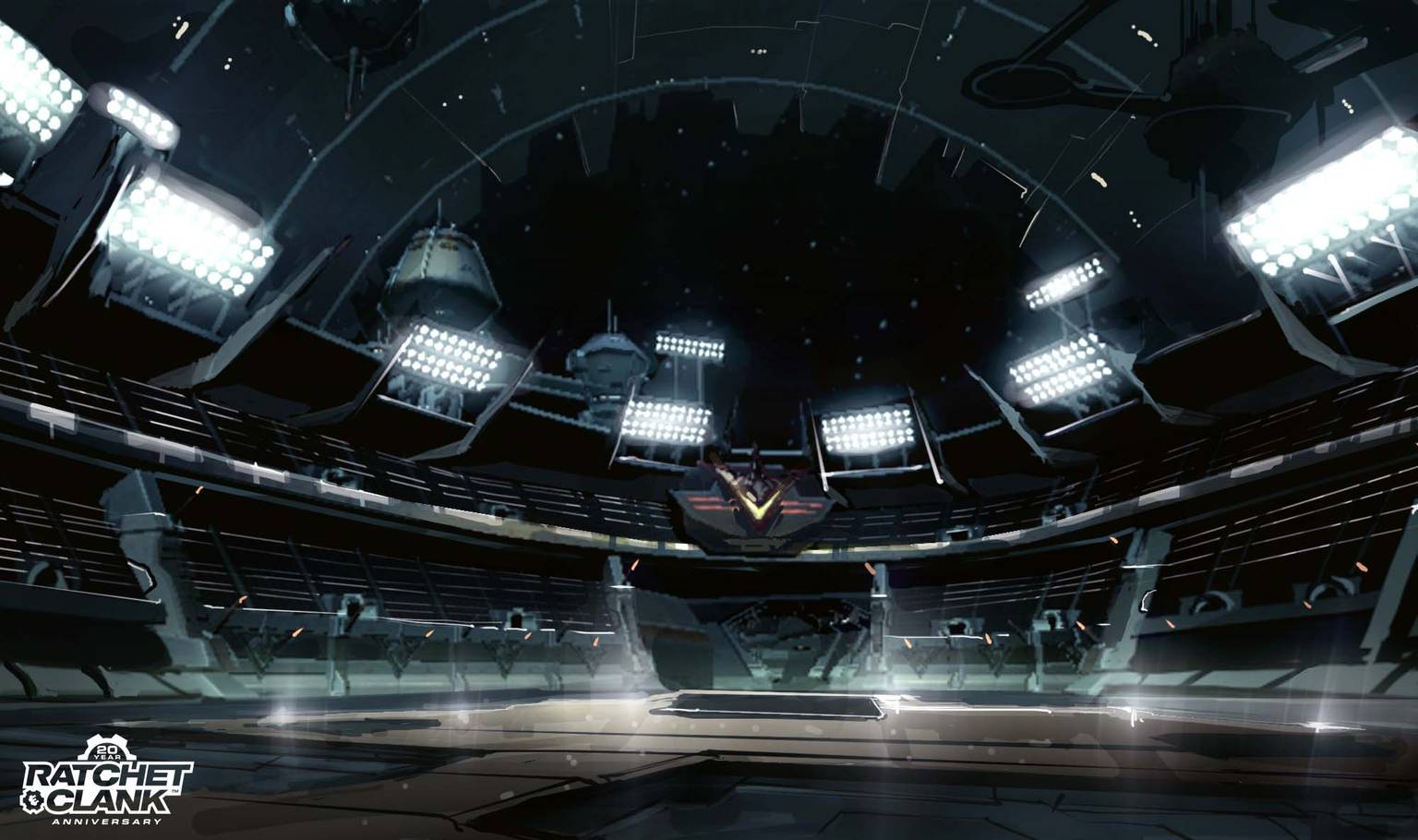 "Seen any good holofilms?"
The PlayStation 2 unlocked new capabilities beyond the original PlayStation, among them the power to create fully fledged cutscenes that rivaled high budget films of the era. Our animation team upped the ante in later years, truly bridging game design and visual storytelling into one.
Animation is core to our storytelling and gameplay. The final moments of Ratchet & Clank Future: A Crack in Time are a testament to our team's work: a rollercoaster ride of animated storytelling, complete with emotional impact and wholesomeness that left a lot of us in tears!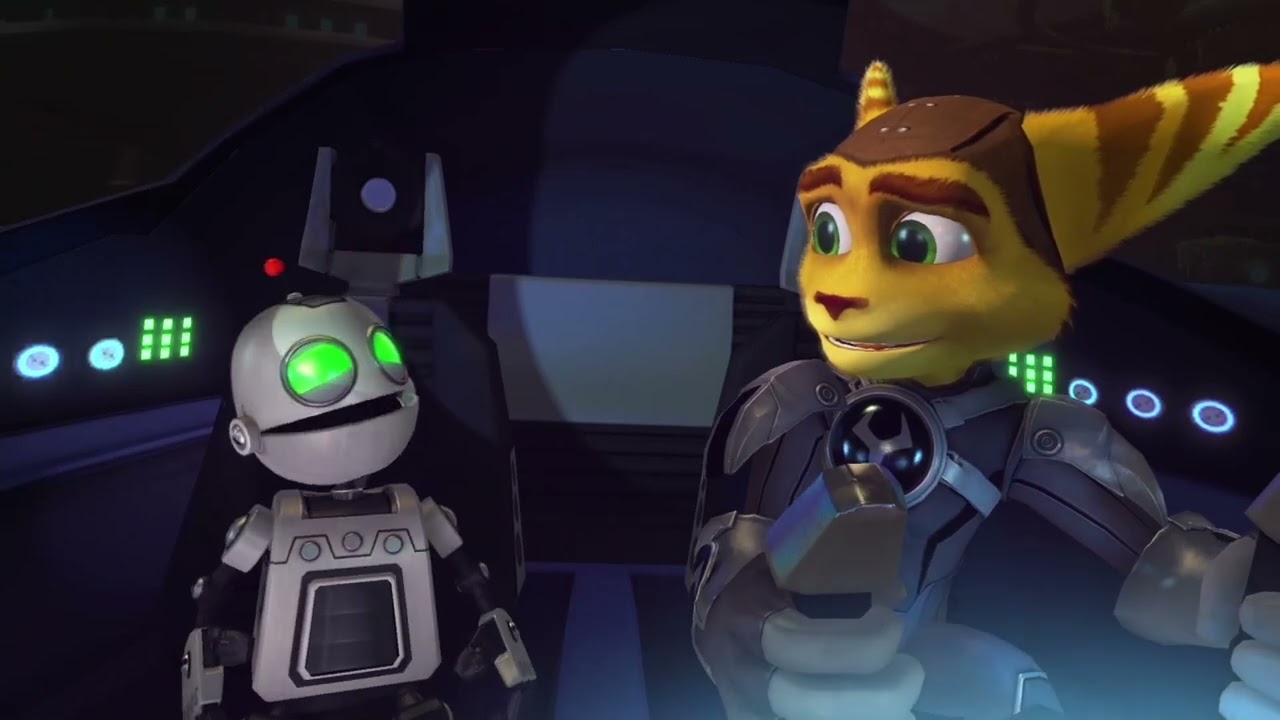 Looking a little more recently, the 2016 reimagining of the first game provides us with a direct before-and-after between modern Ratchet & Clank and the original's visuals. When it comes to animation, it's a substantial leap and a showcase of our team's years of experience bringing Ratchet & Clank to life.
---
""Call it the "screenshot heard around the world…"

It was December of 2014, just a few days before our annual winter office closure, when I got an email from one of our European producers at SIE. The subject read "Milestone update" and the body, a single question mark.

For what it's worth, this is exactly the sort of thing you'd expect to hear from a producer just before a milestone. Especially one as important as the one we were working toward: our first playtest for Ratchet & Clank on PS4.

The build included the first few levels but more crucially, it included cuts from the Ratchet & Clank feature film blended with our new work-in-progress cinematics. For the first time, we'd find out if our approach to a reimagined R&C origin story would land with players.

As we were approaching milestone delivery, I had a million things going on and cheekily responded to the producer with a screenshot that someone of the team had recently circulated:"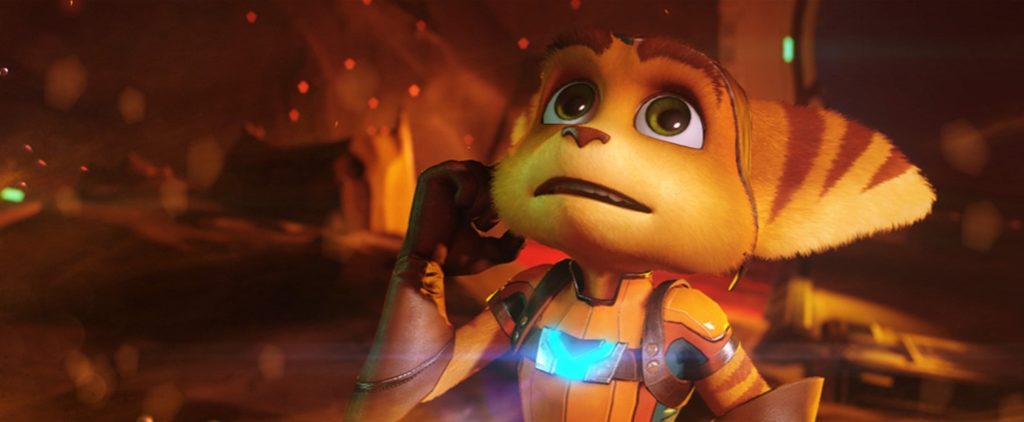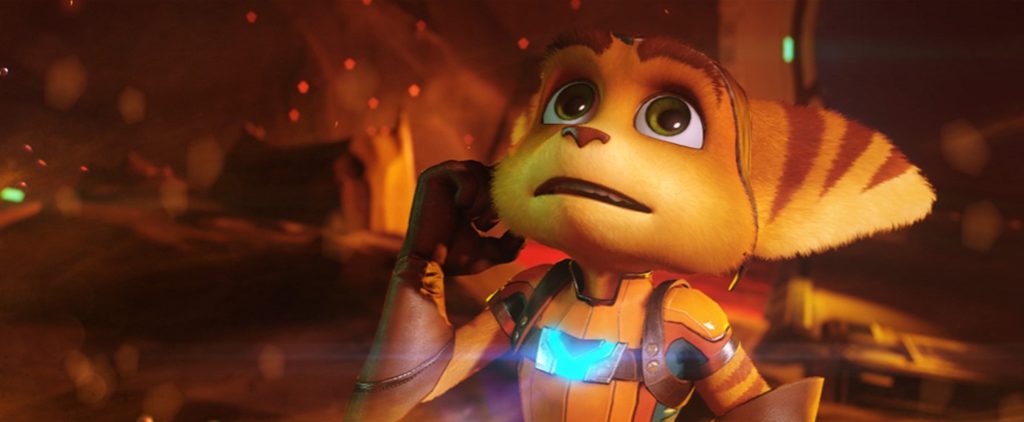 "Initially, he thought I'd sent him a shot from the feature film as a joke. Then he thought I'd sent him a shot from one of our pre-rendered cinematics. Eventually, though, he got it: it was an in-game frame captured on the PlayStation 4 console.

The producer was so amazed by what he saw that he forwarded the screenshot to folks within SIE Europe, who in turn forwarded it to others. Pretty soon, word spread that Ratchet & Clank (2016) wasn't a remaster but instead, something completely new.

RCPS4 would go on to become our most successful title in years and reinvigorated the Ratchet & Clank franchise within the PlayStation community!"

– Shaun McCabe, Head of Technology at Insomniac Games
---
Fast forward to June 2021, our latest entry, Ratchet & Clank: Rift Apart, set a new standard for the franchise: huge spectacles, heartfelt moments, and combat animations that bring you closer to the action and blends our craft with the power of the PlayStation 5 console. Here's my shameless plug: you can read our blog deconstructing the impeccable animation of Ratchet & Clank: Rift Apart to learn more!
And that concludes our brief retrospective. We hope you're as excited as we are about the 20th Anniversary Armor Pack coming to Ratchet & Clank: Rift Apart today and returning to beloved classics on PlayStation Plus Premium. On behalf of Insomniac Games, thank you for joining Ratchet and Clank on their adventures for the last 20 years. As always, we would love to hear about your favorite Ratchet & Clank memories, so please tag us on social media (@insomniacgames) and use hashtag #Ratchet20 in celebration of the franchise's 20th anniversary!
Play the latest title in the Ratchet & Clank franchise, Ratchet & Clank: Rift Apart, available now on PS5… Now with a free 20th Anniversary Armor Pack ft. five new armors inspired by past games in the series!
*Game update v.1.004 requires internet connection.
**Availability of games vary by country/region. PlayStation Plus recurs until cancelled. Age restrictions apply. Full terms: play.st/PSPlusTerms.