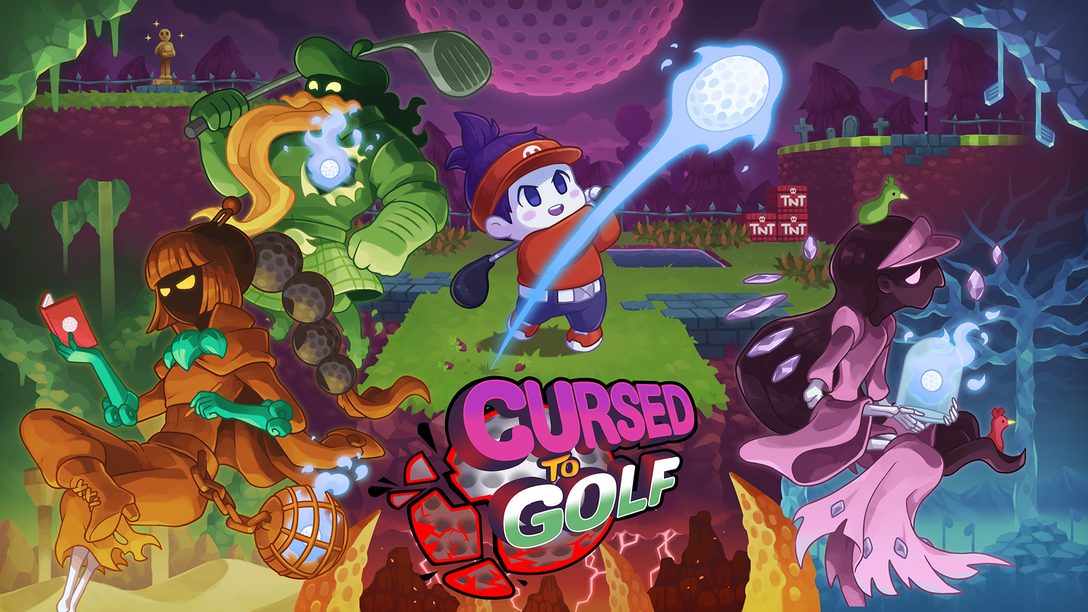 The devil is in the details as Liam Edwards takes us through some of the deeper challenges awaiting us in Golf Purgatory. 
The time has finally come, Cursed to Golf is out TODAY on PS5 and PS4. It's been 2 years of hard work and passion to get here. The team and I are immensely proud of our game, and we hope you all take our virtual trip to the afterlife to live out your days in Golf Purgatory. Last time I was here I spoke about the general rules of supernatural golf, the incredible power of the Ace Cards and some of the shenanigans you can get down to in between holes. Today, let's get down and dirty with some of the more perilous elements of Cursed to Golf. After all, if you want to make it out of Golf Purgatory, it pays to take some risks.
Who's the Boss?
At the end of each biome lies its ultimate challenge – the Legendary Caddie that oversees that part of the course. In Purgatory you'll find The Scotsman, in the Desert you'll face The Explorer, and the Caves are home to The Forgotten. These golf battles mix up the gameplay slightly and offer up a few differences to the traditional purgatorial golf gameplay you'll encounter on the rest of the course. Not only do you have to keep tabs on your shot counter, but you also need to beat the boss by sinking your ball before them. However, in addition to Shot Idols that replenish your shot count, these battles include Stun Idols. Smashing through one of these will knock the boss down, making them miss a turn.
These golfers don't play around, hitting incredible shots that defy the laws of physics! If you want to take down a Legendary Caddie, you'll need to master your Ace Cards, make use of the best shortcuts, and ensure to smash through a load of totems on your way to the flagpole. Luckily, the boss hole will always stay the same, so you can learn it as you play and experiment to find the best strategy to complete it.
The High Road or the Low Road?
The Scotsman's hole is designed for his characteristic long drives. It's also peppered with both hazards and shortcuts both up high and down low, so don't forget to use your Birdie Eye to get a true lay of the land and plan which road you want to take. Beating The Scotsman will unlock the "Comeback" boon, giving you the chance to place a checkpoint flag once per run. Upon your (almost certain) death, instead of being booted back to the beginning of the course, you'll be transported back to your flag. Not only that, but you'll have all the Ace Cards and cash you had when you placed it originally, ready for another swing at the course!
The Dune Sea
The Explorer's hole is a sand dune filled nightmare, expect to be perfecting your wedge game over there, because you'll be landing in the bunker constantly. On top of that, The Explorer has a special ability – she can alter the hole right in the middle of it being played. You may land on a suspiciously flat and safe area, only to find a towering dune erupt out of the ground before you, sheesh! Beating The Explorer will net you the "Gimmie" boon, giving you 5 extra shots in a pinch when your shot count reaches 0. This powerful boon refreshes every hole, so don't feel precious about it.
Not the Cave of Wonders
The Forgotten's Hole is a deep, cavernous maze full of diverging paths, deviously placed hazards, and tricksy false flagpoles that house golf ball eating dinosaurs. You'll not only be contending with The Forgotten, but also her two pet birds Eagle and Albatross. These feathery blighters will stop at nothing to ensure The Forgotten beats you. If you land in one of their zones, they'll whisk your ball away into a hazard, losing you shots and putting you in tough spots for your next swing.
They'll also grab The Forgotten's ball and fly her past tough obstacles, dropping her in opportunistic positions for her next shot. There's no way of sugarcoating it, this is one tough battle, but should you prevail, you will unlock the "Recovery" boon. With Recovery, upon death you'll be able to keep your Ace Card deck and use it on your next run, giving you one big leg up straight from the beginning of Hole 1. Because we're not complete masochists, once a boss is defeated, you don't need to face them again on future runs and you get to keep their boons, too.
A blessing or a curse?
Speaking of masochists, those of you who really want to risk it for the biscuit can take on CURSED HOLES! You'll often find these at crossroads when you're navigating the map in between holes. One route may have a pick-up and a standard hole, while the other will offer you extra goodies and a skull covered hole at the end of it. These cursed holes mix things up by triggering random modifiers every few shots. These 'curses' could include making your ball extra bouncy for a couple shots, restricting you to only be able to shoot in one direction, flipping the course upside down, and other pesky hindrances to your game. Beating a cursed hole will earn you extra cash and a card booster pack. In Golf Purgatory the saying is true – with high risk comes high reward.
See you in Hell
A course chock full of randomized dungeon-like holes, sneaky death traps, challenging bosses, and wicked curses; jeez does Golf Purgatory ever throw a lot at you. Well, if you make it past all of that to the 16th hole, you'll be in HELL. Prepare for the ultimate challenge here. I won't spoil what awaits you in Hell, but let's just say it lives up to its namesake. Prepare to use all your golfing skills, Ace Card abilities and boons to survive Golf Purgatory's last bastion before ascension. No golfer has ever managed to make it past here before, will you be the first? Only one way to find out, pick up Cursed to Golf on PS5 or PS4 today!