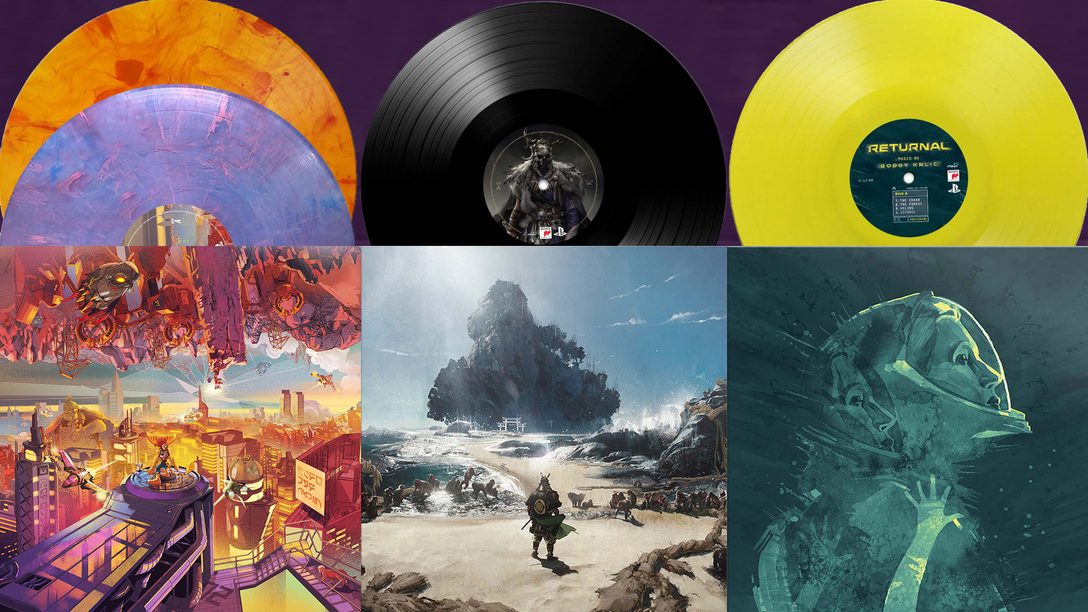 The collectible albums feature gorgeous new artwork, available for pre-order now and releasing this summer.
It is said that good things come in threes, and today is no exception. We at PlayStation are thrilled to spotlight our latest trio of vinyl soundtrack releases, brought to you by our friends at Milan Records: Ratchet & Clank: Rift Apart, Ghost of Tsushima: Music from Iki Island & Legends, and Returnal.
Ratchet & Clank: Rift Apart
The Ratchet & Clank: Rift Apart soundtrack features the exuberant, BAFTA-nominated score by Mark Mothersbaugh and Wataru Hokoyama, plus the brilliantly performed, award-winning song, "Join Me at the Top," from the latest entry in Insomniac Games's critically acclaimed franchise.
For the vinyl design, we were lucky enough to land the amazing illustrator, Shan Jiang, who truly knocked it out of the park with his rotatable panoramic cover art.
As Shan describes, "The cover concept focuses on duality and traveling among parallel universes. I learned that the game's core idea is finding who you truly are through understanding yourself. Rivet and Ratchet became better versions of themselves through the adventures they experienced together. It is like Ratchet and Rivet are looking in the mirror, but in the mirror is another universe. So you can see the cover from Rivet's point of view or Ratchet's point of view, depending on how you want to hold the cover."
The interior panels showcase the main characters and their diminutive counterparts in a rare, pensive moment, giving us an intimate portrait of the Rift Apart crew as they take a breather from the game's non-stop action.
The album is available from Milan Records and a variety of retailers, each featuring exclusive, eye-popping disc color "variants."
Ghost of Tsushima: Music from Iki Island & Legends
Following up their 2021 release of the BAFTA-nominated score for the original game, Milan Records delivers a second volume from Sucker Punch's epic with Ghost of Tsushima: Music from Iki Island & Legends.
Featuring Ilan Eshkeri's iconic Jin Sakai theme woven into beautiful new compositions by Chad Cannon and Bill Hemstapat, the album is wrapped in striking key art from the titular Director's Cut expansion and multiplayer DLC.
The image of a lone Jin against the bright tones of Iki Island provides a dramatic contrast to the dark, ominous reds of the Legends world. Inside, we're treated to moody concept art of a ship's graveyard, with fantastic character portraits on the disc labels, and a wonderful "monkey onsen" foldout poster by Sucker Punch artist, Ian Chiew.
This release is also available in an array of collectible disc colors from Milan's retail partners.
Returnal
Completing the lineup, the BAFTA-winning score to Housemarque's Returnal sees Bobby Krlic's atmospheric, intense music sitting alongside custom artwork from acclaimed artist David Mack.
Selene is at the heart of the design, allowing the observer to bring their interpretation of her journey across Atropos to the artwork. The score is a combination of oppressive synths and beautiful strings; Mack's artwork is a similarly beautiful depiction of Returnal's deceptively gorgeous challenge.
When it came to inspiration, for David Mack it was a "discussion with the creators that fueled the imagery. They were kind to give me a list of words & ideas that served as catalyst points for the cover image. From the words, symbols and music, I made several drawings to try to crystalize the dimensional ideas. From our discussion of those, I made paintings based on what everyone reacted to best."
As our friend Colin Yost at Sony Masterworks sums up, "These three vinyl offerings are some of the best to come out of our collaboration with Sony Interactive Entertainment. We've really tried to capture the essence of the characters and narratives in each piece's unique art direction. Collaborating with the Sony game developers, the PlayStation Music team, and the visual artists to produce something fresh, yet familiar, is such a rewarding way for us to bring these music scores to the fans in a way that celebrates these unforgettable games and characters from a new perspective. I can't wait to share more news on additional PlayStation soundtrack releases that will be available in the future from Sony Masterworks and Milan Records."
All three vinyl soundtracks are currently available for pre-order at the links below, and release this summer.
Ratchet & Clank: Rift Apart: https://ratchetandclank.lnk.to/vinyl
Ghost of Tsushima: Music from Iki Island & Legends: https://soundtracks.lnk.to/got2vinyl
Returnal: https://soundtracks.lnk.to/returnalvinyl