Hood: Outlaws & Legends is a medieval multiplayer heist game released in 2021.
Hood: Outlaws & Legends is available starting today as part of April's PlayStation Plus lineup. After today's free update, no Outlaw will be left behind, with full cross-platform invites allowing players to group up before heists across platforms. In addition, the Season 3: Ostara Battle Pass brings over a hundred epic new cosmetics to bolster the already extensive collection of outfits, weapon skins, and banners, giving each player the power to decide the look of their legend.
It's the perfect opportunity to band together with your squad of outlaws and try your hand at Hood's nerve-racking multiplayer action. If you're new to the game, here's everything you need to know.
Hood: Outlaws & Legends is a medieval multiplayer heist game released in 2021. Faced with a merciless, unchecked state, rival gangs compete in daring heists to hit the wealthy where it hurts and win influence with an oppressed people. Folk hero or gold-hungry outlaw, only the best will escape with hard-earned riches. Assemble your team of four players, execute nail-biting heists in different PvP, PvE and hybrid modes, infiltrating large medieval environments to find treasure and extract it.
Choose your character from five unique classes based on your preferred playstyle, or what best fits your team strategy. In this game where cooperation is key, your team's composition can suit a stealthy long-range approach, brutal close combat or a more balanced, cookie cutter approach. Form your team and jump into one of the modes available ranging from the coop PvE State Heist where you're pitted against alert and dangerous AI guards, to the PvPvE Heist or Gold Rush modes.
In Heist, Hood's standard PvPvE mode, outsmart or overpower an opposing team of 4 outlaws in finding, stealing and extracting heavily guarded riches. Stealth will be your biggest friend as you locate the fearsome State Sheriff who holds the key to the vault, and steal it from him. Then, prepare to be hunted by the guards and the enemy team as you do your best to extract the spoils by using one of the winches on the many extraction points on the map.
In Gold Rush, your team must bring a certain amount of gold to one of its controlled spawn points before your opponents. But be careful, carrying too much gold will weigh you down, making you run slower, so make sure you secure it regularly or that you're moving as a team in case the rival gang ambushes you along the way. Blood will be spilled. Riches will be stolen. Legends will be reborn!
Between heists, visit the hideout to spend some of your stolen fortune. Giving money back to the people will increase the range of items available to you. Improve, alter and refine your characters' skills with a range of perks, or further personalize your heroes with a range of new weapon skins and costumes. Each of the characters has access to unique perks that can radically effect their playstyle, don't hesitate to experiment.
Hood is available on PS5 and PS4 and features both cross-gen and crossplay matchmaking to make it easy to play with your friends on any platform. PS5 players can enjoy a variety of features such as thrilling 4K/60FPS visuals, and highly responsive haptic feedback. Feel every tug of bowstring subtly change in relation to your stamina level, every hit land, and every slide, run or fall on the different surfaces. In a game where precision is key, every bit of information is precious.
Since the game's launch in 2021, tons of content have been added in the form of new maps like Mountain, new modes and two Seasons. Season 1: Samhain, brought a fresh, sword-wielding outlaw called Eidaa who is deadly in toe-to-toe combat. Season 2: Yule introduced the Gold Rush mode. And today, to coincide with the game's launch into PlayStation Plus, we're launching Season 3: Ostara. Get a taste of what to expect in the all-new trailer which you can watch below: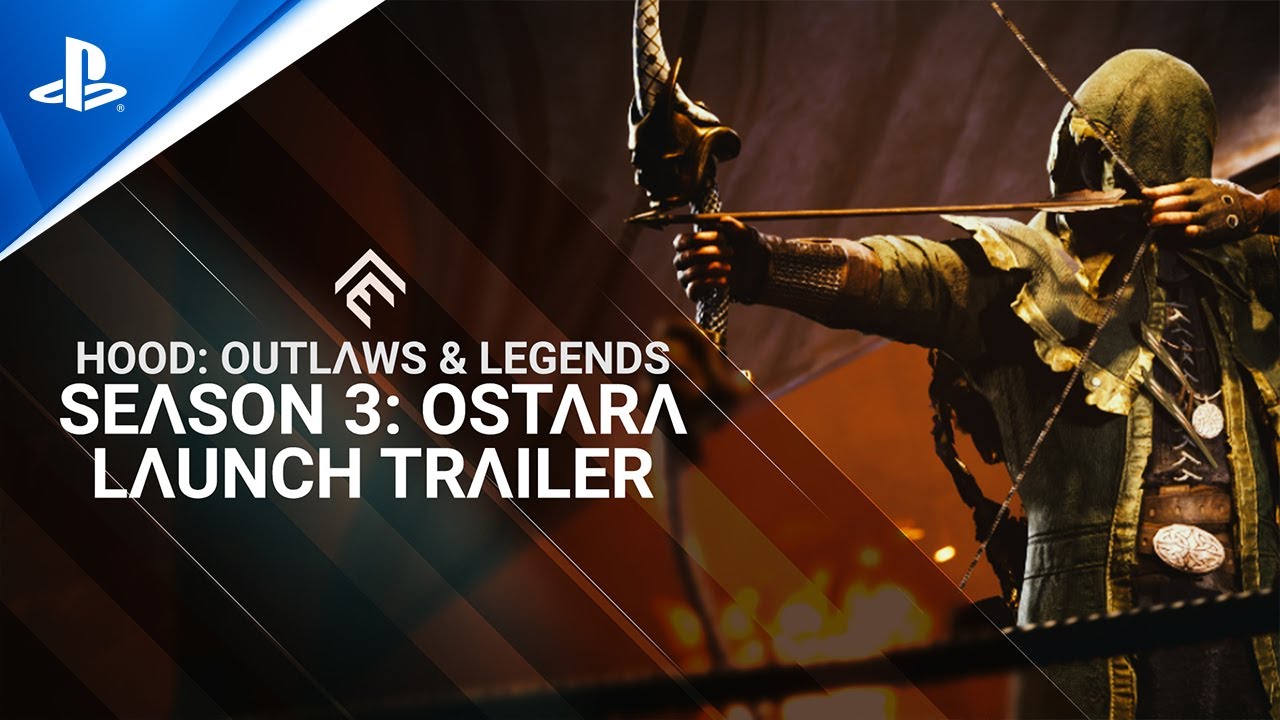 Season 3 comes with a new Battle Pass brimming with content to pull off your heists in style and, like in the previous seasons, some balance tweaks as we continue to iterate on Hood with feedback from our wonderful community of outlaws. Best of all, the three seasons' additional gameplay content, as well as a hefty amount of cosmetics, are included in the base package of the game.
Are you ready to become Legends?