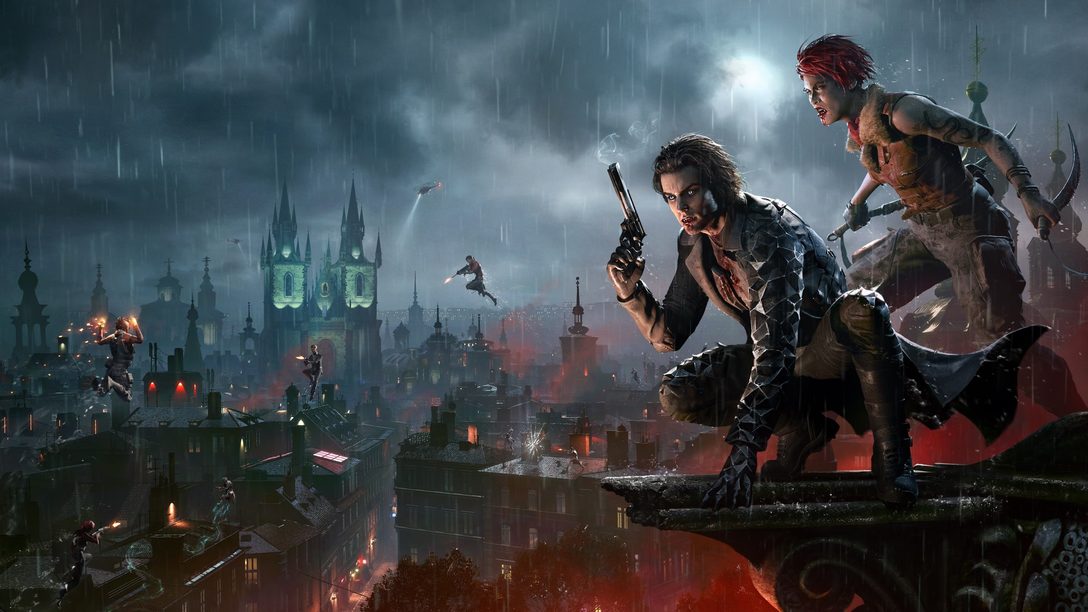 Sharkmob explains how it's recreating Prague for its blood-sucking battle royale.
Hello PlayStation Players! Thank you for the great reception we got from you when we announced that Bloodhunt is coming to the PlayStation 5. We can now let you know that Bloodhunt will be released on April 27!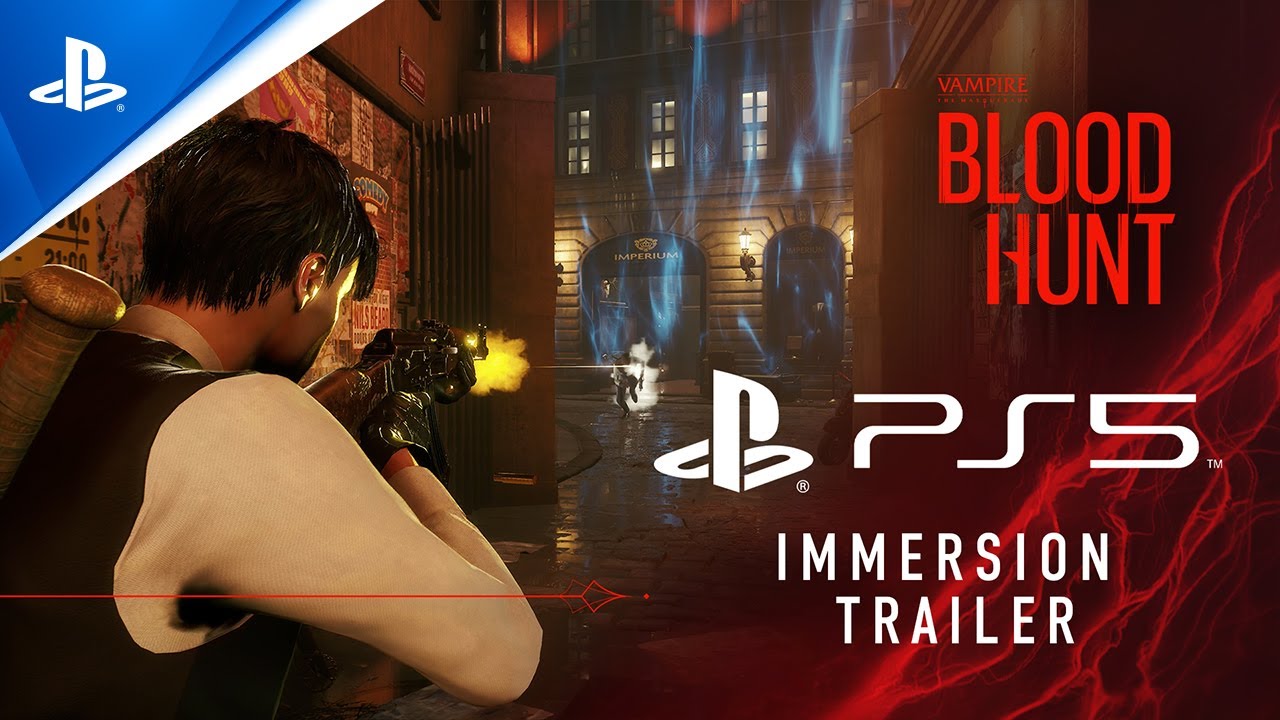 Since we last spoke, we have been hard at work creating a great experience for you, so today we want to share some details about the PS5 version that we are sure will get you excited.
Great performance with no compromise
Bloodhunt features fast and frantic multiplayer combat with a focus on agility. With the power of the PS5, we have been able to aim for our target of 60 frames per second, even in the battle's most action-packed moments. Importantly, you will battle to dominate the night in a highly detailed rendition of Prague. Choose quality mode, for the best rendering quality running in 4K at 30fps, or performance mode, to experience Bloodhunt at 60fps rendered in 1440P.
Our vision was to create a representation of Prague that was as true-to-life as possible. Being able to achieve this of course requires a lot of attention to detail. Therefore, we sent our photogrammetry team to the Czech Republic, to source real-life assets that are now replicated in-game. We took more than 10,000 pictures and scanned real-life items, all unique to Prague, such as two massive statues: the Jan Hus Memorial, and the statue of Charles IV, located at Křižovnické Square. Once converted into the game, this resulted in thousands of unique textures and assets, bringing the details of the city to life with an authentic flair.
We are incredibly pleased with how the final game looks on the PS5.
Immersive audio technology
Bloodhunt is set in modern Prague, a city with lots of landmarks, narrow streets and tall buildings, so when it comes to sound, we have had a lot of things to consider. Especially when you have access to high-end headphones such as the PS5 Pulse 3D headset.
With an expansive soundscape, the sound in Bloodhunt is vital as it allows you to identify nearby threats, or the direction bullets are being fired from. In this way, the 3D audio helps you take strategic decisions on how to outsmart your opponents.
The PlayStation Tempest 3D Audio technology also really allows us to highlight one of Bloodhunt's most unique features: verticality. The PS Tempest 3D Audio technology improves the possibilities of audio spatialization, by allowing you to localize enemies more precisely than ever before, even on a vertical axis.
Whether your enemies are sniping from the rooftops or a high rising tower crane you will be able to determine their location more accurately. While hunting through the rainy streets of Prague, pinpointing enemy locations through audio has never been easier.
Thrilling battle at your fingertips
The DualSense wireless controller features really allowed us to take Bloodhunt's fast-paced, visceral gameplay to the next level of immersion, and we cannot wait for you to try it out.
The DualSense controller's adaptive triggers and vibrations allow us to make you truly feel the weight of the battle as you experience the impact of each powerful attack and weapon. As an example, shotguns have a heavy kick and trigger pull, while sub-machine guns can be tapped more easily but with a more intense jolt.
The controller's light also guides you through the game. It lights up based on your team color or when you are tracked down by your opponents and thus bloodhunted, so keep an eye on it.
Moreover, the speaker on the DualSense controller will bring the immersion up a notch with high fidelity sounds for consumables or when feeding on mortals.
With Bloodhunt, we aimed to create an engaging experience both visually and from a game design perspective, without compromising quality. At the same time, it is important to us that the game is freely accessible to a large audience.
Something different, something special
Bloodhunt is free-to-play and is will be available on PS5 at no cost. For those of you looking for that extra special something to prepare for the battle, we have a pre-order offer for a Founder's Ultimate Edition of the game that comes with an abundance of fantastic cosmetics and 1,000 Tokens, our in-game currency.
When you pre-order the Founder's Ultimate Edition, you receive the one-of-a-kind, PS5-exclusive epic Samurai mask that will instill fear in your rivals. This Edition also gives you two exclusive killer outfits: Headrush and Fast Forward, both unique and of epic rarity. Furthermore, it comes with over 100+ items, from stylish outfits and hairdos to exquisite piercings and tattoos. You'll be able to show off your style with looks that truly kill! And in case your wardrobe is still lacking, or you want to buy a Battle Pass, this pack also includes 1,000 Tokens to spend in the in-game store.
Get ready to become the ultimate vampire as we will soon welcome you to the streets of Prague.