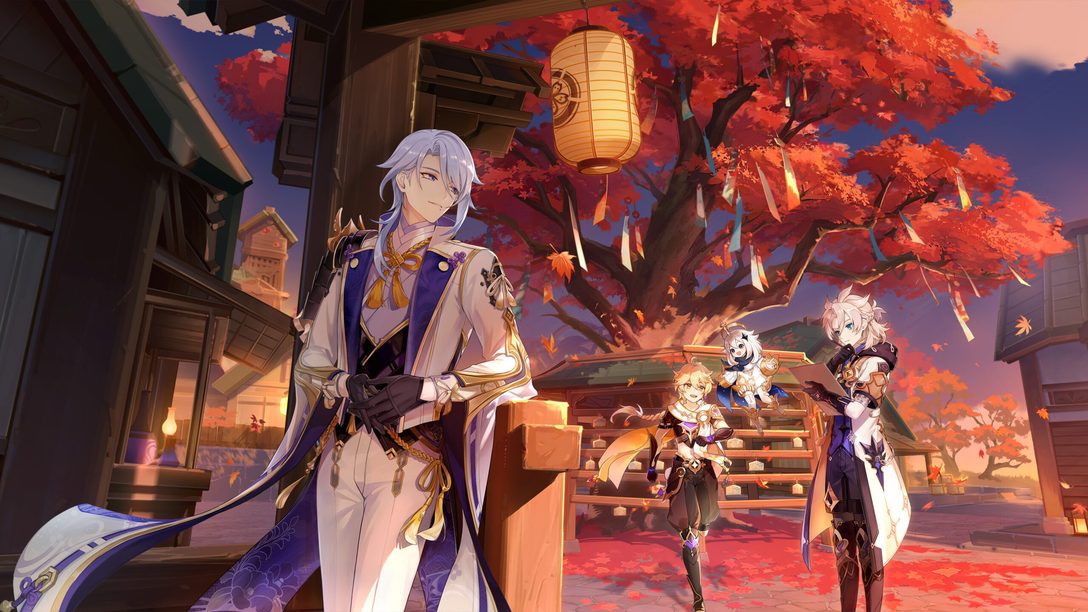 Uncover the mysteries buried deep inside The Chasm, meet Kamisato Ayato, and celebrate your first Irodori Festival in Inazuma with friends across Teyvat!
Hello, Travelers! Today we're pleased to share with you the latest information about Genshin Impact's Version 2.6 "Zephyr of the Violet Garden" arriving on March 30! With an all-new area added, we can soon head to the westernmost of Liyue, delve deep into this unfathomable area, and continue a new chapter in the story of the Traveler Twins together with Dainsleif.
On the other side of the sea, life in Inazuma has taken on a new look after the Sakoku Decree was abolished. The Magnificent Irodori Festival will invite many in and outside of Inazuma to celebrate a time of arts and culture. At the same time, Kamisato Ayato, the young master leading one of Inazuma's most powerful clans into a new era, will make his debut as a playable five-star with an exciting Story Quest.
Down Into The Chasm
For a long time, The Chasm has been Liyue's primary source of ores, especially for its famous porcelain goods. Overlooking this area, one can see that the soil in this area are tinted in violet-red. Recently, this area has been sealed off due to a series of mysterious events. However, as Travelers, you can join a team of experts from various backgrounds to explore the underground.
What we see above the ground is only the tip of The Chasm. The vast underground space has been hollowed out layer by layer by generations of miners, and unique fluorescent creatures thrive here. Meanwhile, unknown dangers also seem to be paving their way to the known world above. In addition to hilichurls, Treasure Hoarders, and the Fatui who have snuck in, you will also encounter the new boss Ruin Serpent, as well as enemies from the Abyss.
But you will not be left unprepared in the dark. The Lumenstone Adjuvant is a useful tool to light up your path. Upgrading this gadget will assist you in exploration and also grants you plenty of rewards, including a 4-star Weapon Billet and an all-new Namecard.
If you succeed in reaching the bottom of The Chasm, you will meet with the long-lost Dainsleif again among the ancient ruins and relics. More about the Traveler siblings and the secrets of Khaenri'ah will be uncovered during the new Archon Quest "Requiem of the Echoing Depths."
Festive Season in Inazuma
Version 2.6 will feature "Hues of the Violet Garden," our first seasonal event celebrating an Inazuma festival! Hosted by the Yashiro Commission and Yae Miko, the Magnificent Irodori Festival is a cultural event to commemorate a group of five talented poets from ancient Inazuma named "The Five Kasen." This year's Irodori Festival invites not only local talents but also creative minds from Mondstadt and Liyue. Venti, Xingqiu, and many others we haven't seen for a while will be visiting during the festival.
We will leave most stories and fun for you to experience for yourself, but we would like to briefly introduce the games that you can win rewards in during the festival. The Irodori Festival will test your creativity and comprehension of different arts and cultures through four games and challenges. Both "The Moon and Stars Inscribe" and "The Floral Courtyard" require an eye for beauty. The former will require you to take photographs of things related to the theme to inspire the two poets and help them complete their poem of the day. "The Floral Courtyard" sponsored by Kamisato Ayaka, requires not only good taste but also dexterous hands to perform the art of flower arrangement.
If you prefer something more intense, why not try the "Clash of Lone Blades"? A group of warriors, each with their own set of sword techniques, are looking for worthy opponents. For a fair duel, no Elemental Skills and Bursts are allowed, but you will be given a new sword technique known as the Parry. Furthermore, "Theater Mechanicus" is back once again, now taking less time but more strategies in each stage. If you complete all four games and challenges, don't forget to claim great rewards and a chance to recruit Xingqiu!
The Young Master of the Kamisato Clan
Some of you might have heard about Kamisato Ayato from his younger sister Ayaka, Thoma, or even Arataki Itto. From the bits and pieces we know so far, Ayato seems to have quite a quirky side. He likes drinking milk tea, is good buddies with Itto, and always gives his botched cooking attempts to Thoma. One of his Passive Talents further gives him a chance to receive an additional "Suspicious" dish of the same type when cooking.
However, Kamisato Ayato is acknowledged as a young but highly accomplished head by the Yashiro Commission and the Kamisato Clan. Cultured and polite, he is a man of many ways and means, able to bring his clan back to its feet in difficult times. After the Sakoku Decree is lifted, the Tenryou and Kanjou Commissions are presented with a rare, joyous occasion in this time of reform. However, troubles also brew beneath the festive mood. In Ayato's Story Quest "Cypressus Custos Chapter," you will have a chance to witness this young master's art of strategy in handling the unusual situation.
In combat, Kamisato Ayato wields a sword and is a master of the Kamisato Art Tachi Jutsu, just like his sister. With the Hydro Vision, Ayato can unleash large AoE damage in a short amount of time, and is capable of increasing the effects of his party's Normal Attacks.
By using his Elemental Skill, Ayato shifts positions to enter the Takimeguri Kanka state and leaves a watery illusion at his original location. The watery illusion will explode, dealing AoE Hydro damage. In the Takimeguri Kanka state, Ayato's Normal Attacks turn into blindingly fast Shunsuiken attacks that deal AoE Hydro damage. After a Shunsuiken attack hits an opponent, it will grant Ayato the Namisen effect, increasing the DMG dealt by Shunsuiken based on Ayato's current Max HP. Ayato can gain extra stacks of Namisen effect when he uses his Elemental Skill and when his watery illusion explodes with one of his Passive Talents. However, please be aware that the Takimeguri Kanka state will be cleared once Ayato leaves the field or uses his Elemental Skill again.
Ayato's Elemental Burst will unleash a realm in which Bloomwater Blades will rain down and deal Hydro AoE damage to enemies within. Meanwhile, the realm will also increase the Normal Attack Damage of characters within.
Kamisato Ayato will be featured in the first Event Wish, coinciding with Venti's rerun. Following her brother, Kamisato Ayaka will have her Event Wish during the later phase of Version 2.6.
With Version 2.6, we've prepared more fun and challenges for you. There are still mysteries unsolved in the depths of The Chasm, waiting to be revealed in future updates. But that's all for our sharing today, and we look forward to meeting you soon in the game!