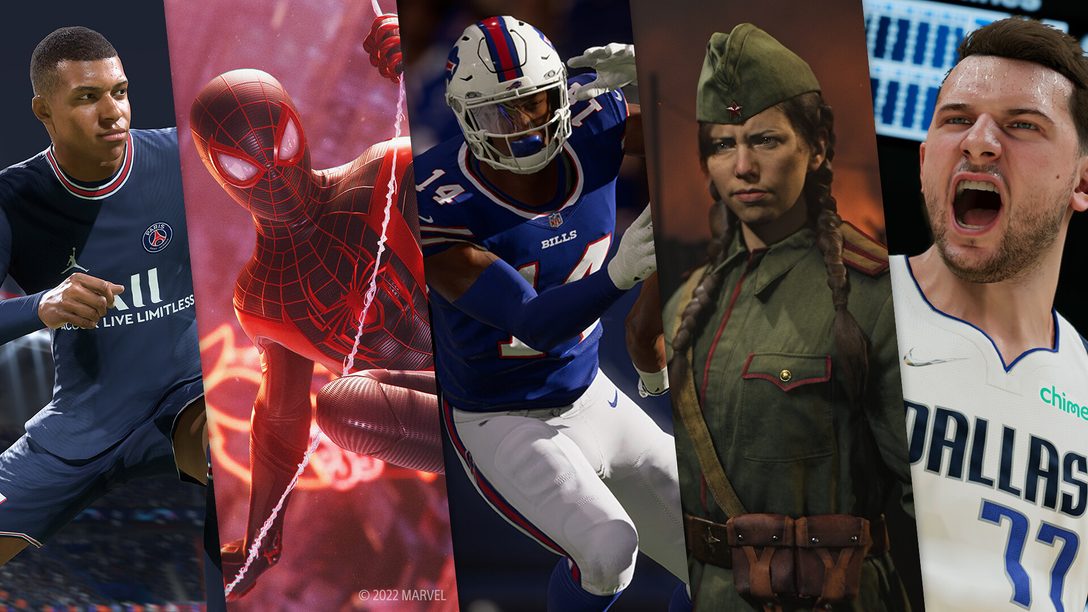 Find out where your favorites placed in the PS Store charts for 2021.
Hello again! Following last week's reveal of the December charts, we've collected PlayStation Store's most-downloaded games for the entire year of 2021. Sports titles were the big winners on PS5, but there's a surprise or two waiting in there too, like Among Us hitting #6 in the EU despite launching in December — nice!
Check the full charts below and let us know in the comments where your faves landed. Have a great year!
PS5 Games
| | US/Canada | EU |
| --- | --- | --- |
| 1 | NBA 2K22 | FIFA 22 |
| 2 | Call of Duty: Vanguard | Call of Duty: Vanguard |
| 3 | Marvel's Spider-Man: Miles Morales | FIFA 21 |
| 4 | Madden NFL 22 | Marvel's Spider-Man: Miles Morales |
| 5 | Battlefield 2042 | Battlefield 2042 |
| 6 | Ratchet & Clank: Rift Apart | Among Us |
| 7 | Call of Duty: Black Ops Cold War | Kena: Bridge of Spirits |
| 8 | MLB The Show 21 | FAR CRY 6 |
| 9 | Resident Evil Village | It Takes Two |
| 10 | Far Cry 6 | Assassin's Creed Valhalla |
| 11 | Assassin's Creed Valhalla | F1 2021 |
| 12 | FIFA 22 | Resident Evil Village |
| 13 | Among Us | NBA 2K22 |
| 14 | Mortal Kombat 11 | Ratchet & Clank: Rift Apart |
| 15 | NBA 2K21 Next Generation | Call of Duty: Black Ops Cold War |
| 16 | It Takes Two | TOM CLANCY'S RAINBOW SIX | SIEGE |
| 17 | FIFA 21 | Grand Theft Auto: The Trilogy – The Definitive Edition |
| 18 | DEATHLOOP | Diablo II: Resurrected |
| 19 | Returnal | DEATHLOOP |
| 20 | Kena: Bridge of Spirits | Mortal Kombat 11 |
*Naming of products may differ between regions
*Upgrades not included
PS4 Games
| | US/Canada | EU |
| --- | --- | --- |
| 1 | Grand Theft Auto V | FIFA 22 |
| 2 | Call of Duty: Black Ops Cold War | Grand Theft Auto V |
| 3 | Minecraft | Minecraft |
| 4 | NBA 2K22 | FIFA 21 |
| 5 | Call of Duty: Vanguard | Call of Duty: Black Ops Cold War |
| 6 | Madden NFL 22 | The Crew 2 |
| 7 | NBA 2K21 | Red Dead Redemption 2 |
| 8 | Red Dead Redemption 2 | The Witcher 3: Wild Hunt – Game of the Year Edition |
| 9 | MLB The Show 21 | Call of Duty: Vanguard |
| 10 | Mortal Kombat 11 | The Forest |
| 11 | Call of Duty: Modern Warfare | Fall Guys: Ultimate Knockout |
| 12 | Marvel's Spider-Man: Miles Morales | Gran Turismo Sport |
| 13 | FIFA 22 | ARK: Survival Evolved |
| 14 | THE FOREST | Need for Speed Heat |
| 15 | Need for Speed Heat | NBA 2K21 |
| 16 | UFC 4 | Gang Beasts |
| 17 | ARK: Survival Evolved | TOM CLANCY'S RAINBOW SIX | SIEGE |
| 18 | Gang Beasts | eFootball PES 2021 SEASON UPDATE |
| 19 | Rust Console Edition | Among Us |
| 20 | NARUTO TO BORUTO: SHINOBI STRIKER | Assassin's Creed Valhalla |
*Naming of products may differ between regions
PS VR Games
| | US/Canada | EU |
| --- | --- | --- |
| 1 | Beat Saber | Beat Saber |
| 2 | Job Simulator | Job Simulator |
| 3 | SUPERHOT VR | SUPERHOT VR |
| 4 | GORN | Creed: Rise to Glory |
| 5 | Swordsman VR | Swordsman VR |
| 6 | Creed Rise to Glory | The Walking Dead: Saints & Sinners |
| 7 | Vader Immortal: A Star Wars VR Series | GORN |
| 8 | The Walking Dead: Saints & Sinners | RICK AND MORTY: VIRTUAL RICK-ALITY |
| 9 | Rick and Morty: Virtual Rick-ality | Vader Immortal: A Star Wars VR Series |
| 10 | The Walking Dead Onslaught | ASTRO BOT Rescue Mission |
Free-to-Play (PS5 + PS4)
| | US/Canada | EU |
| --- | --- | --- |
| 1 | Fortnite | Fortnite |
| 2 | Call of Duty: Warzone | Rocket League |
| 3 | Rocket League | Call of Duty: Warzone |
| 4 | Splitgate | eFootball 2022 |
| 5 | Apex Legends | Genshin Impact |
| 6 | Genshin Impact | Apex Legends |
| 7 | Destiny 2 | eFootball PES 2021 LITE |
| 8 | Rec Room | Brawlhalla |
| 9 | Brawlhalla | Destiny 2 |
| 10 | Rogue Company | Splitgate |