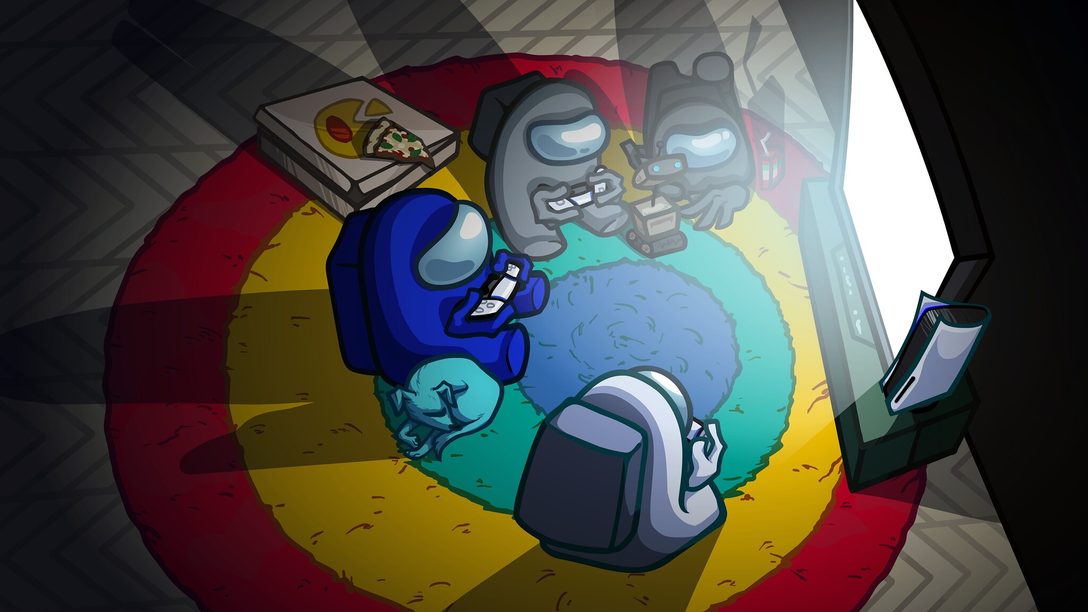 Among Us takes top prize in last month's download charts.
Everybody knows the holidays are a perfect time to expand your game library and dive in. The charts are in for December 2021's top downloads, so let's take a look at what PlayStation owners tucked into last month.
The holidays are also apparently the perfect time to engage in sci-fi hijinks with friends and family. The hidden identity chaos of Among Us takes top prize for December across regions and PS4/PS5, followed by a range of top-quality titles. Where did your favorite game land on the list?
PS5 Games
| | US/Canada | EU |
| --- | --- | --- |
| 1 | Among Us | Among Us |
| 2 | Marvel's Spider-Man: Miles Morales | FIFA 22 |
| 3 | Call of Duty: Vanguard | Call of Duty: Vanguard |
| 4 | Five Nights at Freddy's: Security Breach | Marvel's Spider-Man: Miles Morales |
| 5 | NBA 2K22 | F1 2021 |
| 6 | Madden NFL 22 | Knea: Bridge of Spirits |
| 7 | Battlefield 2042 | It Takes Two |
| 8 | Assassin's Creed Valhalla | Five Nights at Freddy's: Security Breach |
| 9 | Kena: Bridge of Spirits | Battlefield 2042 |
| 10 | It Takes Two | FAR CRY 6 |
| 11 | FIFA 22 | Assassin's Creed Valhalla |
| 12 | Far Cry 6 | NBA 2K22 |
| 13 | Marvel's Guardians of the Galaxy | Marvel's Guardians of the Galaxy |
| 14 | Ghost of Tsushima DIRECTOR'S CUT | STAR WARS Jedi: Fallen Order |
| 15 | DEATHLOOP | Farming Simulator 22 |
| 16 | Mortal Kombat 11 | Resident Evil Village |
| 17 | Ratchet & Clank: Rift Apart | Ghost of Tsushima DIRECTOR'S CUT |
| 18 | STAR WARS Jedi: Fallen Order | TOM CLANCY'S RAINBOW SIX | SIEGE |
| 19 | NHL 22 | DEATHLOOP |
| 20 | Back 4 Blood | Grand Theft Auto: The Trilogy – The Definitive Edition |
*Naming of products may differ between regions
*Upgrades not included
PS4 Games
| | US/Canada | EU |
| --- | --- | --- |
| 1 | Among Us | Among Us |
| 2 | Call of Duty: Vanguard | FIFA 22 |
| 3 | Grand Theft Auto V | Call of Duty: Vanguard |
| 4 | Madden NFL 22 | Grand Theft Auto V |
| 5 | Marvel's Spider-Man: Miles Morales | Marvel's Spider-Man |
| 6 | Marvel's Spider-Man: Game of the Year Edition | The Witcher 3: Wild Hunt |
| 7 | NBA 2K22 | Minecraft |
| 8 | Five Nights at Freddy's: Security Breach | F1 2021 |
| 9 | Minecraft | Gran Turismo Sport |
| 10 | FIFA 22 | Marvel's Spider-Man: Miles Morales |
| 11 | The Witcher 3: Wild Hunt – Complete Edition | Assassin's Creed Odyssey |
| 12 | Red Dead Redemption 2 | Need for Speed Heat |
| 13 | Battlefield 2042 | Farming Simulator 22 |
| 14 | JUMP FORCE | Red Dead Redemption 2 |
| 15 | Call of Duty: Modern Warfare | WRC 6 FIA World Rally Championship |
| 16 | theHunter: Call of the Wild | Five Nights at Freddy's: Security Breach |
| 17 | ARK: Survival Evolved | NBA 2K22 |
| 18 | UFC 4 | ARK: Survival Evolved |
| 19 | Mortal Kombat 11 | JUMP FORCE |
| 20 | God of War | Assassin's Creed Valhalla |
*Naming of products may differ between regions
PS VR Games
| | US/Canada | EU |
| --- | --- | --- |
| 1 | Beat Saber | Beat Saber |
| 2 | Job Simulator | Job Simulator |
| 3 | SUPERHOT VR | SUPERHOT VR |
| 4 | Swordsman VR | Creed: Rise to Glory |
| 5 | Creed Rise to Glory | Swordsman VR |
| 6 | Rick and Morty: Virtual Rick-ality | Marvel's Iron Man VR |
| 7 | GORN | Rick and Morty: Virtual Rick-ality |
| 8 | After the Fall | DOOM 3: VR Edition |
| 9 | Batman: Arkham VR | DOOM VFR |
| 10 | Arizona Sunshine | PlayStation VR Worlds |
Free-to-Play (PS5 + PS4)
| | US/Canada | EU |
| --- | --- | --- |
| 1 | Fortnite | Fortnite |
| 2 | Call of Duty: Warzone | Rocket League |
| 3 | Rocket League | Call of Duty: Warzone |
| 4 | Rec Room | eFootball 2022 |
| 5 | Apex Legends | Genshin Impact |
| 6 | Genshin Impact | Rec Room |
| 7 | Destiny 2 | Brawlhalla |
| 8 | Brawlhalla | Apex Legends |
| 9 | eFootball 2022 | Destiny 2 |
| 10 | Dauntless | Dauntless |