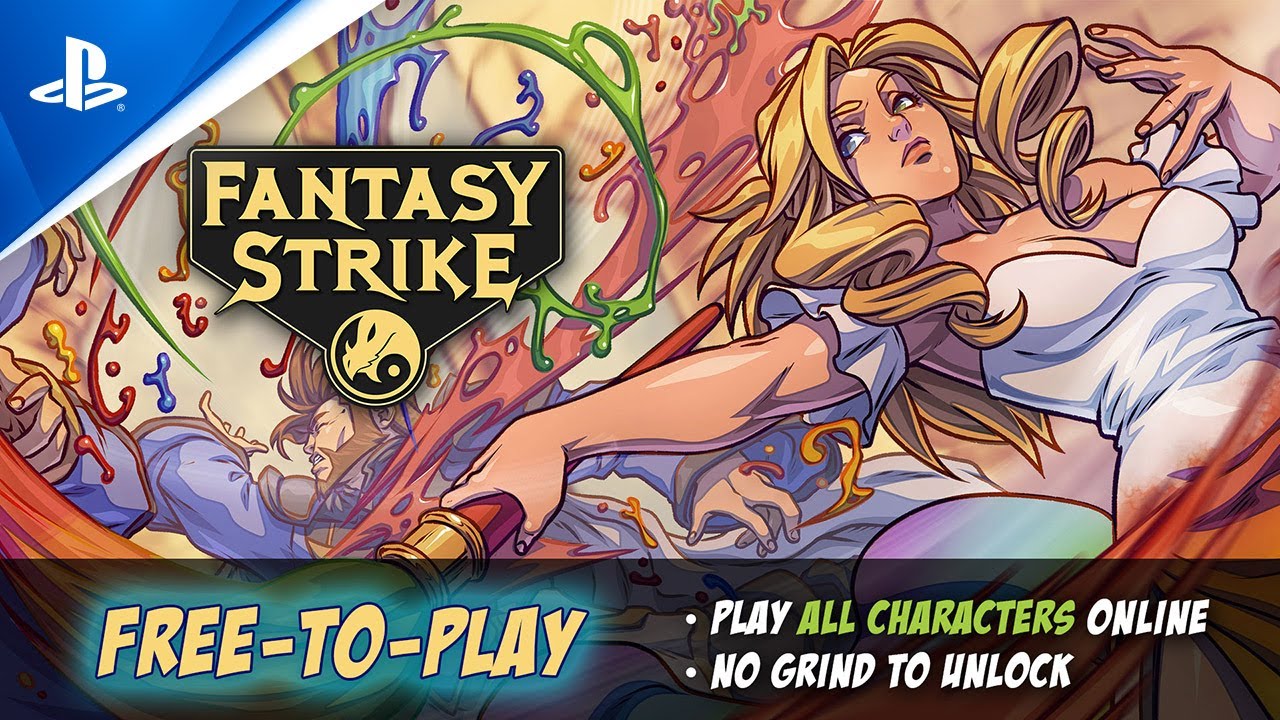 Every character and a variety of modes are now open to all.
Hi, I'm David Sirlin, and I love fighting games. I always loved Street Fighter, and was the lead designer on one version of it, then I went on to create the mechanically elegant, but strategically difficult fighting game, Fantasy Strike. Now, I have an announcement for you that I think is a big deal for the genre of fighting games.
Fantasy Strike is now free to play. The term "free to play" has a wide range of meanings and we're excited to tell you that we're on the extreme end of the spectrum where all characters are free and you can play them immediately, with no grinding to unlock them, and no way to pay for any kind of power (just extra cosmetics and features).

Specifically, you can play all characters in online casual play, online ranked play, offline practice mode, and offline "single match" mode against AI… completely free.
Also we are also adding two new characters: Chancellor Quince and General Onimaru.
Everyone gets these characters for free, too.
Two New Characters
To learn more about the gameplay of these new characters, check out the character spotlight videos for Quince and Onimaru.
This is something we wanted to do all along. We know that it's a huge benefit to the playerbase, not just in that they can play for free, but also in that it attracts a ton more opponents for everyone and helps vastly expand the community. The problem for us was always that in order to make the game free-to-play, we have to develop a bunch of other stuff to actually sell. Well, we did that. And we've been careful to keep the game completely competitively fair in the process.
Thing You Can Buy If You Want
There are three broad types of things people can buy.
First, the core pack: this gives access to five additional game modes: Arcade Mode, Survival, the awesome powerup craziness of Boss Rush, local versus, and online friend matches (founders who already bought the game already have and will retain all these modes). Next, there's a lot of new cosmetics. Players can buy (sensible!) alternate costumes as well as alternate (non-gameplay) animations such as intros and win poses. Finally, there's an optional subscription called Fantasy+.
New Cosmetics
Costumes
Intros
Special KO Animations
Fantasy+ (optional service)
First, Fantasy+ gives you access to our new replay system. We tried very hard to give this feature awesome UI and usability. You can save replays of your own games, watch replays of others, and you even get four new "channels" in our Netflix-like video screen that are all devoted to replays.
Advanced Search for Replays
Replay Controls, Including Frame Step Forward & Back

Next, every character has a special Master Costume that's like their ultimate progression. These costumes can't be bought in the item shop. They are only available to Fantasy+ members, and even then, only if you are level 20 or higher with that character. Fantasy+ members also get an XP boost to cross that threshold faster. (XP does not give any gameplay advantage.)
Master Costumes
Finally, Fantasy+ members get their names in green in the game to show their support. Every time you see someone with a green name, you know they are supporting more development of the game.
To everyone who already bought the game, we want you to know that you lose nothing and you gain two free new characters to play. We also want you to know that for other people to have all the game modes you do, they'll have to buy the core pack. And that our founders already have 60 additional costume colors that free-to-play players don't have.
Get Ready to Dive In
Don't miss the huge wave of new players that will come with this change. Get in on the game now. While it's designed to be a deep game for experts, it's also the perfect "second game" for everyone in the FGC because you can learn the basics so quickly and get right to the strategy. It also happens to be a great game for anyone wanting to try out fighting games for the first time.
For experts, we have a tournament coming up on Saturday, July 25, and we challenge you to see how well you can do in this simple-seeming, but brutally difficult game.
Welcome to the community!