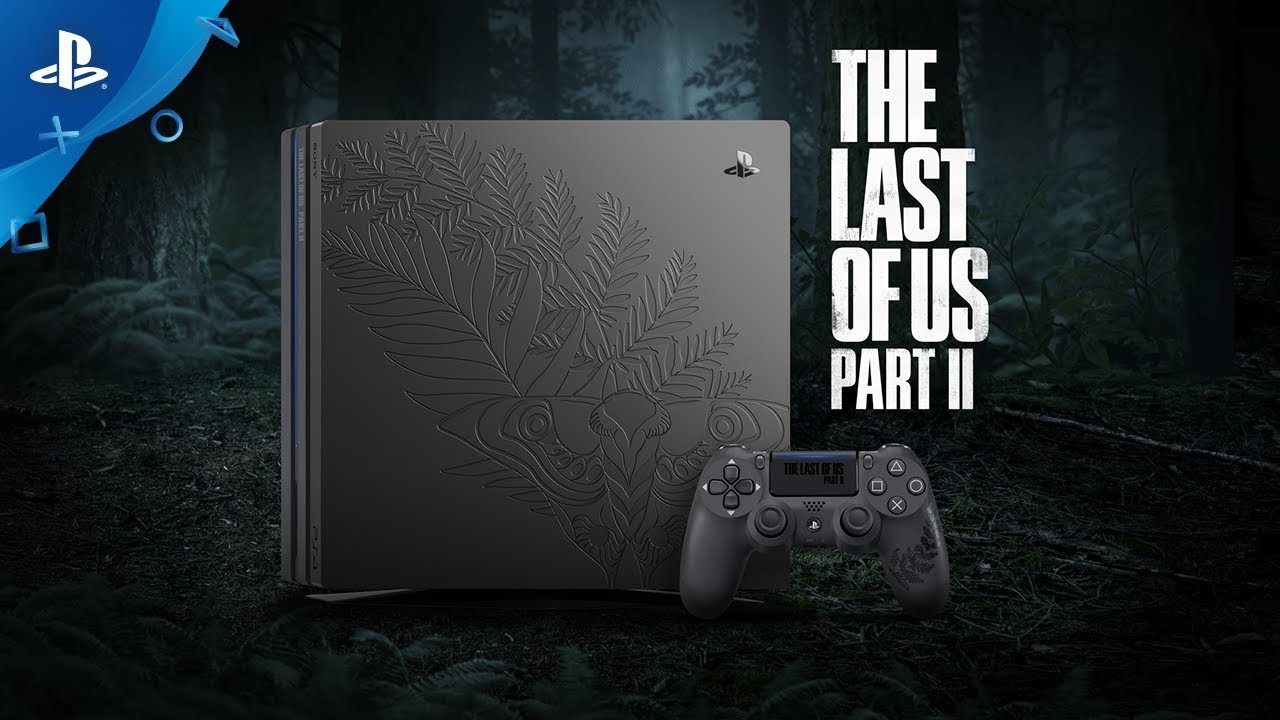 Get your hands on a new Limited Edition PS4 Pro, Gold Wireless Headset, and Seagate 2TB Hard Drive.
We're all counting down the days till we rejoin Ellie in her journey next month, and today, we are thrilled to announce the Limited Edition The Last of Us Part II PlayStation 4 Pro bundle, which will launch alongside the game on June 19, 2020. This special bundle features a fully customized matte finish PS4 Pro console engraved with Ellie's tattoo design, a Limited Edition DualShock 4 Wireless Controller, a physical copy of The Last of Us Part II game, as well as a code to redeem digital content* such as The Last of Us Part II PS4 dynamic theme, avatars, and more. This limited edition bundle will be available across the U.S. and Canada for $399.99 USD (MSRP) / $499.99 CAD (MSRP).
The Limited Edition DualShock 4 Wireless Controller also will be available as a standalone for $64.99 USD (MSRP) / $74.99 CAD (MSRP). Presented in a Steel Black matte finish with white detailing and PlayStation shapes, this Limited Edition wireless controller features Ellie's iconic fern tattoo engraved on the lower right hand side and The Last of Us Part II logo on the touchpad.
More Images: The Last of Us Part II Limited Edition PS4 Pro Bundle
John Sweeney, Art Director at Naughty Dog, shared some background and inspiration behind the design:
---
When we first revealed The Last of Us Part II, we had no idea how quickly fans would embrace Ellie's tattoo. Within a day, we started seeing real-life versions showing up on social media and fans have been sharing photos of their new tattoos with us week after week ever since.
When the opportunity arose to create a custom PS4 Pro for The Last of Us Part II, I worked with our graphic designer at the time, Angel Garcia, and we considered a few different ideas, but we kept coming back to Ellie's tattoo. By that point, it had become a symbol of the game and for the community–much like the Firefly logo in the first game. It was the clear choice, but we wondered: what if it could be engraved? It hadn't been done before, so we weren't sure it was even possible, but thanks to the incredible efforts of the teams at PlayStation, we found a way.
The result is something we feel is really special–a design that honors the passion of our incredible fans and that we ourselves would be proud to own.
We can't wait for you to see it in person and for you to experience The Last of Us Part II for yourselves!
---
Furthermore, we're also launching a Limited Edition Gold Wireless Headset presented in a Steel Black matte finish with contrasting, crimson inner ear cups – this stylish wireless headset features Ellie's fern tattoo and the game logo. The headset will be available for $99.99 USD (MSRP) / $119.99 CAD (MSRP).
Lastly, we're partnering with Seagate to introduce the Limited Edition The Last of Us Part II Officially Licensed Seagate 2TB Game Drive. The officially licensed Game Drive features a laser-etched design of Ellie's tattoo, and offers an external hard drive upgrade for PS4 systems (software version 4.50 or higher), with the capacity to install 50+ games**. The Game Drive will be available for $89.99 USD (MSRP) / $114.99 CAD (MSRP).
Products will be available at participating retailers, while supplies last.
And for those of you who live in the U.S., we partnered with Boulevard Brewing Co. to create special Space Camper Cosmic IPA six-packs to celebrate the launch of the game. You'll also have a chance to win the Limited Edition PS4 Pro console by entering through their website***.
Let us know what you think of the designs, and what you're most excited for in The Last of Part II in the comments below!
* Voucher expires 5/29/2023. Internet connection and account for PlayStation Network required to redeem voucher.
** Based on an average storage requirement of 39GB for PS4 games published on or before June 2018.
*** No purch nec. Sweepstakes ends 8/31/20 11:59 PM CT. Ages 21+ in US and DC ONLY. Void where prohibited. Click here for terms and conditions.