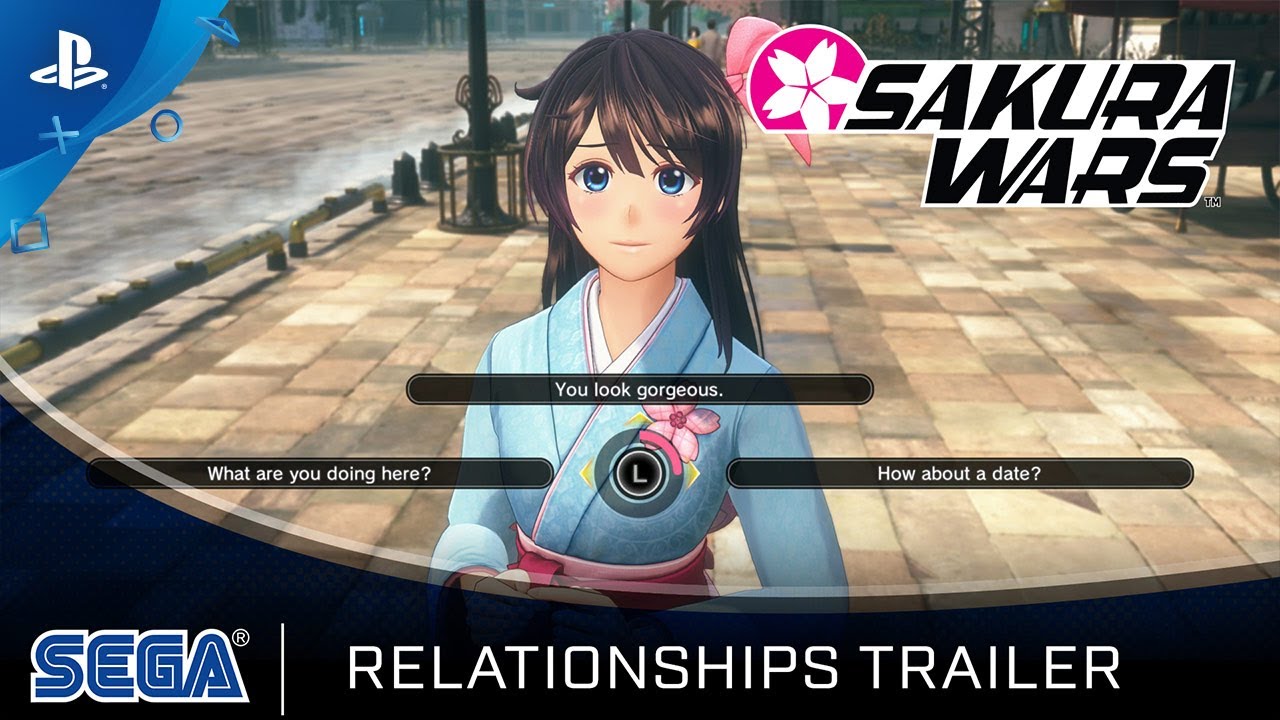 Details on the series' LIPS character interaction system, plus info on the physical and digital editions.
Last month, we announced the official release date for Sakura Wars – April 28. We are back to raise the curtain on even more exciting news!
First, we have a new trailer giving you a close up look at the members of the Imperial Combat Revue's Flower Division and Sakura Wars' trademark LIPS feature, presented as a time- or context-sensitive interaction system. Through LIPS, what you say and how you say it will allow you to build strong relationships with your team… or it could get you in seriously hot water.
But let's take a step back for a moment and discuss how LIPS, or the Live & Interactive Picture System, actually works in the game. This core gameplay system in Sakura Wars influences how you interact with characters and even the environment around you!
Usually presented in a time- or context-sensitive fashion, LIPS appears in four different scenarios:
Standard LIPS – The most common, in which you are presented with a series of dialog options to choose from. Or, you can choose none of them, which itself is an answer!
Click LIPS – These are typically seen during special events involving face-to-face conversations with context sensitive actions. For example, clicking on someone's mouth starts or continues a chat.
Analog LIPS – Encountered in moments where you're asked to provide a response, and it's up to you to decide how much emotion you'll put into that response based on how much you fill up a gauge on screen.
Environment LIPS – Similar to classic point-and-click adventure games, you are presented with a puzzle that you must solve by searching your surroundings for clues.
Many of these conversations will have a direct impact on your trust and affection levels with your other squad mates. Not only does this carry over to the later segments of the game along with the combat (as you unite your forces against a host of demons ready to feast on the capital, no less), but it will also put you on a path towards one of the many character-specific endings (which can be considered the more important priority).
Sakura Wars puts a big emphasis on character relationships and romantic storytelling. We mentioned before how the game is structured like an anime, with entire chapters primarily devoted to each of the girls, so you'll spend a lot of time really getting to know them and the conflicts you'll help them overcome. Let's discuss a couple of examples.
Let's take Claris. On the surface, she is a very kind and gentle person. She also presents a sophisticated persona that has carried her through life. She is a huge bookworm, who will become fully engrossed in a book and lose complete awareness of her surroundings. Say the wrong thing to her, though, and there's a good chance she'll tear you down with her more… scornful side.
Moving on, we also have a big update regarding the physical Launch Edition.
Previously, we announced this version would include a reversible cover, along with a sticker set featuring the main cast.
Now, we're thrilled to announce a new perk for those who pre-order (or already pre-ordered) the Launch Edition: you will also receive the Theater Costume Add-on Bundle! This set includes new costumes for Kamiyama, Sakura, Hatsuho, Azami, Anastasia, and Claris inspired by costumes from the Flower Division's various stage productions.
First details about the Digital Deluxe and Standard Editions
But that's not all, as we're revealing the details of our digital releases! Those who go with the digital version of Sakura Wars will have a couple options available – the Standard Edition, or the Digital Deluxe Edition. Regardless of which one you choose you will receive an Imperial Combat Revue PS4 Dynamic Theme along with the Neko Ears Add-on Bundle.
By upgrading to the Digital Deluxe Edition, you will also receive:
Legacy of Love Add-on Bundle
Charming Accessories Add-on Bundle
Swimsuit Add-on Bundle
There's a lot to celebrate with this title. Not only is it the first mainline entry of the series in over a decade, but it also serves as a soft reboot to the entire franchise.
Whether you're a fan of adventure games, character-driven stories that weave together action and romance, or maybe have a deep-seated love for anime like I do, there's a whole lot we think you'll find mighty appealing. Be sure to check out Sakura Wars when it launches April 28 on PS4!