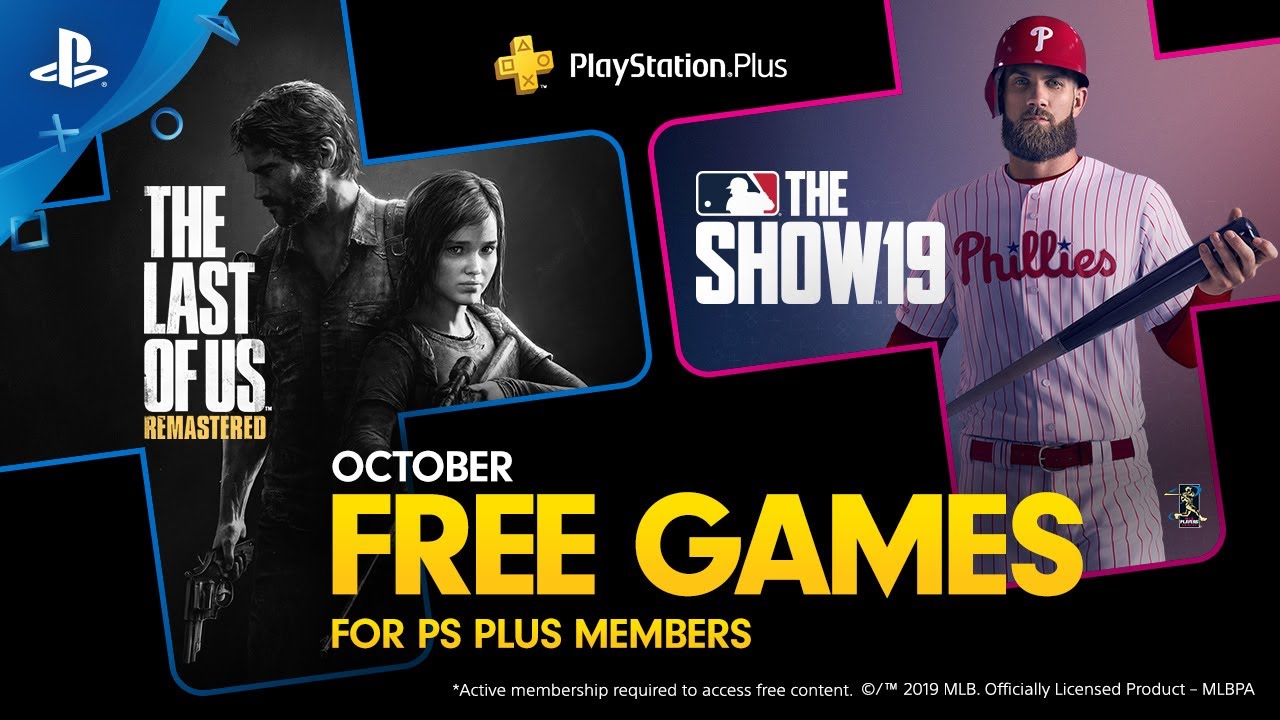 Your first look at next month's free PS Plus lineup, just revealed during State of Play.
PlayStation Plus members – we have a really big month for the October monthly PS4 games lineup to keep you entertained this fall. As announced on State of Play, we're including two major blockbuster hits from Worldwide Studios with The Last of Us Remastered and MLB The Show 19.
Let's dive right in.
The Last of Us Remastered
In anticipation of the next chapter of Naughty Dog's epic adventure in The Last of Us Part II, now is your time to jump into in The Last of Us Remastered. Whether you have already played the game and want to relive Joel and Ellie's epic journey – or experience it for the very first time, The Last of Us Remastered has you covered with both The Last of Us and The Last of Us: Left Behind.
The Last of Us takes place 20 years after a pandemic has radically changed civilization, where infected humans run wild and survivors kill each other for food, weapons – whatever they can get their hands on. Joel, a violent survivor, is hired to smuggle a 14 year-old girl, Ellie, out of an oppressive military quarantine zone, but what starts as a small job soon transforms into a brutal journey across the U.S.
In The Last of Us: Left Behind, new light is shed on Ellie's relationship with Riley, her best friend and sometime-mentor from a military boarding school they grew up in together. After disappearing for weeks, Riley returns with a surprising revelation on her whereabouts. Ellie and Riley sneak out of school for the last time, leading to a series of events that will forever change both of their lives.
We hope this epic adventure will keep you entertained right before the sequel hits store shelves. In case you missed it, check out all of the details on The Last of Us Part II that were announced during State of Play, including a release date of February 21, 2020. The Last of Us Part II is available now for pre-order, so mark your calendars! [Updated launch date: June 19]
MLB The Show 19
Swing for the fences in the latest edition of the popular sports franchise MLB The Show 19 from San Diego Studio (SDS) – and play the sport your way. Relive the biggest MLB moments in history with Moments, where you can recreate the most famous plays (Babe Ruth's called shot anyone?) and showdowns in baseball history. Or, speed-up full seasons with March to October, which lets you play only the biggest and most exciting games to focus on getting your team to the postseason and beyond in less time. You can also create your own player and rise through the MLB ranks with Road to the Show or play against others as baseball's greatest stars and legends in Diamond Dynasty.
There will be new content dropping in October for MLB The Show 19, which includes the legendary Ted Williams, one of the greatest players of all time. You can also unlock rewards by reliving moments from the 2019 Postseason and the most memorable moments of all time.
To celebrate The Show being on PS Plus for the first time, SDS is also giving away free in-game content for those who download and log into the game between October 1st and October 31st. To get your Show experience started right go redeem and open five free packs. These packs include a Diamond player for your Diamond Dynasty squad and equipment for your created player in Road to the Show!
The Show 19 is a culmination of 14 years of development for the MLB The Show franchise. We can't wait to give you a taste of what The Show 19 has in store for all PS Plus members in October.
Both The Last of Us Remastered and MLB The Show 19 will be available to download from PlayStation Store between October 1 and November 4.
In the meantime, you still have a few days left to pick up September's PlayStation Plus titles. Batman: Arkham Knight is DC's most-iconic crime-fighting crusader in Rocksteady's neo-noir action adventure and explosive finale to the Arkham series, while Darksiders III is a visceral hack-and-slash action adventure that places you in a dark fantasy world filled with diverse environments, dangerous foes, hidden secrets, and weapons and abilities to unlock.
Batman: Arkham Knight and Darksiders III are available to download now until September 30.
We hope you enjoy this month's lineup! If you're not a PlayStation Plus member yet, now is the perfect time to join. In addition to a refreshed lineup of monthly PS4 games, members have access to benefits such as online multiplayer, 100GB of cloud storage for PS4 game saves, and exclusive PS Store discounts. For more information on PS Plus benefits, please
.
---
State of Play September 2019: All the Announcements
---