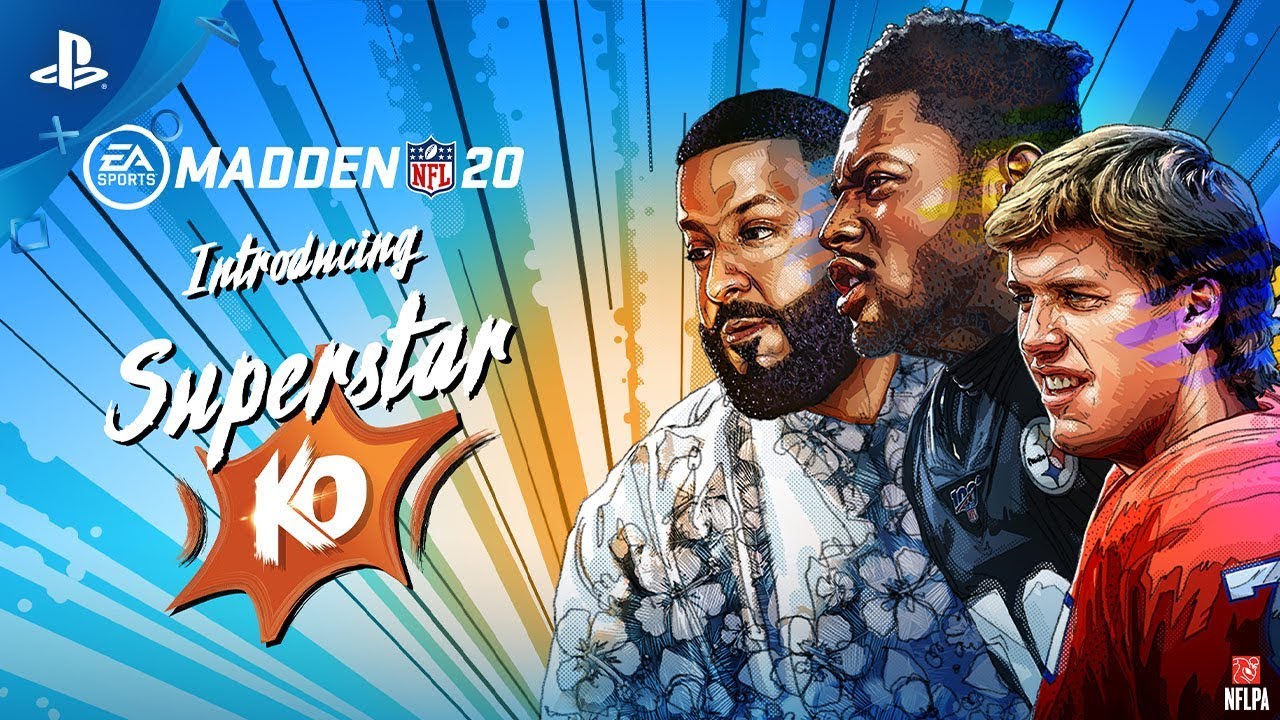 Squad up for fast, five-minute matches in Madden's new mode, out today on PS4.
Madden NFL 20 has already kicked off the football season, and tons of players are starting Super Bowl dynasties, building their perfect rosters in Madden Ultimate Team, and taking their games to the next level with new X-Factor abilities and Face of the Franchise: QB1. Just when you thought it couldn't get better, we've added Superstar KO mode to the roster.
A completely fresh, fun, and fast co-op eliminator mode, Superstar KO lets you team with friends, select a Superstar KO team (including a sparkling celebrity coach who comes with their own playbook strategies), and play 3v3 Madden games with dynamic rules in the singular Superstar KO stadium. Let's huddle up in the locker room and break it down more.
Squad Up
Featuring five-minute games that are casually competitive and quickly repeatable, Superstar KO mode raises the pace of Madden 20. It's a snap to keep the fun rolling. Team with friends and draft X-Factor players to anchor your roster. Not yet into the Madden X-Factoring yet? Here's a tip: X-Factor players are awesome. Here's another: Madden NFL 20's X-Factor abilities make stars feel like stars. What's that mean? We took 50 of the NFL's most elite athletes and made them X-Factors in the game. When these superstars are in the zone, they have Superstar X-Factor abilities, mirroring their real-life skill set. And these game-changing abilities are always on in the all-new Superstar KO mode! Use them wisely and conquer your opponents to steal their roster. That'll show them who the champ is! Plus, earn Ultimate Team rewards along the way.
Madden Like You've Never Seen It
Superstar KO mode boasts 3v3 squad play, but also a whole host of NFL Superstars, Legends, and Icons of football lore, that special KO-ers-only stadium that we're not going to quit talking about (because it's special!), new, fun commentary from a DJ hype-man equipped with a soundboard and dynamic stadium music, and more to make the mood massively rocking. If you've never made a game-winning play with your own DJ bringing the stadium into higher heights of excitement, now's your chance. Superstar KO delivers the fun in an all-new way, and it's as sweet as a Mahomes' lefty bazooka pass.
A Superstar Strategy to Call Your Own
Each storied Superstar KO team has a unique strategy-based playbook, so you and your squad can select a team that works best to match whatever playstyle you like. Wanna run the ball in Madden and take the battle to the trenches? Roll with GNP, or Ground and Pound, which uses a run-heavy playbook. Like to consider yourself a strong-willed defensive master who racks up the W's by shutting down today's offense-centric coaches? Shutdown is the team for you, featuring a defensive playbook that's built to win but doesn't have much to show on offense. It's time to win or lose your way!
In a football-shaped nutshell, Superstar KO lets you squad up and take down the competition in Madden's fastest co-op eliminator mode, featuring a unique stadium (yes!) and commentary, dynamic rules and icons of football culture, and five-minute games. You could have played a game in the time it takes to read this article! Now, go feel like an NFL superstar.