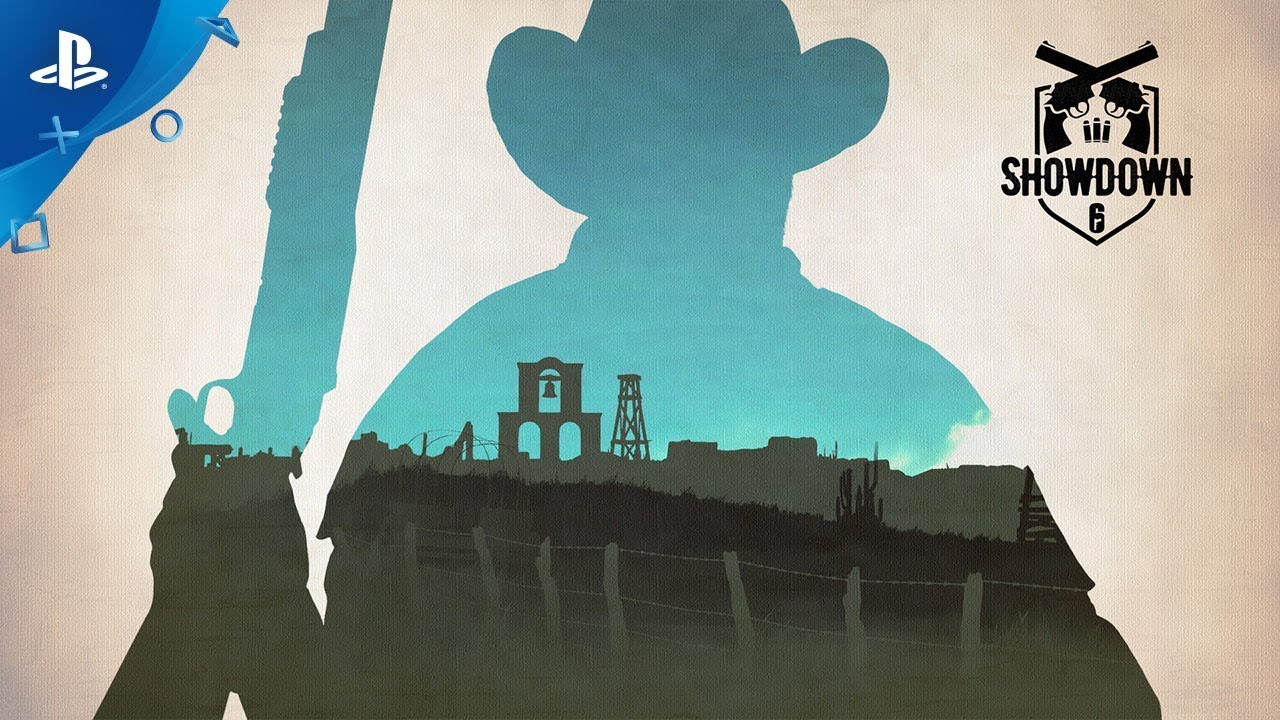 The Law clashes with the Graveltop Gang in the limited-time map – Fort Truth.
A dusty Western fort. A gleaming pile of gold bars. Three ornery Operators who stole it fair and square, and three law-abiding Operators who have come set things right. This is Showdown, a new event for Rainbow Six Siege that runs from today through July 16, and brings a new mode, new map, and new cosmetic rewards to PlayStation 4 players. Cowboy hats, sheriff's badges, and all make and manner of Western garb will be available for some of your favorite Operators, and you'll even get a free item just for logging in.
Showdown will take place exclusively on the limited-time map, Fort Truth, a dusty, sun-baked ruin with crumbling walls that have seen more than a few gun battles. The rules are simple: each round is a 3v3 face-off to secure the area, and the gold. The available Operators are decked out in new Showdown-specific headgear and uniforms, and split into two posses: The Law (Attackers: Ash, Capitão, Glaz, Maverick, and Twitch) and the Graveltop Gang (Defenders: Alibi, Caveira, Kaid, Maestro, Rook). No matter who you choose, however, you'll all wield the same weapons: The BOSG.12.2 shotgun and the Magnum LFP586 revolver. With no preparation phase, no reinforcements, and limited HUD, each 90-second round is gonna be a fast-paced shootout where you'll prevail by the sharpness of your aim and the strength of your grit.
If you want to look the part, you'll have to rustle up a Showdown Collection pack, which contains a new headgear, uniform, or weapon skin for one of the ten featured Operators. There are 31 exclusive items in the collection, covering a range of styles from Maestro's stalwart, heavily armored sheriff look, to Twitch's roguish wide-brimmed hat and bandana. Each pack is guaranteed to contain a new item, so you won't get any duplicates.
You'll be granted a free Showdown Collection pack just for logging in during the Showdown event, and you can earn another pack (as well as a unique BOSG.12.2 weapon skin) for completing the Ubisoft Club Challenge for the event. You can also purchase packs from the in-game store for 300 R6 credits each.
Showdown is putting a blistering new spin on the intense firefights of Rainbow Six Siege. Fire up your PS4 and play with PlayStation Plus between July 2 and July 16 to brave these frantic frontier shootouts and get some shiny new gear for your gunslingers.