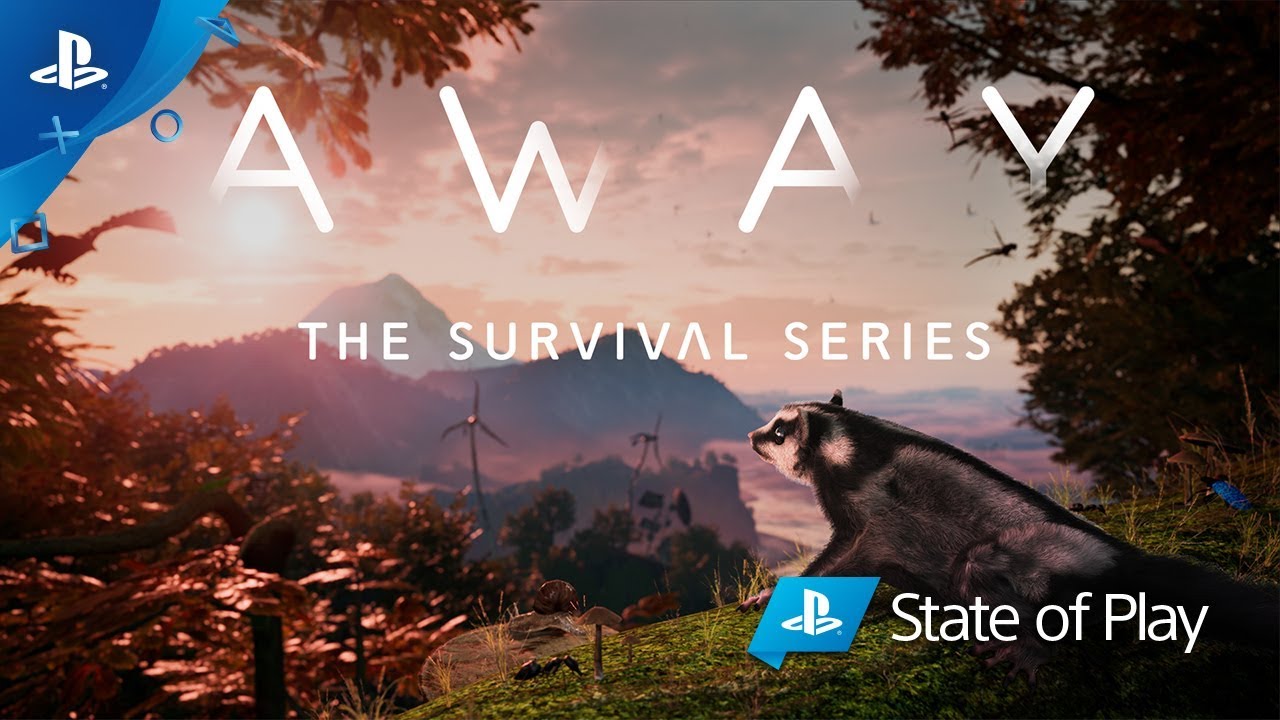 Revealed during State of Play, this high-flying adventure brings nature documentaries to life.
Three years ago, our team set out to make the game we had always wanted to play. One where you could not only play as an animal, but actually step inside a wildlife documentary and experience nature from an entirely new perspective. Today, we are excited to announce that Away: The Survival Series will be coming out on PlayStation 4, and we can't wait to tell you more about the game!
Set in a distant future, Away takes you on the adventures of the Sugar Glider. As natural disasters threaten the survival of every species on the planet, you must venture deep into the wilderness in search of safe sanctuary. Your journey will take you across breathtaking environments filled with dangerous creatures as you uncover the mysterious origins of your world.
Bringing Nature to Life
In order to feel truly immersed in nature, we set out to create a visually stunning world filled with colourful, vibrant environments. Given the Sugar Glider's small size, we made sure every plant, leaf, and blade of grass was accounted for, and this attention to detail pays off when you navigate the wide variety of landscapes in Away.
We also designed the environments around the Sugar Glider's ability to jump, climb, and glide through its surroundings. This flexibility allows you to navigate the world around you in any way you see fit. Whether you're wandering through the forest, exploring a dark cavern, or gliding through a canyon, each part of your journey will immerse you in nature in a way you've never experienced before.
Enter the Animal Kingdom
As you make your way across the world of Away, you will encounter living, breathing ecosystems filled with predators and prey of all shapes and sizes. From small insects to large mammals, the animals you see in the wild each lead a life of their own, interacting with each other independently of your adventures.
Of course, you will also be able to interact with these animals as you encounter them throughout your journey. Whether you're hunting down small critters or avoiding large predators through stealth and agility, you get to choose how you want to approach each situation. But be careful not to bite off more than you can chew…
Crafting an Immersive Atmosphere
If you've ever watched a nature documentary, you know just how captivating it is to dive into the wilderness and follow an animal's quest for survival. We wanted to achieve this same feeling with Away, and a big part of this involved creating a soundtrack that would complement the narrator throughout your adventures.
Having worked on the soundtrack for nature documentaries such as Life and Planet Earth II, we partnered with award-winning composer and audio director Mike Raznick to compose Away's orchestral score. Both epic and atmospheric, the game's enchanting soundtrack punctuates every step of your journey and makes for a truly captivating gameplay experience.
After three years of hard work, we are delighted to announce Away: The Survival Series for PlayStation 4! We can't wait to share more gameplay with you, so feel free to check out our
for more updates as we take you deeper into the animal kingdom.
---
State of Play: All the Announcements
---