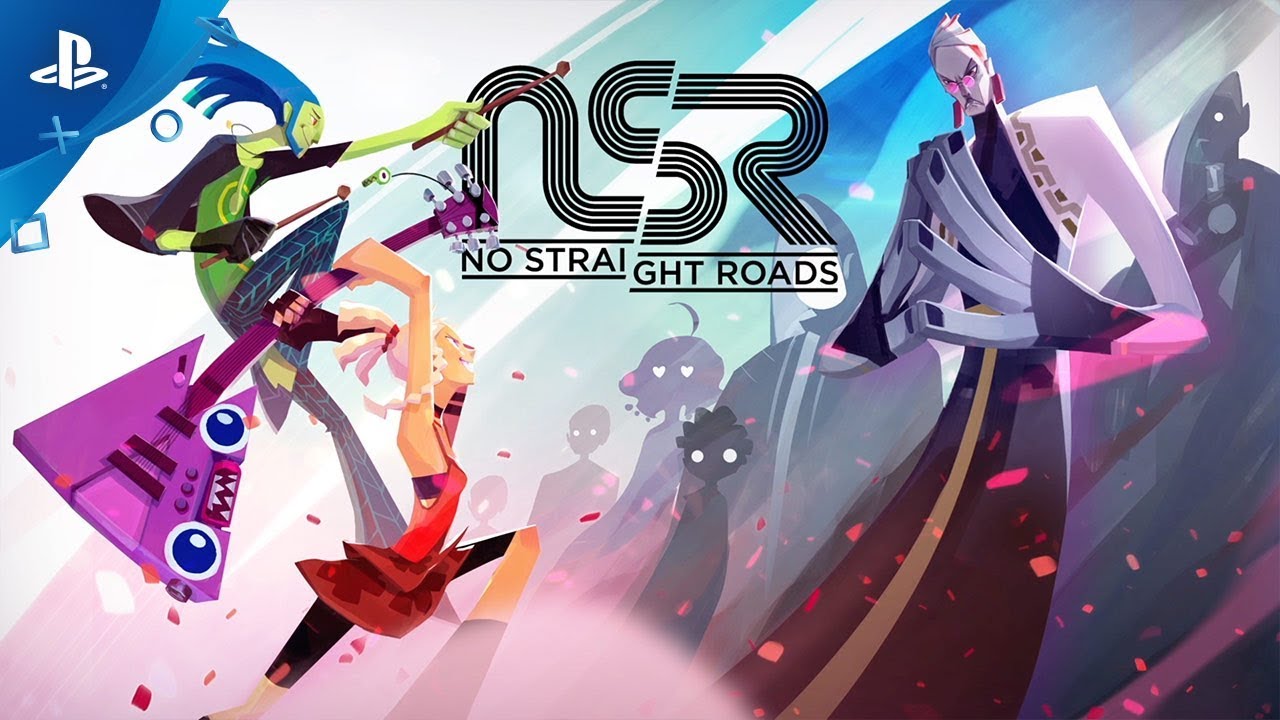 Battle for rock supremacy in epic musical boss battles, from Malaysian studio Metronomik.
Hello everyone! Let me say that it's a huge delight to be able to say "Hi!" from PlayStation.Blog. I'm really happy to be able to directly talk to all you wonderful PlayStation gamers, being one myself!
I'm Wan Hazmer, former Lead Game Designer of Final Fantasy XV and together with my cousin Daim Dziauddin, former Concept Artist of Street Fighter V, we co-founded Metronomik, a Malaysian video game studio back in December 2017.
We're happy to present to you our first PS4 music-based action-adventure game: No Straight Roads! Here, you fight a massive Electronic Dance Music empire as an indie rock band! Yup, you can already tell that we're huge fans of music and epic battles!
The game is set in Vinyl City, which mega corporation NSR (No Straight Roads) has taken control of all the city's clubs. NSR, which doubles as an EDM label, will only allow their music to be performed. You play as Mayday and Zuke, two members of the indie rock band Bunk Bed Junction, who clash against NSR's artists in giant boss fights to reclaim control of the city.
So maybe this is the first time you're hearing about this project, but we presented the game at the Tokyo Game Show, Paris Games Week and recently at the Taipei Game Show — and we are extremely proud to mention that we won the prestigious 'Best Audio' Indie Award at Taipei Game Show!
No Straight Roads was created to reinforce the role of audio in a video game without turning it into a rhythm game, and to tell a story about different musical cultures through powerful visual elements.
"So," I hear you ask. "It's a rhythm game?"
It's actually an action game with a unique twist! It plays similarly to, say, Kingdom Hearts or Devil May Cry. While everything that happens on screen is deeply tied with the music, you can attack, jump and move freely; You are not required to follow the beat, but if you understand the relationship between the enemy attacks and the music, you will gain an advantage in combat!
Because in No Straight Roads, music is power. The core experience that we want to nail is "your music can change the world." So the power of music, you can transform certain objects into weapons. Your performance in the game will also bring about changes in the game's music: a seamless and dynamic transition between rock and Electronic Dance Music.
What we've been able to accomplish is a result of the amazing music by Falk — who has worked on the music of previous Final Fantasy and Kingdom Hearts games, James Landino of Sonic Mania fame, Funk Fiction and Andy Tunstall; and the fantastic sound design of Gwen, Sharon and Jeremy!
We also want to represent music in its entirety: its culture, its creativity and its many stories. It's also about the clash of ideals and different mindsets of why people play music. We tell these stories in a way that can be only told in video games. Less reliance on cutscenes and more on visual storytelling.
We've been told during the game shows that our art is very unique. It's all thanks to our amazing art team. Our concept artist is Ellie Yong, who had zero experience in game art before coming in our team, but brought an extensive experience creating sprawling wall murals and illustrations to our game. Our 3D team then aligns to her concept art (instead of the other way around), providing a unique, visually-striking art direction to our game. Jarold, who has worked as an art director for projects like Gears of War, is now tasked with bringing Ellie's beautiful art into an immersive 3D world.
We recently released brand new key art, created by Ellie, that showcases one of the main protagonists, Mayday, as she looks towards the tower of No Straight Roads, the EDM empire in the game. Surely this art looks very familiar to all you RPG fans? That's right, it's a tribute to the 22nd anniversary of Final Fantasy VII, one of my favorite RPGs of all time!
This key art is my little way to say thank you. It was a great privilege to work alongside some of the original members who worked on this masterpiece back when I was in Square Enix. It is also a testament to our ambition to make No Straight Roads a truly memorable experience for gamers worldwide when it releases this spring on PS4.