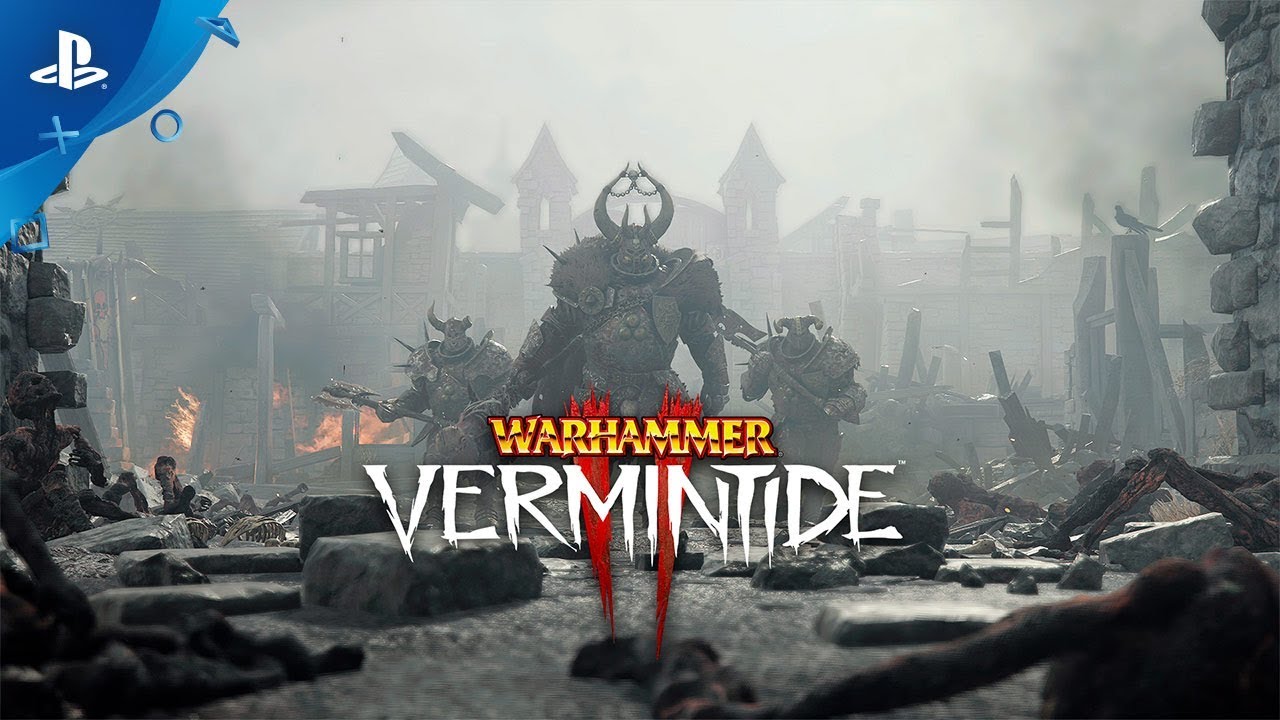 We've been working on Vermintide 2 for PlayStation 4 for a while now, and it's finally time! On December 18, Warhammer: Vermintide 2 is coming to PS4.
The Closed Beta goes live tomorrow, and if you pre-order the game you get instant access to the Closed Beta, as well as four days early access and a bunch of other goodies.
Fight together or die alone
Warhammer: Vermintide 2 is set in the Warhammer Fantasy Battle world, and it's the sequel to the critically acclaimed Warhammer: End Times – Vermintide. The Warriors of Chaos have joined forces with the relentless Skaven ratmen, forming a Dark Pact to ravage the realms of men. If you fall, so shall the empire.
In Vermintide 2 you'll be playing as one of the five heroes, and choose between fifteen unique career paths. Will you stand at the frontline donned in your Ironbreaker armor, let your belief in Sigmar guide your path, or give in to your flame addiction? The choice is yours to make, but be prepared to face a challenge like never before. The combined forces of the swarming Skaven horde and the destructive warriors of Chaos will climb walls, crawl through sewers, summon dark magic, and do just about anything to stop you. You will never experience the exact same playthrough twice.
"How is this possible?" you might ask. Building on what we learned from Vermintide 1, we evolved our Spawn Director. Enemy spawning and formations now change constantly and make each playthrough unique and unpredictable, keeping you on your toes.
The motto to follow while playing Vermintide 2 is "fight together or die alone." The game is dependent on cooperation. You and your allies have to use your combined forces, skills and talents to survive. Your enemies have a wide array of specialized units ready to punish and tackle any cheeky hero attempting to play the solo hero. Fight your way together through the immense hordes of enemies and earn loot to match.
Get instant access to the Closed Beta
With the release, we've created a Pre-order Ultimate Edition bundle that might curl your whiskers a little. It will give you instant access to the Closed Beta, four days early access, two DLCs and other cool stuff.
Here's the full list of included content:
Instant Closed Beta access
4 days early access
Shadows over Bögenhafen DLC
Back to Ubersreik DLC
6x Heroic deeds
2x Portrait frames
Helmgart Heraldry themed skins
Sigmar keep statue
The release on PS4 has been a long time coming, and we'd be lying if we said that we've not received daily inquiries about it. Get ready to tackle the onslaught of the Dark Pact, but remember: If you fall, so shall the Empire. May Sigmar protect you, hero.