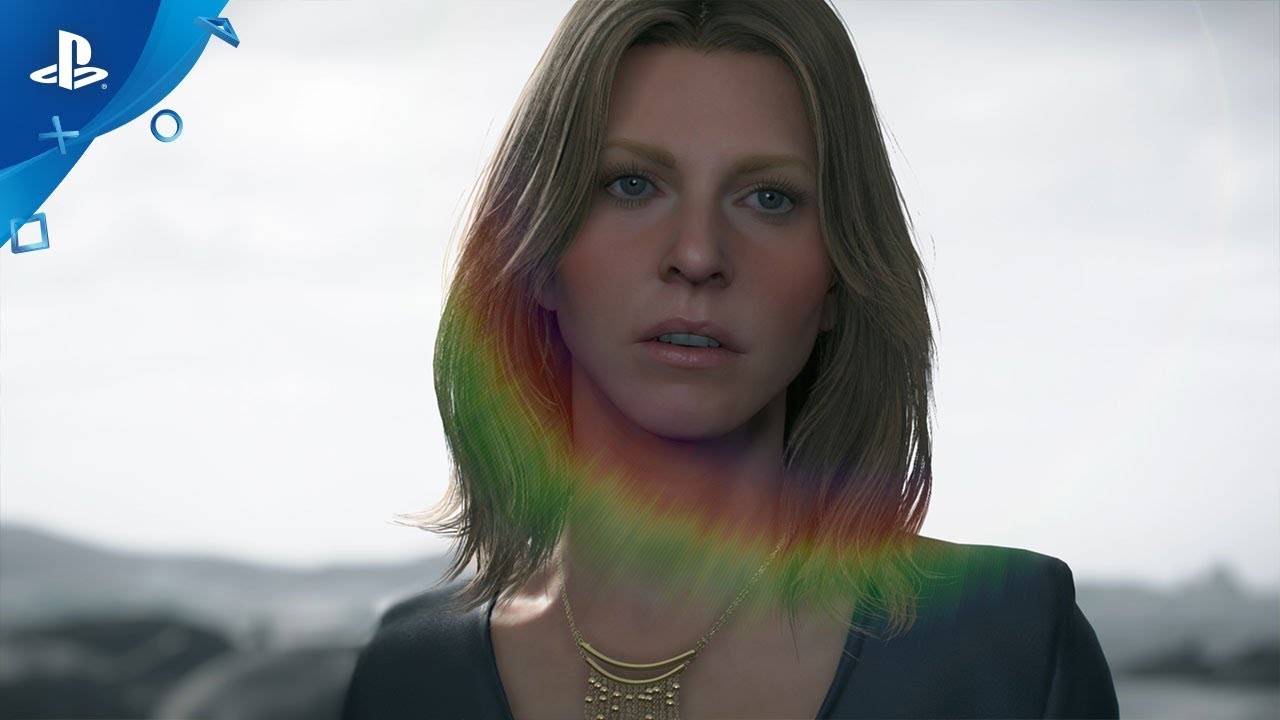 Get your first look at how Hideo Kojima's mysterious new game will play.
This latest E3 2018 trailer is the fourth for Death Stranding. The first teaser was released two years ago at E3 2016, with the second and third appearing at TGA 2016 and 2017.
Work on the first teaser started shortly after establishing Kojima Productions. At the time we were working out of a temporary office, recruiting was still ongoing, there wasn't enough equipment to fit the bill and the game engine was still up in the air. We really had next to nothing. What we did have, however, was our bond (strand) with Norman Reedus, who immediately accepted the role as our main protagonist, and the idea of the game in my mind. Relying on just these two things, the teaser was created with my own hands in only two and a half months. I still remember the emotion I felt when, after 2 absent years, I was greeted by your warm welcome of cheers and the thunderous claps at the E3 reveal.
At TGA 2016, we revealed the appearances of Mads Mikkelsen and my dear friend Guillermo del Toro in the game, in addition to our decision to use the DECIMA engine, which we are developing with Guerrilla Games.
Then at TGA 2017, we showed you a cut scene from the early part of our game. As is the case for our latest trailer, all the scenes shown so far are directly from the game. This, of course, includes the scene where Sam (Norman) wakes naked on the beach surrounded by stranded whales, crabs and fish.
When we revealed the first teaser, I said that "the game has already begun – a game of unravelling the mysteries of what kind of game Death Stranding will become". There are some answers to the questions I posed two years ago hidden in this trailer. These are for you, the fans who have shown your tremendous ability to imagine, search for clues and wrack your brains to solve the mysteries. But, the answers here are still only part of the mystery. Our game is still in play.
For this trailer, we're showing quite a bit of gameplay (although the camera angle is altered in some spots). The first half and the last sequence in particular are most representative of the actual gameplay. There are some answers here too, as well as a chance to discover new mysteries. Some might have already picked up on this, but Sam is unlike any other hero you may have seen in games before. A typical hero is usually some sort of elite or someone with a military background. Sam is not. He is a working man of sorts — a hands-on professional. Someone with a skillset akin to a blue-collar worker. This is something you'll intuitively understand once you play the game and control Sam. Herein lies our challenge, to create both a new form of gameplay and a hero that has never been done before.
We also finally revealed our heroines. Two goddesses, Lindsay Wagner and Léa Seydoux. As you know, Léa is a world class actress from France. I've seen many of her films, but the film that made me a fan was Mission: Impossible – Ghost Protocol. I was sniped by her aura as the female assassin. And I've grown to like her even more through our work together. Her intelligence and knowledge, her elegance and beauty, she is without a doubt a true French treasure.
As for Lindsay, she holds a very special and irreplaceable place in my heart. She charmed the world with her role as Jaime Sommers in The Six Million Dollar Man and The Bionic Woman. I was in my teens in the 70's, and like viewers across the globe, I fell in love, and continue to be in love with her. She is a muse for all time.
Out of necessity for our game, we undertook the process of recreating Lindsay's younger self from her recent 3D scan data. Of course, some team members are too young to have seen her films or shows when they originally aired, but when I showed them Two People, The Paper Chase, The Six Million Dollar Man and The Bionic Woman for reference, the whole office fell in love. Her charm transcends time and generations.
There are other cast members who we have yet to be revealed, but to be able to announce the two heroines of our game makes me happier than I can say. All of the cast who have been revealed to date, including Norman Reedus and Mads Mikkelsen, are people who I grew very fond of, and had a strong desire to work with. Having fallen for them, I pulled some strings (strands), and asked them to be in my game. I wasn't motivated by marketing or sales, but simply driven by my creative inspiration. They've joined because they feel the same way, and as a result we've all grown closer, connected by our special bond.
Although it wasn't my initial intention, we now have a cross-generational, international cast. Mads, who is from Denmark, is a Nordic treasure; Norman is one of the most recognized American actors today, Lea is a top French actress and Lindsay is a muse from the golden 20th century. Across countries, time and generations, we have come together to realize this vision. Coincidentally, this theme is strongly connected with that of the game, and is a theme I strive to realize as a game creator.
I want to deliver something for people around the world that transcends generations. I want all people to experience the entertainment medium of games, not only gamers, but fans of film, novels, comics, music and art. With the help of the bond (strand) we have with these four cast members (and those who we have yet to reveal), I believe that we will make this a reality.
A serendipitous bond (strand) formed between myself and SILENT POETS, whose song is featured in the trailer. We had a number of performance capture sessions in Japan, and met some amazing people who were part of the catering staff. Not only was the food exceptional, their hospitality was outstanding. We, of course, requested their service many more times. One day, we found out that one of their members was a veteran musician. When we started talking, we learned that they were about to release an album for the first time in 12 years. When I listened to the sample they gave me, an image of Sam walking in the wilderness naturally popped into my head. It was the song Asylums for the Feeling from the album Dawn.
Low Roar, whose song was featured in our first teaser, were also a chance discovery I made in a CD shop in Iceland, where I immediately fell in love with their sound.
This game is being woven together through numerous strands and human connections, including strands with you: the fans. The picture that forms on this tapestry is already beautifully drawn in my mind, and is right now, being woven together with the utmost care. It is sure to form an image unlike any seen before. I hope that the strand with you will be a special one.
SILENT POETS OFFICIAL SITE