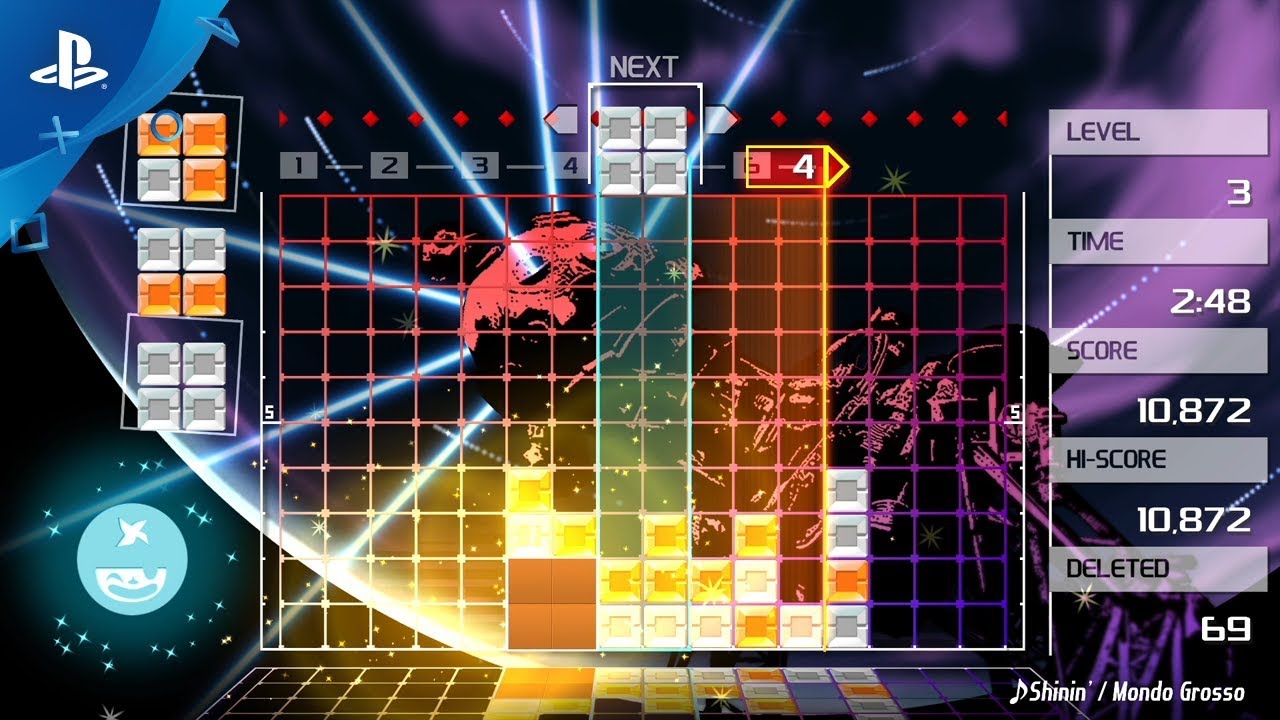 The legendary audiovisual puzzle experience (and PSP launch title!) makes a vibrant return on PS4 this May.
Hi everyone! It's been over a year since I shared news on our previous game Rez Infinite, which was our very first VR title we ever worked on and a PS VR launch title. We hope some of you have had a chance to play it. Today, I'm excited to share news on another PlayStation platform launch title I worked on nearly 15 years ago: we are bringing back the original Lumines as Lumines Remastered on PS4.
Back in the earlier days of gaming, an enhanced on-the-go game experience was something I always hoped for, especially from Sony. When learning about the PSP, the interactive "Walkman of the 21st century" that you could play games on, the idea of blending great visuals with music — which, to me, is like a chemical reaction — led me to explore a game that can be played anywhere you would bring your Walkman and listen to music on headphones. The original Lumines was born from this idea. Because of that, PlayStation will always be the game's "home" console and I look forward to sharing this remake with both old and new gamers.
To describe it, Lumines is a block-dropping puzzler with different "skins" (levels) of varying visuals and tempos that provide a backdrop to fun and simple mechanics—all blocks are 2×2 squares with a random combination of two colors that you drop on the screen to create combos. A bar synced to the tempo of the music travels across the screen and sweeps over combos as fast as you can make them. Your play style affects the audio in a way where each rotation, drop, and successful combo is quantized to the beat. You'll never hear a level the same way twice.
At first glance, an HD remake of a puzzle game may not sound that exciting, but seeing the grid, colorful blocks, background visuals and music really come alive on the big screen is special. Lumines Remastered also supports 4K on PS4 Pro, meaning even more beautiful skins! Mouse over the images below to see how Lumines Remastered on PS4 compares to the original Lumines on PSP.
View full res: Original | Remastered
View full res: Original | Remastered

Comparison of a single block in Lumines (left) and Lumines Remastered (right)
We're also taking things to 4D with the vibration settings. First, you can set the options to feel the "Rhythm & Blocks" or "Blocks Only" on your controller. Next, best known from Rez and the Trance Vibrator peripheral we developed for that game, turn on Trance Vibration and connect up to four controllers to feel the music through your body. Strap the other three controllers on your hips, put them in your pockets, or place them near your feet! This was fun to test in the office with our development team. We felt that it's the best way to experience Mondo Grosso's popular track Shinin'!
If your friends are around, they can join the fun as a spectator and feel what you feel (only the rhythm) by holding the controllers with Trance Vibration enabled, or be up for the challenge in local versus mode.
The scheduled release for Lumines Remastered is May, so get ready to feel the music and vibration while you groove to some cool trance and techno beats!