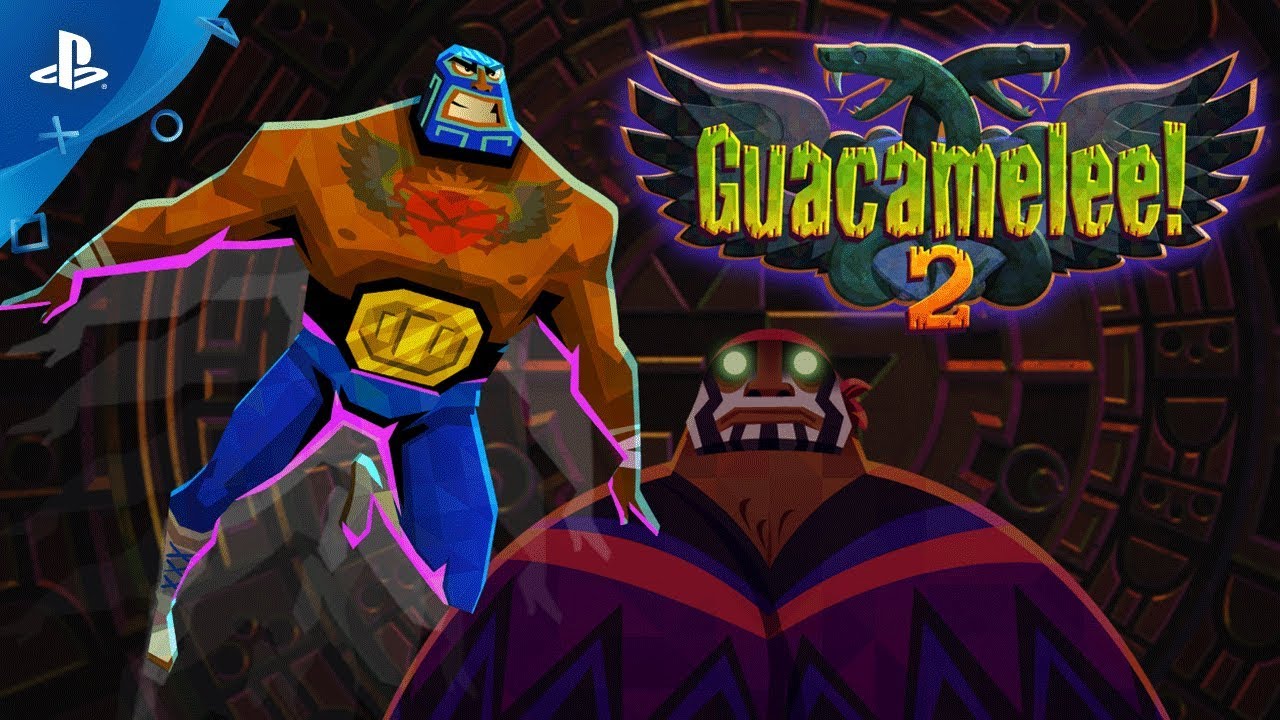 The sidescrolling fan-favorite from Drinkbox Studios gets a surprise sequel announcement at Paris Games Week.
Hi PlayStation friends! It's been way too long… We've missed you!
We're super emocionados to finally reveal what we've been quietly working on for the last several months. Hint: It's a sequel to everyone's favorite Mexican-themed co-op-multiplayer dimension-swapping Metroid-vania beat-em-up platformer. That's right, it's Guacamelee! 2!
The sequel picks up seven years after the original game. Juan Aguacate is living a happy life with his family, when his friend and trainer Uay Chivo discovers a new evil menace that threatens to destroy not only Mexico, but time and space itself! Watch the trailer at the top of this post.
With Guacamelee 2, we're examining the elements that made the original game a fun and unique experience, with a focus on trying to push many of these ideas even further. We'd like to hold back some surprises, but here are a few new gameplay ideas that you can expect in Guacamelee! 2:
Eagle Boost – One of the early new powers you can expect to unlock is the Eagle Boost, a hooking mechanic which allows Juan to attach and fly through "boost points" in the environment. As the name implies, you can use this new ability to fly higher than an eagle (cue Bette Midler).
Super Chicken! – The original game let players transform into a chicken to squeeze into small spaces, but was otherwise fairly limited in its usefulness. In Guacamelee 2, the chicken form will have a unique set of abilities, allowing us to give the player more varied and interesting chicken gameplay.
New Environment Mechanics – We're introducing several new environmental mechanics throughout the course of the game to keep players on their toes. These new mechanics complement both the platforming and combat elements of the game. One example of this is "Dimension Waves", moving windows of space that give players a view into another dimension. Differences in both the environment and enemies will occur as these windows move through the world, and players will need to use them to their advantage to make progress.
4-player Local Co-Op – While Guacamelee 2 can be played from beginning to end as a solo experience, you can also have friends jump in at any time to help out! The difficulty of enemies will scale to keep things challenging as players drop in and out.
No Memes! – We promise! (Maybe.)
We're planning to show a demo of the game at PlayStation Experience later this year. If you're going, please remember to stop by our booth and try it out. We'd love to meet you and hear your thoughts.
Feel free to shoot us any questions you have in the comments below, and we will try to answer them the best we can!