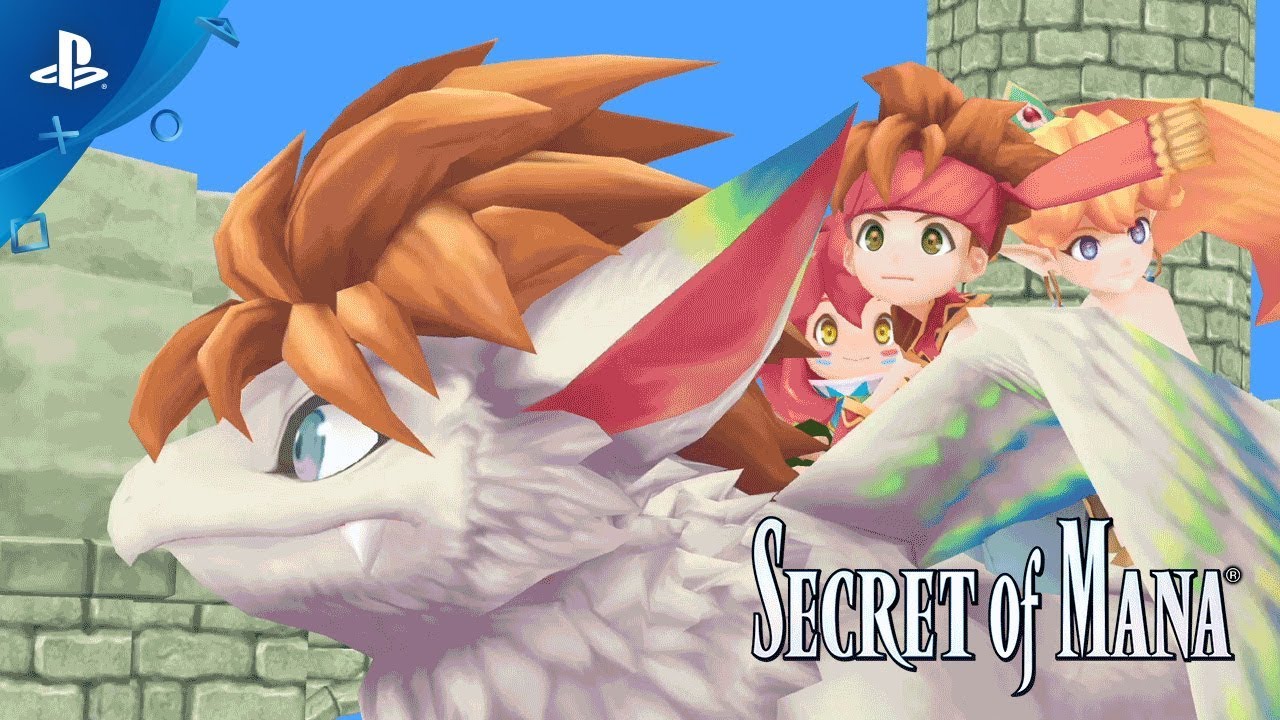 Our first look at Square Enix's 3D remake of the RPG legend, launching February 15, 2018.
One of the greatest RPGs of all time, Secret of Mana, is coming back to life in 3D! Secret of Mana will come to PS4 and PS Vita digitally, on February 15, 2018 worldwide.
Secret of Mana holds a special place in many hearts here in the office, so we could not be more excited for new fans to experience the time-honored classic for the first time, and for existing fans to dive back into the fun fantasy adventure that they know and love.
"I've heard of Secret of Mana, but I never played it and I'm just used to more modern graphics."
The above is basically the gist of conversations I have had with most of my gamer friends, and could possibly describe how many of you feel about the game. We're here to fix that! Here's what you should know about the remake:
The game will faithfully adapt the beloved story and top-down gameplay while adopting modern 3D graphics and controls. Meaning that the game has been fully rebuilt from the ground up, but still remains true to the whimsical gameplay of the original. In this new remake, you can expect the great game all your friends have been saying you missed out on, reborn.
After playing the original, watching this trailer hits me right in the nostalgic feels… EVERY. SINGLE. TIME. So, if you're like me and played the classic version, but wonder what new things you can look forward to outside of the completely revamped 3D graphics and updated gameplay:
VOICED CHARACTERS: That's right, you heard Randi in the trailer and you'll finally get to hear Randi, Primm, Popoi and many other characters talk and express themselves throughout their adventure!

To add to that, the game will have language options which will allow players to experience the game using Japanese voices and/or subtitles.

A NEWLY ARRANGED SOUNDTRACK: We're excited for you to hear a beautiful, newly arranged soundtrack that pays tribute to the original.
LOCAL MULTIPLAYER: Yes! Sit down with two of your friends (up to three players) to experience the adventure together.
To give you the lowdown on the story: Secret of Mana revolves around a courageous young man named Randi. I think Randi will successfully make headbands cool again (some may argue they were always cool, and I would agree.) Anyway… Randi inadvertently discovers the Mana Sword, a weapon of great power, and finds out that he can harness the great power of Mana. He then embarks on a quest to defeat the evil forces attempting to control Mana, and is joined by a tenacious and caring noblewoman named Primm, and a mischievous yet kind sprite named Popoi. Together, the trio take on a treacherous empire in attempts to bring balance to the world.
"If I love the series and want something a little extra to make my experience that much better, what is there?"
You are in LUCK sir and or madam. If you pre-order the game on PSN you'll receive:
Individual PSN Avatars for Randi, Primm, and Popoi as an instant reward
DLC Costumes at launch on February 15

"Moogle Suit" for Randi, Primm, Popoi
"Tiger Two-Piece" for Primm
"Tiger Suit" for Randi and Popoi
Look how adorable those costumes are! I wonder why the Tiger Suit makes Popoi look so grumpy…
For those who want to preorder on PSN, you can click here. Preorders will go live at 1:30am PDT!
If you're excited and can't wait to get your hands on the game, we're happy to announce that Secret of Mana will be playable at PAX West from September 1-4 at both the Square Enix booth and the PlayStation booth!
As a fan, Secret of Mana is a personal favorite of mine, and I'm honored to be bringing the title to the west. I sincerely hope that all current and potential fans are as excited as I am and will love the game. As we lead up to release, be sure to keep up to date with all of the new Secret of Mana content through our official Square Enix channels!