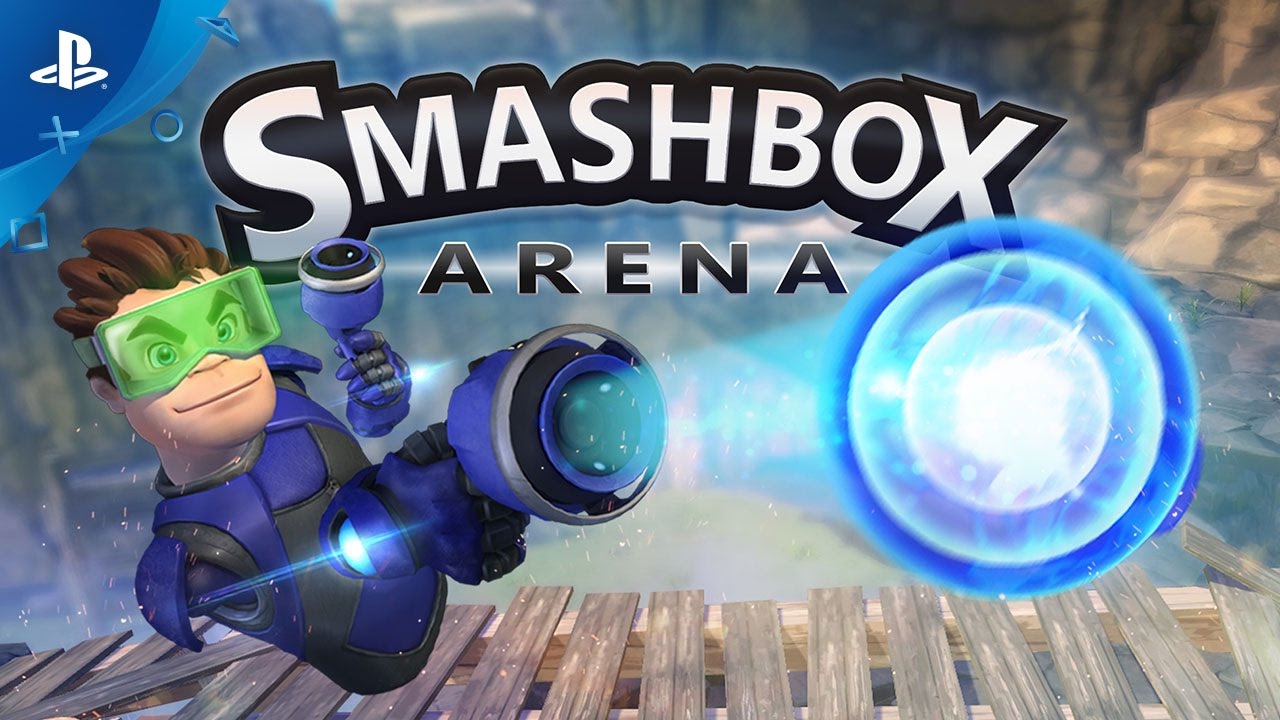 The team at BigBox is putting the finishing touches on the PlayStation version of their VR hit.
When we put on VR headsets for the first time back in 2015, we knew the world was about to change and that we needed to be a part of it. We started building Smashbox Arena as a way to explore spaces together. We added multiplayer support, started shooting each other, and then added a swarm of flying fish and people chasing us around a penthouse suite trying to shoot us. It seems like a strange origin story for Smashbox Arena, but it's what started us along the journey to making the game, which, with the help of our fellow developers at Archiact, is finally coming to PlayStation VR in Summer 2017!
We've spent months growing and engaging with one of the most fun-loving and tight-knit community of players in VR yet. Together we've clocked well over 43,000 hours of gameplay, over 2 million knockouts and even set records at VR arcades as the #1 played game with close to 1,000 hours a month of gameplay. Smashbox Arena is already one of the top 5 highest rated VR multiplayer games with a fun, fast learning and competitive community! One thing always remained: it's a group of people who love to play games and are all about making the community stronger and more engaged.
Smashbox Arena is team-based action game with insane physics-driven power-ups. Shoot, duck behind cover, and coordinate with teammates… all in glorious VR! You can play in single-player story mode or compete with the best in online multiplayer. However you choose to play, you'll find fun and challenging gameplay!
Dodge Shots From Other Players
Knock Out Players With Energy Balls
Compete In Large Maps with Endless Options
We're excited to be able to grow the community to include PlayStation VR users and we can't wait to see how you play. We think there will be a whole new world of options once the best PlayStation VR players get a hold of Smashbox!
We've asked our community to share some of their favorite stories from the game:
"Smashbox Arena is my goto multiplayer VR game. The game is very polished and fun to play. Easy to learn with a lot of strategy to master. The community is amazing as well, always helping new players and organizing group tournaments and league play. I have lost 18 pounds in 3 months playing SBA due to all of the physical movement in the gameplay (dodging bullets and such.)"
-Taoman
"After 200 hours of dodging sniper rifle shots, sidestepping boulders, and mastering off the wall ricochets, I can confidently say Smashbox is VR's killer app. Smashbox has an incredible community and game play complexity that makes me beg for one more chance to vanquish my enemies in glorious arena combat!"
-Bygrace
"…I am 48 years old and have had every game system known to man! But they wind up on a shelf collecting dust. Smashbox in VR has transformed me into a true video game player, the guys in the community are awesome, they treat my young one when he plays just the same. I have never laughed, sweat, been serious and not serious in a game like this one. Best game in my 48 years of videogames, that includes the arcades in the 80's. Love it. Volman and Volman junior say thanks."
-volman13n0
We've spent quite a long time building Smashbox Arena, so both we and Archiact are excited to see you join the community and show us what you've got in Summer 2017. Smashbox Arena will be coming to North America, Europe, and Japan, so we'll see you all in the Arena!